Guide to Beaumont Birding
Beaumont's legendary status among birders is thanks to its position on not one but two migratory flyways: the Central and Mississippi. This fortuitous location results in high bird counts throughout the area. Migratory flyways — which are routes for birds between their breeding and wintering areas — tend to be clear of mountains and offer plenty of food and water along the way for the feathered travelers. 
The bird migration route of the Central Flyway follows the Great Plains in the United States and Canada. The flyway is approximately 5,150 miles from north to south and is the route taken by the American robin, the black-chinned hummingbird and the sandhill crane, among other birds.
The Mississippi Flyway, on the other hand, stretches from the breeding grounds of Canada and northern United States to winter homes as far south as South America. Approximately 40 percent of all North American migrating waterfowl and shore birds use this route. Because the route narrows in the Southeast U.S., the concentration of birds can be rather high. Birds who hop on this route include the little blue heron, clapper rail and black skimmer. 
Southeast Texas is a particularly attractive vacation stop along the two flyways for a wide variety of birds, thanks to its range of habitats. Within a 40-mile radius of Beaumont, you will find the wild coastal shore of Sabine Pass and Sea Rim State Park, the Cattail Marsh Wetlands, the meandering bayous of the Anahuac Wildlife Refuge, and the thick forests of the Big Thicket and Piney Woods. This equates to a haven for all sorts of feathered friends. More Information: 4-day Suggested Birding Itinerary 
And if the birds feel at home here, why shouldn't you?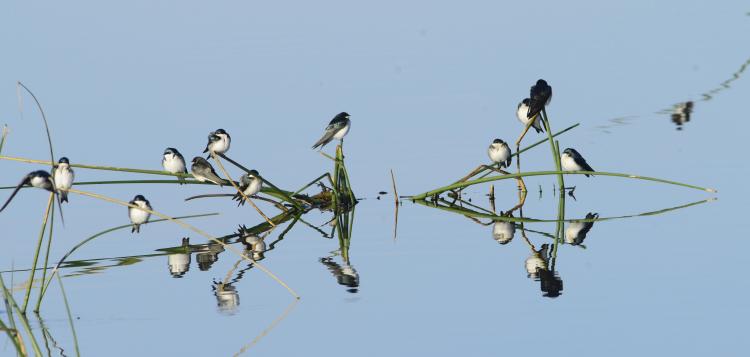 Three main habitats that make Beaumont a prime hub for bird watchers 
Habitat 1: Wetlands
According to the Environmental Protection Agency, wetlands are among the most productive ecosystems in the world. Known as "biological supermarkets," the volumes of food they provide – from organic material and aquatic insects to shellfish, fish and reptiles – are a great source of food for many types of birds.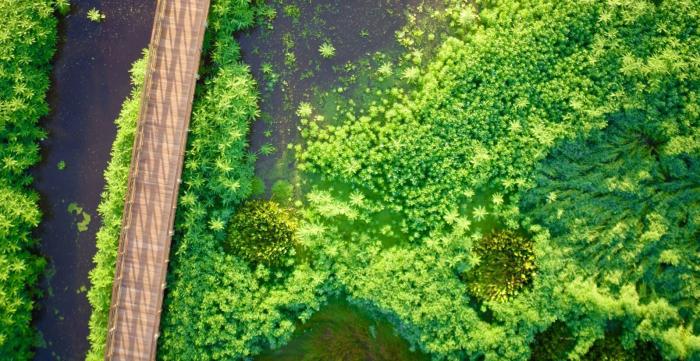 Beaumont-area wetland habitats include Tyrrell Park and Cattail Marsh. While visiting the park, keep an eye out for least grebe and cinnamon teal, as well as sandpipers, American coots, laughing gulls, pelicans, cormorants, roseate spoonbills and hawks. If you're lucky you might even hear the call of a great horned owl. Be sure to bring your hiking shoes: You cannot drive the levees, but the 520-foot boardwalk of Cattail Marsh will get you up close and personal to the water birds.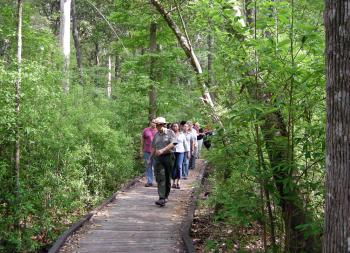 Habitat 2: Woods
The thick woods of southeast Texas are ideal bird-watching country. The towering pines provide prime nesting spots and the combination of both bottomland and upland woodlands offer a diverse ecosystem that is ideal for a variety of birds.
Some spots to check out are the Big Thicket, Pineywoods Outreach and Conservation Center and the Village Creek State Park. At Big thicket, keep an eye out for "bird in flight" signs, which mark the birding trail. Hooded warblers, kingfishers, whip-poor-wills, sandpipers, road runners, and Caroline chickadees are common sightings here. 
Habitat 3: Coastal
The coast of Southeast Texas is a welcoming sight for neotropical migrants, such as Baltimore orioles, swallows and warblers, that have made the strenuous crossing of the gulf waters. Birds like roseate spoonbills seek out shellfish, while pelicans can be seen off the shore deep-water fishing for their dinners.
Some prime bird-watching sites include Sea Rim State Park with 5.2 miles of gulf shore and 4,000 acres of marshland. There you'll find black-crowned and yellow-crowned night herons, roseate spoonbills and cattle egrets. In addition, the Texas Ornithological Society Sabine Woods – a bird sanctuary near Sabine Pass – is considered one of the most important stopovers for neotropical migrants, and in the fall, you may be treated to the sight of hundreds of swarming humming birds. 
Regardless of where you head to while in Beaumont, have your cameras at the ready. With so many habitats in one location, the destination is a one-stop shop for birders looking to maximize their time.   
New Beaumont Birdwatching Package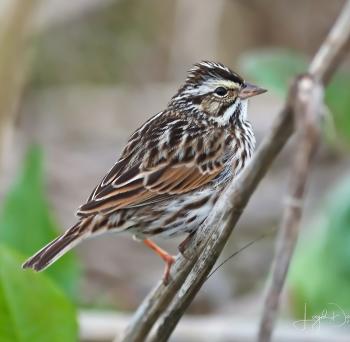 As younger generations seek to escape the city and reconnect with nature, bird-watching has gained popularity among all ages over the past few years. Perhaps it's all those games of "I Spy" as a child, or trying to catch Pikachu and Rowlet playing "Pokemon GO," but more people are catching on to this relaxing outdoor activity.  
Everyone wants to capture beautiful photos and that has never been truer than for the professional ornithologists and amateur birdwatchers. With picturesque scenes and stunning backdrops here, all you have to do is bring the camera.
The Beaumont Birding Package contains everything you need for a successful birding adventure. Packages include a discount rate and an exclusive Welcome Bag at Holiday Inn Plaza or at Hampton Inn. After checking in, you'll receive this fun and unique swag bag that has a beautiful souvenir book, custom four-day birding itinerary, trail maps, a birding checklist and a limited-edition Beaumont Birdie plush toy.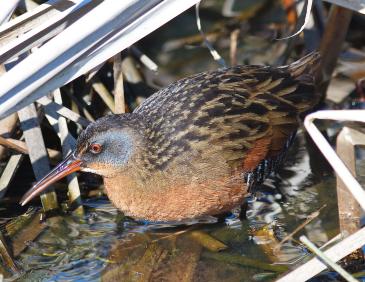 There are 28 birding trails along the Texas Gulf Coast, and this package will make it easy to take advantage of all the hot spots. So many locations near one place mean many options to explore.  Here in Beaumont, you'll find over 350 species nesting nearby!
From mallards and mottled ducks to great egrets and green-winged teals to northern pintails and northern shovelers, the range of fowl in the region is practically unparalleled. Right now, the only thing missing is you!
Every season brings new fowls to town. So after your first visit, you'll be planning your second. Don't worry, we'll save a room for you.
Beaumont Birdies
Did you catch the mention of the new Beaumont Birdies above? The Beaumont CVB proudly and officially introduces you to Beau, Mirabeau, Patillo, Spot, Mamie and Babe, the current "spokesbirds" for this renowned birding region. With a reputation this big, it was hard to pick just one feathered representative.  
This first series of Beaumont Birdies includes these six plush birds; each represents a species native to the area and each is named for a local connection that highlights their favorite area attraction: 
•    Beau is a spirited pileated woodpecker and hangs out at Cattail Marsh Wetlands.
•    Mirabeau is a northern cardinal who calls Lamar University Reaud Honors College home.
•    Patillo is a striking American goldfinch who can be found at Spindletop Gladys City.
•    Spot is a commanding peregrine falcon, perched at Fire Museum of Texas.
•    Mamie is a spry ruby-throated hummingbird, flittering near the McFaddin-Ward House.
•    Babe is spunky northern flicker who nests at Babe Didrikson Zaharias Museum.
Each adorable Beaumont Birdie comes with his or her own custom profile tag and plays a unique birding call.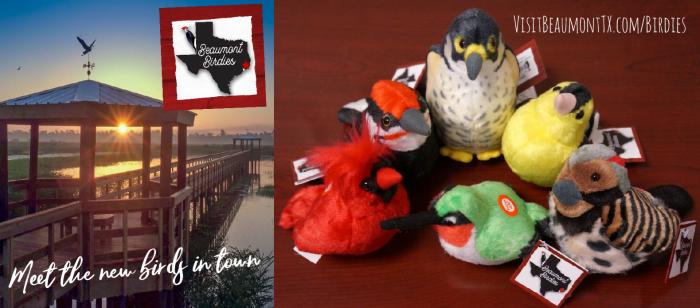 Make sure you book your trip through the Beaumont Birding Package host hotels in order to receive one of these special birdies at check-in. And remember, these six mascots are the first in a series, so book your trip soon, or like the snow geese, they'll migrate on.
Can You Resist the Call?
Ready to go bird-watching? Sign up for the birding mailing list to stay up to date on all the birding news and to be notified of birding locations. 
Not quite ready to hop in the car and head to Beaumont to look at songbirds? Sign up for the birding mailing list to be notified of birding locations,