Ruby Throated Hummingbird
Beaumont Birdie Passport
MAMIE
Birthdate: November 5
Female
Currently Resides: McFaddin Ward House
What is that sweet sound, a steady like hummer
Sweet with a beat and heard more often in the summer
It's Mamie that's who, in search of colors rich. 
For blooms with nectar, to satisfy her in a cinch. 
Ruby-Throated Hummingbird
What the Ruby-Throated Hummingbird lacks in size, packs in beauty. Specific to the east of the Great Plains during mating season and migration, its ruby red, iridescent throat and splashes of green along its body stands out. The Ruby-Throated Hummingbird has very short legs which hinders them from walking or hopping. Don't be fooled, they make up for their short legs with the speed of their wings, which flap 53 times a second. Because of this, they will eat insects from midair or those trapped in sap, from red or orange tubular flowers and feeders.

Lover of the open land, the hummingbird lives in deciduous woodlands, staying on the edges of forests, meadows, stream borders and backyards. Although they normally nest in trees, they have been sighted close to human habitation, nesting in fences, water hoses, etc. When migrating south for the winter, you will find the hummingbird in dry forests and orchards relaxing in the tropics.
They Ruby-Throated Hummingbirds are known to be inquisitive, especially the males, which is why you will see them close to human presence. The males claim territory, mostly their food source, and will guard it from other birds. They will also stay at their food source to load up to sustain the amount of food necessary to fulfill the movement they must make to get around.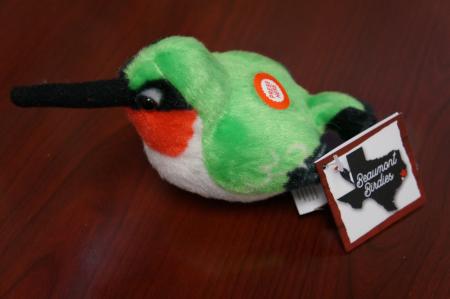 Did you know? Hovering in front of a flower to sip nectar, the Ruby-throated Hummingbird beats its wings more than 50 times per second.

Mcfaddin-Ward House
The historic home is a 12,800 square-foot Beaux Arts Colonial Revival style house and its structure and furnishings reflect the lifestyle of the prominent family who lived in the house for seventy-five years. The three-story home has been restored to the period 1906-1950 when the McFaddins and Wards lived in the home. With its four massive Ionic columns and colonnade-lined porch, the house graces a full city block. Two massive, 120-year-old Live Oak trees shade the porte-cochere while anchoring the 40,000 square feet of spacious lawns, flower beds and rose gardens. Behind the home is a two-story carriage house, complete with servants' quarters, a gymnasium and hayloft, and horse stalls.
Tours By Appointment
Tuesdays - Fridays ($5) 10 am/11 am/1:30 pm/2:30 pm
Saturdays ($5) 10:30 am/1:30 pm/2:30 pm
Sundays (free) first floor tours only from 1 - 3 p.m.
To make a reservation or for more information, please call  (409) 832-2134.