Beaumont's Monthly Crave: Seafood
For residents of the Gulf Coast, any time is a good time for Cajun seafood dishes. With a taste of Texas and a flare of Louisiana in each bite, the local specialties offered in our area are what make Southeast Texas a culinary tourism destination all year round. Nearly every corner of the Golden Triangle harbors a seafood shack that serves up fresh fish and bold flavors regularly.
Tia Juanita's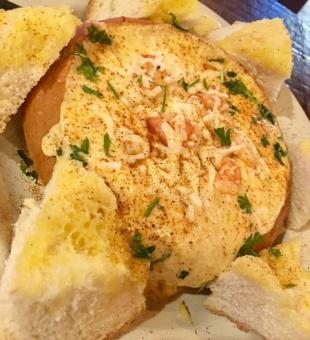 Located off Calder in Beaumont, a colorful eatery named Tia Juanita's Fish Camp is dedicated to serving great tasting food consistently. The turquoise building aligned with vintage décor allows guests to experience an upbeat atmosphere. Nearly everyone you talk to in town lights up at the mention of this locally owned restaurant. 
"The goal is to give customers a fun and family-friendly environment with delicious, one-of-a-kind meals," said Ricky Martinez, owner of Tia Juanita's Fish Camp. 
Tia Juanita's menu is loaded with Cajun Tex-Mex fusion items such as chips with queso, boudin quesadillas and seafood fondue. However, the true standout on the menu is the Redfish Pontchartrain. With a fresh taste like it just came out of the Gulf, the huge portion of redfish in this signature dish is topped with seasoned shrimp and served swimming in a flavorful cream sauce loaded with tender seasonal veggies. Complete your experience with a Bayou Satsuma margarita, made with Louisiana's Bayou Satsuma rum.
Floyd's 
Across town along the busy Interstate 10, Floyd's Cajun Seafood and Steakhouse remains a favorite among local residents and out-of-towners. With items like catfish courtbouilion and deep-fried soft shell crab, it's no surprise why passersby choose this eatery to enjoy a taste of Southeast Texas.
Every meal at Floyd's feels like a family-style reunion filled with your favorite comfort foods. Please your palette with a platter full of crispy fried crab fingers, shrimp, and sweet potato fries. However, there is nothing quite like a bowl of thick and creamy crab bisque to soothe your craving for Cajun flavors. 
At Floyd's, all meals are served with a basket of freshly baked garlic bread and like the gumbo, the crab bisque is accompanied with a bowl of rice. 
Rodair Roadhouse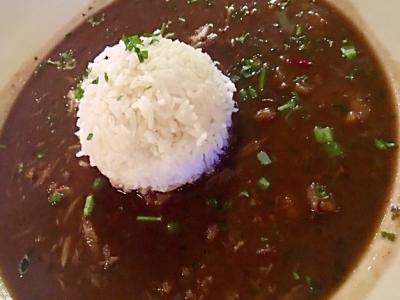 A Cajun seafood list isn't complete without the mention of gumbo, and there is no doubt that The Rodair Roadhouse in Port Arthur knows how it's done."When it comes to gumbo, there needs to be a thick dark roux with heaping portions of shrimp and crab in each bite," said John Dingle, the menu mastermind at Rodair. Generations ago, The Rodair Roadhouse was a gathering ground for Port Acres locals to dance the night away after a long work day. In 2016, The Rodair Roadhouse was rebuilt and revamped by Beaumont residents Richard Hudson and Shawn Skinner. Throughout the past year it has undoubtedly become one of the most popular restaurants in Southeast Texas.
Consistency is key at The Rodair Roadhouse. The motto is "Where the Bayou country meets the Gulf Coast." It's no wonder why this restaurant keeps busy night after night. The bigger than life menu is loaded with Southern favorites and seafood specialties, not to mention the portions are huge just like the state of Texas. 
Crazy Cajun 
Crazy Cajun is another seafood lovers paradise. The lunch and dinner menu offers just enough to satisfy everyone with a selection of seared tuna steaks and fried fish platters. We recommend the crab cake platter with a side of cheesy bacon cajun potatoes. Craving seafood gumbo or crawfish etouffee? Don't worry, they've got that too!
In all honesty, Cajun culture in Southeast Texas is best enjoyed through our food. When you choose to dine at one of our locally owned restaurants, it is more than you're your average supper time. It's a lifestyle where the heart and soul of our Gulf Coast community can be found day in and day out. Enjoy yourself by visiting one of our many great restaurants today!
Author: Lauren Bebeau
Lauren Bebeau is a freelance writer and food blogger based in Beaumont, Texas. For the past decade, Lauren has worked in the food industry. Lauren's interest in Southeast Texas cuisine began after graduating Lamar University when the opportunity of marketing a family owned frozen food product across Southeast Texas arose.  Since 2015, Lauren has gained notoriety around the Golden Triangle for covering local restaurants for The Beaumont Enterprise publications, Cat5 and VIP Magazines in addition to her personal blog, SETXfoodies. Lauren is dedicated to showcasing what our area has to offer residents and tourists. In her free time, Lauren enjoys dinner parties with friends, lounging around with her pet cat, and traveling.
More Local Favorites