Margaritas & Drink Specials in Beaumont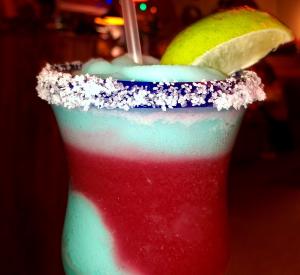 If you've ever been to Mexico, then you are aware of how seriously they take their tequila consumption.
While avid drinkers along the Texas/Mexico border like to argue over who crafted the first margarita, we're here to enlighten you on where you can find the best versions of this vividly colored and flavored beverage.
In its simplest form, a classic margarita is a mixture of tequila, Triple Sec or Cointreau, a squeeze of fresh lime juice, and a salted rim. [In fact, the International Bartenders Association lists the recipe for margaritas as: 1.18 ounces of tequila, 0.68 ounces of Cointreau, and 0.5 ounces of fresh lime juice.] Across Southeast Texas, several area eateries have gussied up the average 'rita to be so much more. We're talking next-level drinking here.
We begin our journey in Mid-County. With Cinco de Mayo fast approaching, there is no doubt that margaritas are in your near future. 
At Rancho Grande Bar & Grill in Port Arthur, patrons can enjoy affordable, jumbo-sized sugary and tangy versions 7-days a week. After a long day, what more could you ask for?
Whether it's a mixture of watermelon, berry, mango, or even spicy jalapeno, the only problem you'll have here is figuring out which margarita to order first.
We suggest the Berry 'Rita paired with Tacos al Carbon. When it arrives, thirty-two ounces of frozen deliciousness topped with copious amounts of raspberries, blueberries, and strawberries will surely brighten up your day.
El Viejo Tony
4300 FM 365, Port Arthur
(409) 209-1715
Located on Highway 365 in Port Arthur, El Viejo Tony has been serving satisfied customers since 2016.
Locally owned and operated, Mid-Country residents love to brag about this Tex-Mex treasure.
Delicious drink options include small, jumbo, and even pitchers full of fruity-flavored margaritas. Whether it's mango, melon, strawberry, sour apple, or even Blue Curacao, you can't go wrong with what El Viejo Tony has to offer.
We suggest the electric Blue Curacao Margarita jam-packed with citrus flavors, paired best with a side of Queso Blanco. Trust us, you won't be disappointed!
338 US-96, Lumberton
(409) 227-0806
Whoever thought to pair margaritas and gumbo was onto something.
Located off Calder in Beaumont and with a new location in Lumberton, Tia Juanita's Fish Camp may be considered Cajun Tex-Mex but their especially tasty and potent margaritas deserve to be recognized. 
Do yourself a favor and try the Bayou Satsuma margarita, as in Satsuma oranges.
Not your average 'rita, this sweet citrusy drink gets its name from the main ingredient: Louisiana Bayou Satsuma Rum. What makes this premium orange liqueur so unique is the fact its craft made and copper-pot distilled from locally grown sugarcane in neighboring Lacassine, Louisiana. Take your time sipping on this boozy adult beverage. Some say it's so strong, the bartender will cut you off after consuming two.
Café Del Rio
2830 Interstate 10 E, Beaumont
(409) 347-0250
A local chain favorite among Tex-Mex enthusiasts, Café Del Rio on the Interstate 10 feeder road in Beaumont offers live music mixed with mouthwatering Mexican food all week long.
That's not all that keeps Southeast Texas residents coming back time and time again. With a margarita menu almost as big as the Lone Star State, patrons know their options are plentiful.
The customer favorite includes the Del Rio swirl, a frozen Blue Curacao margarita with layers of sangria, served with a salted rim.
Looking for something stronger? Café Del Rio is known for the 3G, dubbed the "Cognac of Margaritas." The 3-G is made with Tres Generaciones Ultra Premium Tequila, Grand Marnier, lime juice, and a hint of sugar. 
For the perfect mix of fire and ice, order a side of chips with spicy Queso Diablo with your 'rita. With a handful of locations across the great state of Texas, it's no doubt why Café Del Rio knows what works when it comes to mouthwatering Mexican food.
Casa Tapatia
I-10 Frontage Rd., Beaumont
409-832-0848
If you are hankering for a delicious margarita, look no further than Casa Tapatia to fill your craving. Not only do they offer a tasty house margarita, but the real kicker is also the Top Shelf Margarita.
On Wednesday and Thursday of every week, the Top Shelf Margarita is half-price, made with the finest tequila available. Garnished with an orange slice and maraschino cherry, you will not be disappointed with this 'rita.

Kick your Cinco de Mayo celebration off with a tasty treat from one of our area restaurants. Each Mexican-inspired eatery has something uniquely delicious to offer. Let us know which margarita you choose by snapping a photo and using #EATBMT in your photo.
 
Author: Lauren Bebeau
Lauren Bebeau is a freelance writer and food blogger based in Beaumont, Texas. For the past decade, Lauren has worked in the food industry. Lauren's interest in Southeast Texas cuisine began after graduating Lamar University when the opportunity of marketing a family owned frozen food product across Southeast Texas arose.  Since 2015, Lauren has  published features about local restaurants for The Beaumont Enterprise publications, Cat5 and VIP Magazines in addition to her personal blog, SETXfoodies. Lauren is dedicated to showcasing what our area has to offer residents and tourists. In her free time, Lauren enjoys dinner parties with friends, lounging around with her pet cat, and traveling.
More Local Favorites