Small size with big flavor, street tacos are something everyone loves. Invented out of pure convenience, tacos became popular in Mexico because it was easier to transport a handful of ingredients in a tortilla, rather than lay it all out on a plate which wasn't always available. Tacos became an easy vehicle for food for those who were outdoor workers and the families that prepared them. 
Some of you might be asking: what's the difference between a taco and a street taco?
Street tacos are synonymous with food vendors who stand for hours along the streets of Mexico filling the atmosphere with smells of marinated al pastor and so much more! 
Forget Taco Bell. No crunchy tortilla shells will be found at authentic taco shops in Southeast Texas. Most typical street tacos are served on handmade corn tortillas, topped with fresh cilantro and diced white onions. It's acceptable to order more than a few to fill your belly! 
Don't forget the perfect condiment: salsa. Whether it be a food truck, taco stand or restaurant, each has their own style of making salsa—usually all delicious.
Tacos La Bamba
2005 Calder Ave, Beaumont
Located in Old Town Beaumont, Tacos La Bamba is one of Beaumont's oldest taco joints. 
Back in 1996, Carlos Zuniga opened up Carlos' Video, a movie rental shop and hangout that also sold tacos. Present day, Carlos' Video has faded away and Tacos La Bamba is alive and well, keeping loyal customers returning routinely due in large part to their affordable and mouthwatering menu options.
Every first Thursday of the month, Tacos La Bamba holds a community gathering with $1 tacos, live music, local artisans, and video games for all ages. Ask anyone and they will tell you that Tacos La Bamba is so much more than a business, it's a neighborhood staple for residents of Beaumont.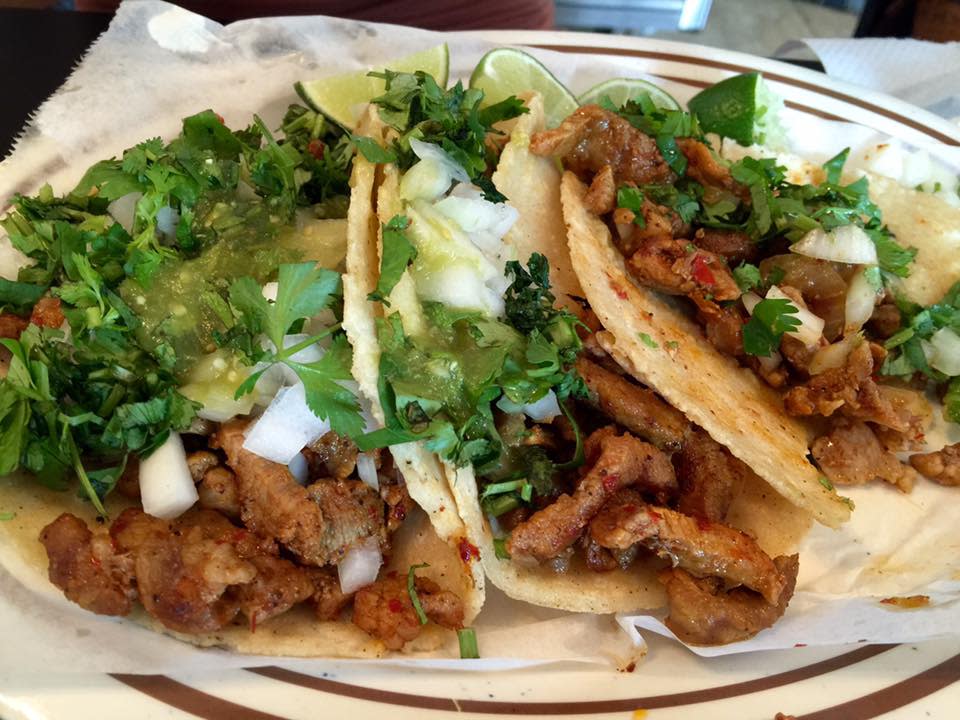 Taqueria El Primo 
3297 College Street, Beaumont
With three locations across Southeast Texas, the Tacos El Primo chain really knows how to satisfy cravings for authentic Mexican food any time of day or night.
Open 24/7, the College Steet location of Tacos El Primo is open to serve you. Particularly after that long shift or night out, head to this taco spot to get your next meal. Don't want to go inside? This Tacos El Primo also includes a drive-thru.
One of our favorite parts about Tacos El Primo is the salsa bar. Whether its red, green, or orange; spicy or mild; this locally-owned eatery has options for you to take your taco to the next level.
Also located on Concord Street in Beaumont and Texas Avenue in Bridge City.
Tacos Toreados
2770 College Street, Beaumont
With a residence at College and 4th Street, Tacos Toreados is bright red food truck offering signature street tacos and more to folks on the go.
Tacos Toreados has made ordering easy by listing all ingredients on the outside of the truck and are also available on the Waitr app for delivery!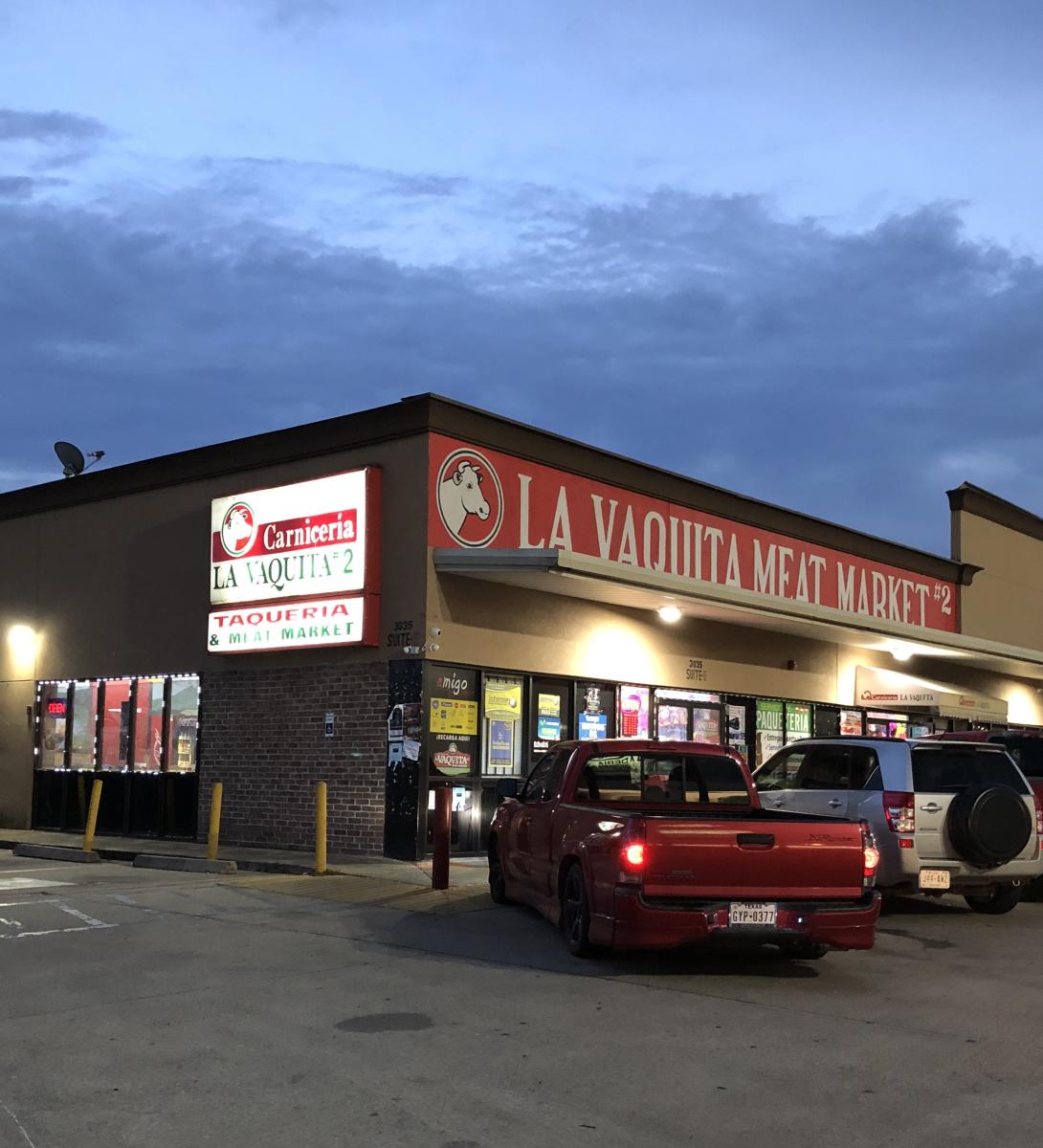 Carniceria La Vaquita #2
3035 College Street, Beaumont 
Located off College Street, La Vaquita is a neighborhood Mexican meat market and taqueria that serves some of the best carnitas in the city. 
With another location in Port Arthur, La Vaquita has daily offerings of delicious street tacos filled with signature pork carnitas, so tender and flavorful, among many other items displayed to hungry customers.
Proclaiming to bake bread fresh daily is no surprise. With just one bite you can tell that La Vaquita takes pride in ingredients served. Cooking up fresh bolillos and teleras for their tasty tortas. Aguas Frescas are also offered weekly with fruity flavors changing daily.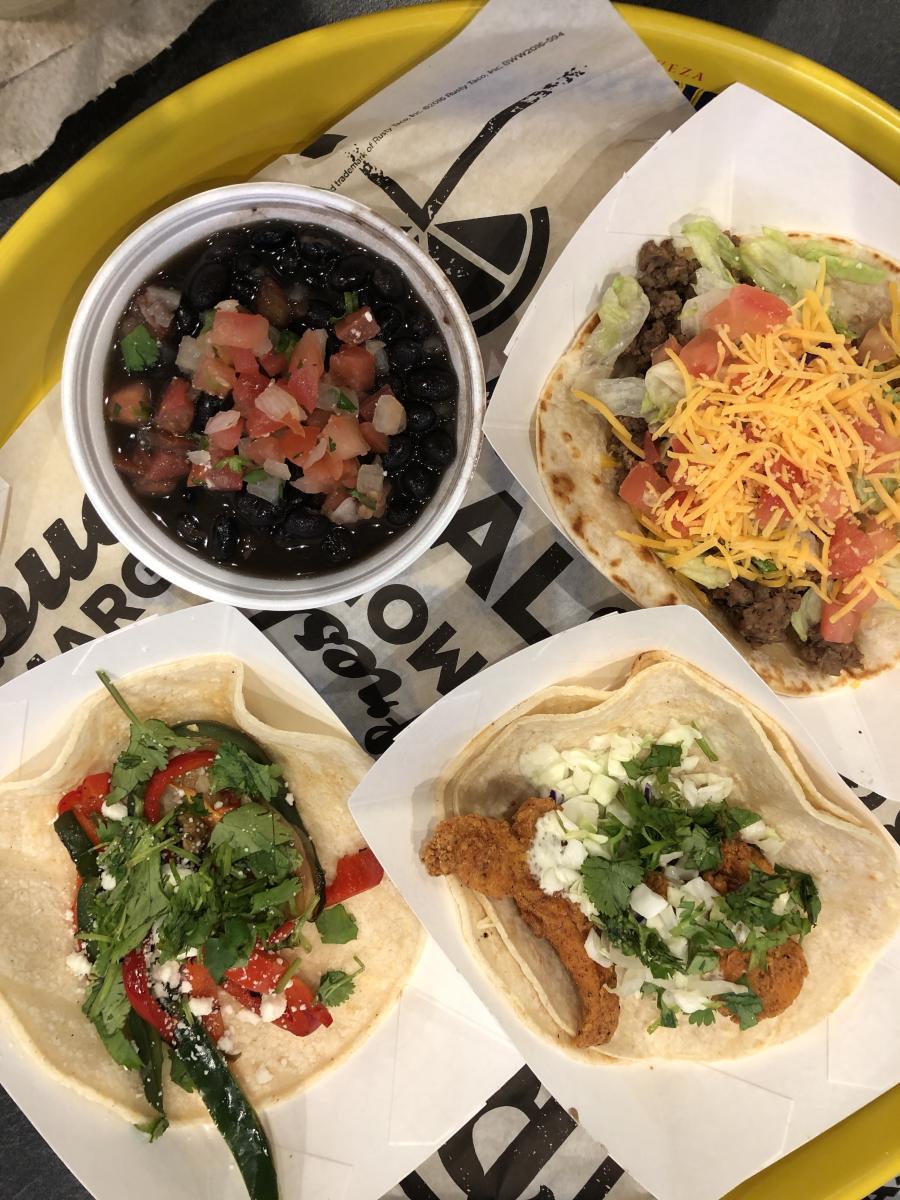 Rusty Taco
Parkdale Mall, 4215 Dowlen Road, Suite A
The only Tex-Mex restaurant to offer street tacos on our list, Rusty Taco is new to Beaumont and first opened its doors in 2017. 
Located on the same property as Parkdale Mall, R Tacos boasts cheap eats in a casual setting with frozen margaritas to boot.
At R Taco, the menu items include more Mexican-American influences than other locations on our list. It's not too often you see a crispy fried chicken taco or a barbecue brisket taco!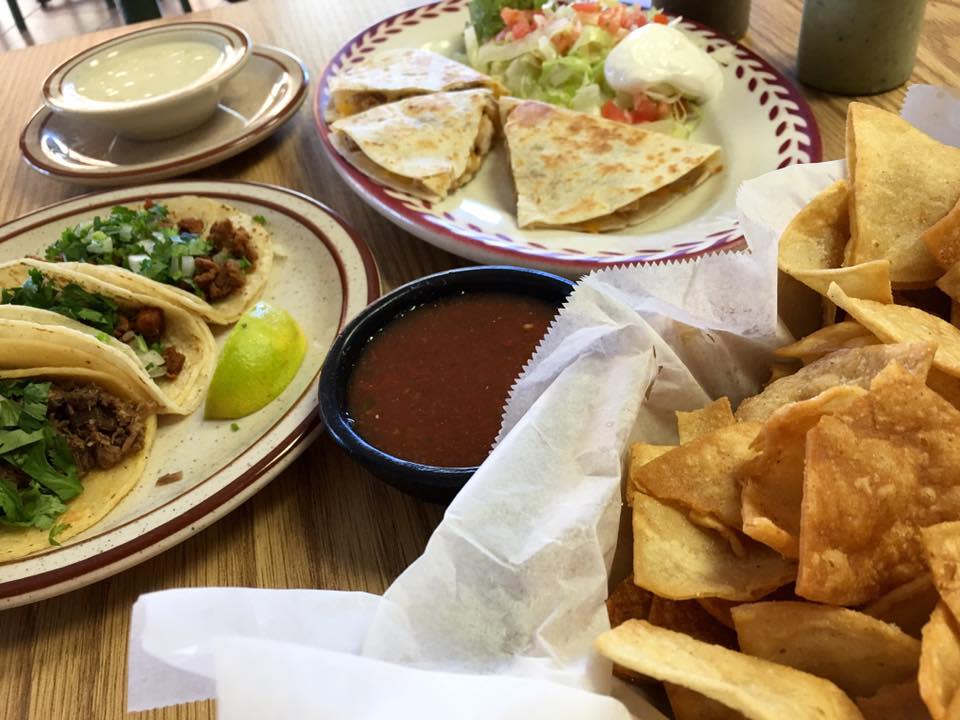 Tito's Tacos
2949 College Street, Suite 200, Beaumont
Locally owned and operated by the Pittman family, Tito's Tacos wanted to bring a casual taco shop to Southeast Texas using family recipes. From tacos to tortas, they've got it all. 
Tito's Tacos also offers chips and queso, which you won't find in most authentic Mexican restaurants as it's more of a Tex-Mex thing.
Visit Tito's Tacos on College Street and their neighbor, La Real Michoacana for dessert!
In Southeast Texas, the options for street tacos are endless. Let us know which bold flavored tacos you choose to eat. Use #EATBMT and share your foodie photo on social media today!
 
Author: Lauren Bebeau
Lauren Bebeau is a freelance writer and food blogger based in Beaumont, Texas. For the past decade, Lauren has worked in the food industry. Lauren's interest in Southeast Texas cuisine began after graduating Lamar University when the opportunity of marketing a family owned frozen food product across Southeast Texas arose.  Since 2015, Lauren has  published features about local restaurants for The Beaumont Enterprise publications, Cat5 and VIP Magazines in addition to her personal blog, SETXfoodies. Lauren is dedicated to showcasing what our area has to offer residents and tourists. In her free time, Lauren enjoys dinner parties with friends, lounging around with her pet cat, and traveling.
More Local Favorites