Museum Madness
October 19-22, 2023
Support area museums during "Museum Madness Weekend," October 19-22, 2023.  The Art Museum of Southeast Texas, Beaumont Children's Museum, John Jay French Museum, Edison Museum, Dishman Art Museum, Fire Museum of Texas, McFaddin-Ward House Museum, Museum of the Gulf Coast, Spindletop-Gladys City Boomtown Museum, and Texas Energy Museum are each hosting events for a fun-filled weekend in Jefferson County.
The weekend starts off Thursday, October 19, 2022, with the Edison Museum's Ghost Phone and Spiritualism exhibit, a cemetery tour at Magnolia Cemetery, and guided tours at the Museum of the Gulf Coast featuring interactive media exhibits in music, sports, and notable people halls of fame. 
The Texas Fire Museum will host a pumpkin scavenger hunt on Friday, October 20, 2023. The McFaddin-Ward House will host live music on the lawn. 
On Saturday, in downtown Beaumont, the Beaumont Children's Museum invites all to Touch a Truck and STEAM Fair.  The Fire Museum of Texas will be holding a pumpkin scavenger hunt, and the Art Museum of Southeast Texas and Texas Energy Museum are holding their annual "Family Arts Day: Eat a Bug" and "Dino Day," respectively.
The Beaumont Heritage Society is hosting its annual "Pumpkin Walk" at the John Jay French Museum.
On Sunday, October 22, Cattail Marsh Wetland Education Center will be inviting all to join them for their "Marsh Monster Mash" that will include activities for children and their families.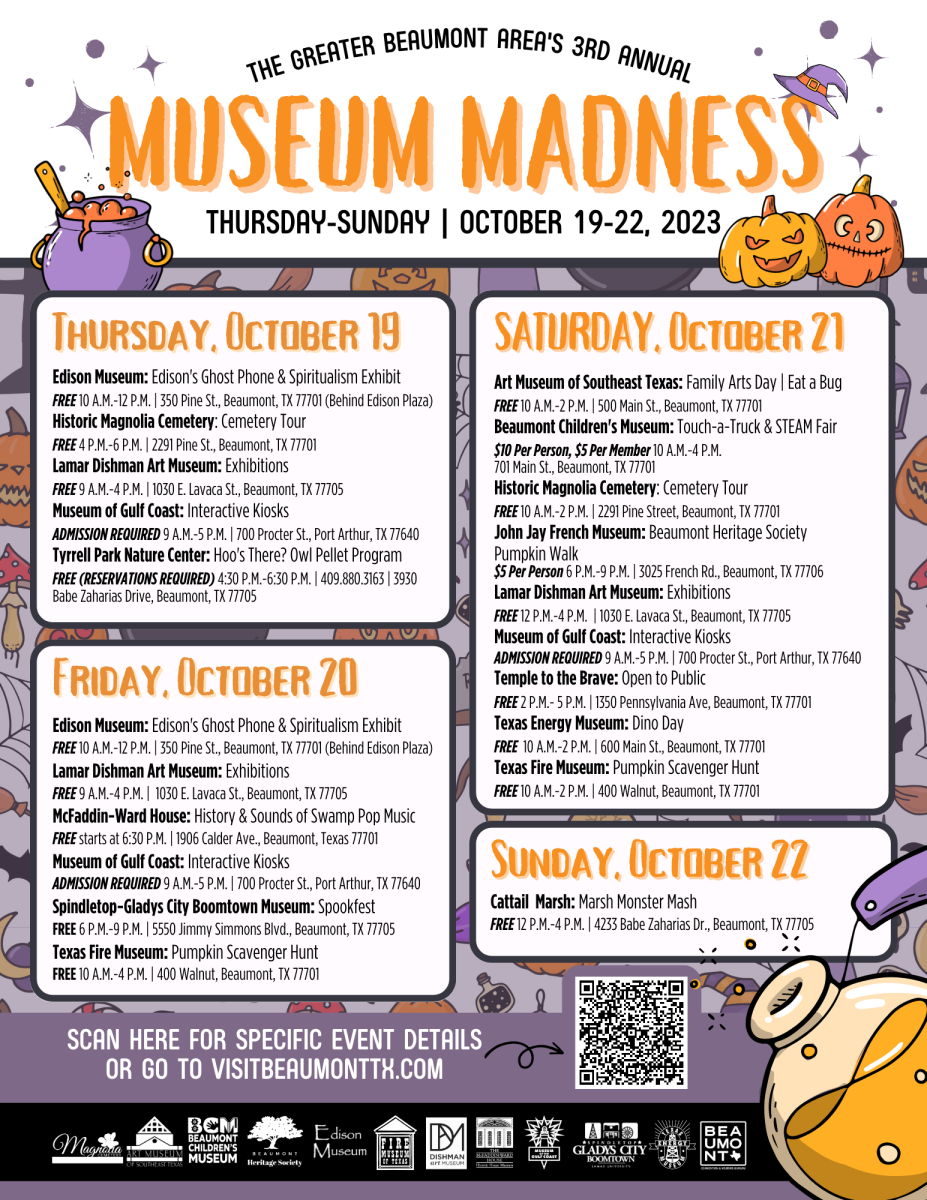 $92, includes two breakfast coupons
 $89, includes free breakfast buffet
      **call hotel to make reservations "Museum Madness."