Rivers and Lakes in Beaumont
Often referred to ask "the last wild river in East Texas" the Neches River flows 416 miles through east Texas, the Big Thicket National Preserve, through downtown Beaumont to its mouth on Sabine Lake.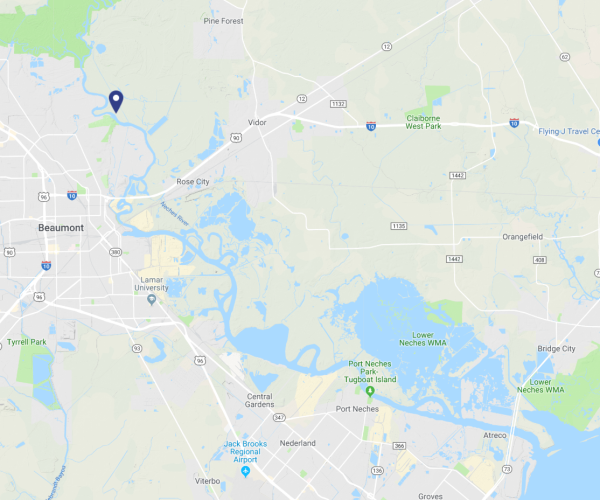 Ecologically diverse, the Neches River is the gateway to the Big Thicket National Preserve. The river is home to more than 200 tree species, 47 mammals, 300 birds and many reptiles and amphibians.
Neches River Access
The best access to the Neches River in Beaumont is Collier's Ferry Park. Collier's Ferry Park has much to offer including 4 public boat ramps and plenty of free parking for boats and trailers.
History: Collier's Ferry was the main crossing on Old Jasper Road and alternate crossing on Opelousas Trail from Liberty through Beaumont to Louisiana. Used as early as 1750, route followed Indian traces and was the "highway" for explorer-settlers, priests, soldiers, trades from Spain, France, and Anglo-America. The ferry's most important use was as a cattle crossing on famous Opelousas Trail from 1820s to 1900. Herds came this way to bypass the streets of Beaumont. Although others ran it during 1831-1950 career, the ferry crossing took its name from the John Collier family who operated it for 50 years.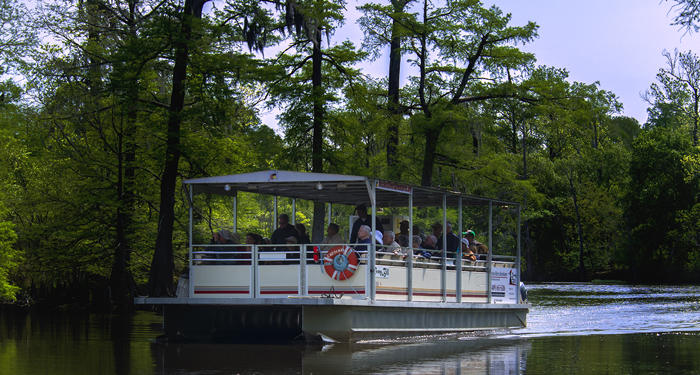 Touring the Neches River
Regular guided weekly educational boat tours on The Ivory Bill are also available from Collier's Ferry Park. Let the Big Thicket Association take you on a Neches River Adventure, a leisurely tour that showcases beautiful views of the Neches River and its rich history. Tours are available every Saturday from March to November but reservations are required so check their website for details. 
Paddling the Neches River
Canoe and kayakers will enjoy the Cooks Lake to Scatterman Paddling Trail, accessible from the Lower Neches Valley Authority (LNVA) Saltwater Barrier Boat Ramp. Texas Parks and Wildlife Department has dedicated this new paddling trail, a 4.8-mile loop that takes paddlers through beautiful moss-draped cypress-tupelo slough in the biologically diverse Big Thicket National Preserve. The trail is also home to Beaumont's annual Neches River Rally paddling event put on by the Big Thicket Association each fall.
Port of Beaumont
The Port of Beaumont is a world-class intermodal transportation facility situated on a deep-water channel of the Neches. Click here to read the history of the Port of Beaumont. 
The Port of Beaumont is the #1 strategic military outload port in the nation
#5 in the nation in terms of tonnage and the 3rd fastest growing port in the United States.
Southeast Texas is the #1 exporter of crude in the nation, #1 exporter of liquid natural gas.
Port of Beaumont Location: Situated 84 miles east of Houston and 270 miles west of New Orleans (Latitude 30°4'6″N, Longitude 94°5'4″W), the Port of Beaumont is accessible from the Gulf of Mexico and Intracoastal Waterway via the federally maintained Sabine-Neches Ship Channel, 42 miles upstream from the Gulf and is served by three class one rail carriers BNSF, Kansas City Southern and Union Pacific. The Sabine-Neches Channel is a minimum of 400 feet wide and maintained at a depth of 40 feet with an air draft is 136 feet. The Intracoastal Waterway and Mississippi River connect Beaumont with a vast inland waterway system serving such cities as Minneapolis, Chicago, St. Louis, Kansas City, Louisville, Omaha and Memphis.