Beaumont's Monthly Crave: Vietnamese
Often overlooked, Vietnamese cuisine is one of the most prevalent throughout Southeast Texas. Due in most part to intimidated eaters, the variety of authentic representations offered in our area do not receive the appreciation they deserve.
When discussing the recipes of Vietnam, one needs to understand the appreciation that the culture has for natural flavors. By using healthy and preservative-free ingredients, these locally owned Vietnamese restaurants are known for serving fresh tasting, earthy dishes with a mouth-watering aroma and vibrant colors that satisfy the senses.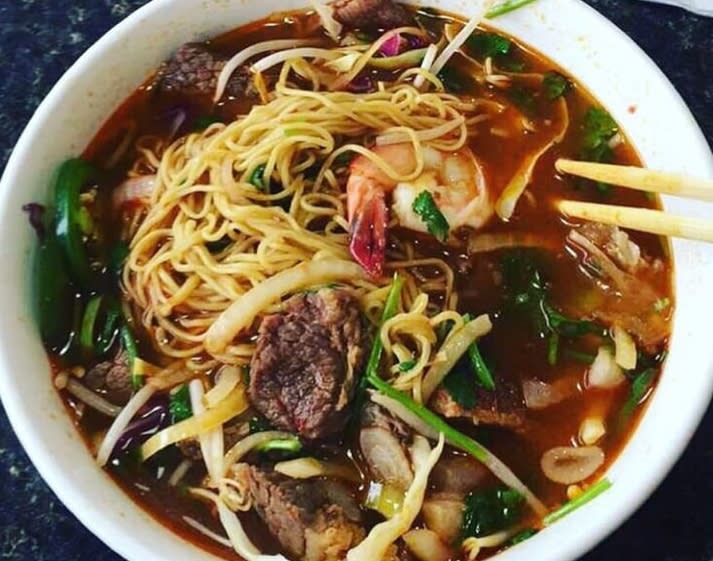 Most of us have heard of "pho," but have you ever enjoyed a piping hot bowl of this tasty broth? Made with a variety of fresh herbs, spices, and hearty proteins, pho is a staple of Vietnamese cuisine. The term "pho" is actually describing the noodles in the dish; however, the real treat is in the broth. The flavor palette of traditional pho begins with boiling beef bones and building on from there, thus creating a superior soup.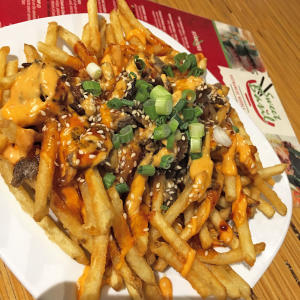 "True quality pho takes 24 hours to cook from start to finish," said Calvin Pham, owner of Sweet Basil Noodle House on Dowlen Road, which opened in 2016.
Along with his wife, Be Pham, Calvin worked to bring Beaumont an eatery which showcased decades of family tradition with a slight essence of the present culture.
"Being first generation Americans with parents from Central Vietnam, it was crucial for us to stay true to our heritage while also appealing to Southeast Texas residents," said Be Pham, who can often be found in the kitchen preparing each dish.
Browsing the menu, you'll find some full-flavored fusion items. The most popular item Sweet Basil is known for is the hot mess fries. This batch of crispy French fries comes topped with a signature aioli, strips of marinated ribeye, sesame seeds, and scallions. For dessert,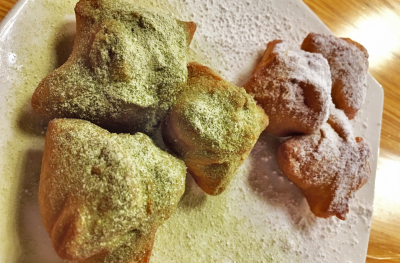 give the Thai beignets a try, filled with gooey chocolate and topped with sugar and matcha green tea powder. 
A business must have a passion for pleasing customers if it's going to serve customers a product that's been cooking all day long, and Sweet Basil has just that. The most popular traditional Vietnamese menu items are the slow-cooked beef pho, loaded with brisket and steak, and the noodle bowl served with rice vermicelli, bean sprouts, pickled carrots, peanuts, scallions, and your choice of chargrilled protein. Vegan options also available.
However, we recommend the Seafood Shabang. This over-sized pho bowl comes loaded with Gulf shrimp, lobster balls, and a cluster of seasoned boiled crab that sits atop the steamy broth. Like all pho, this dish is accompanied with a plate full of fresh Thai basil, jalapenos, lime and bean sprouts. Add Hoison sauce, chili paste, and Sriracha if you must, but you must taste the broth first!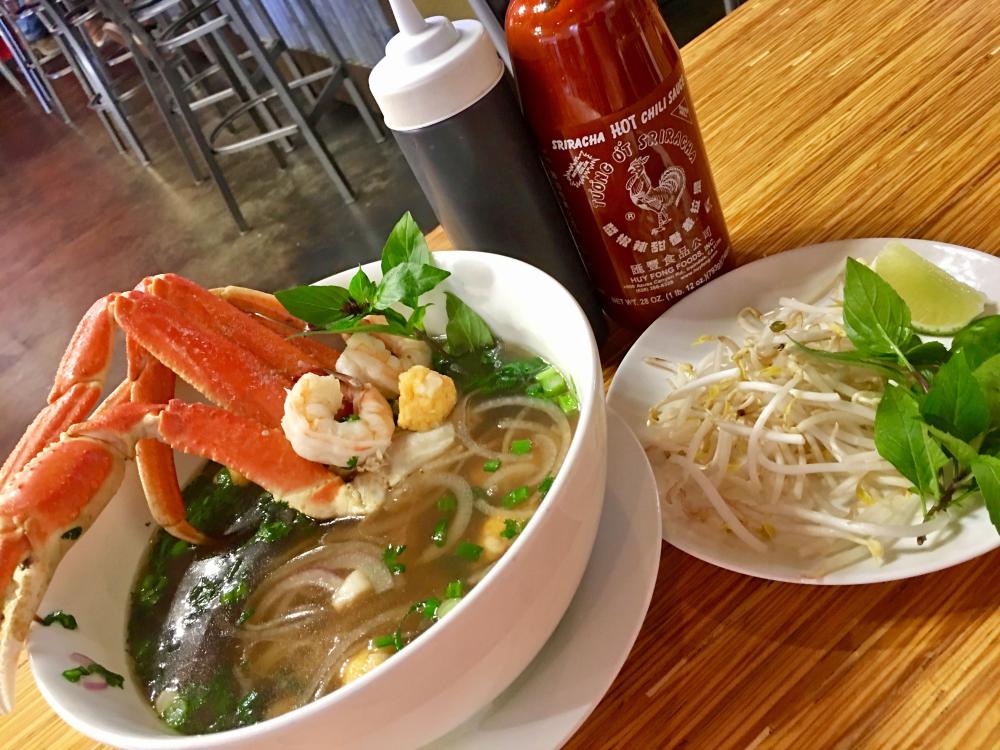 Respectfully eat your pho with a spoon and chopsticks, however Texans are allowed to use whatever means is necessary. Pho is known to have healing qualities, so be sure to enjoy a bowl the next time you feel under the weather.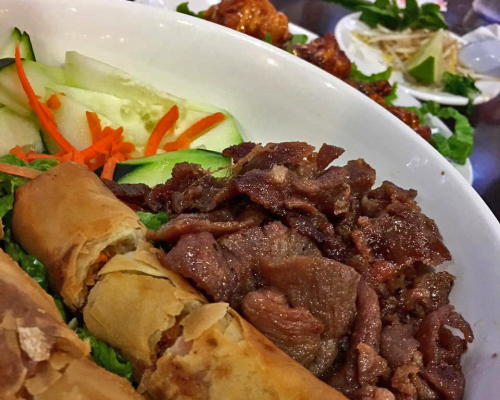 Further down Dowlen Road and located across from Parkdale Mall, Pho Sky offers chargrilled Vietnamese fare that is more than meets the eye. In addition to tasty pork they've also got a crispy wing appetizer worth sampling. Finish your meal with a frothy flavored bubble milk tea. Consider adding tapioca for a more textured beverage.
The stand out favorite at Pho Sky happens to be the #48, Chargrilled pork with crispy pork skin and a delicious pair of eggrolls served atop a bowl full of clear vermicelli noodles. Some of the best fried eggrolls in town if you ask us! And if you really want to indulge, add a fried egg to top off your order.
Across town pho is perfected at, Pho Four Seasons. Driving down College Street, pay attention to the sign because this is one joint you don't want to miss. Locally owned and operated, Pho Four Seasons is a quick stop for many hungry visitors along Interstate 10.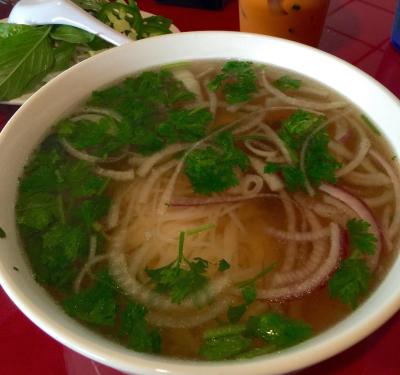 Offering customers more of an old school Vietnamese vibe, Pho Four Seasons is well-known for the variety of traditional pho dishes and other authentic comfort fare. Ask around and you'll learn that most locals had their first taste of pho here. After all, this place was here in Beaumont before the rest came along.
What we love about Pho Four Seasons, is the relaxed atmosphere and attitude. The low-price point and speedy service makes this eatery a favorite for many lunch-goers in Beaumont's South End.
For beginners, we recommend the #8, Pho Tom, beef and shrimp served in a healthy beef stock. Want something more authentic? Try the cultural staple, Bun Bo Hue, a spicy pork and beef broth with thick rice noodles. Or if seafood is what you fancy, try the #21, shrimp noodle soup in a chicken broth. At Pho Four Seasons, seafood dishes tend to be served with chicken broth, known as Hu Tieu instead of pho.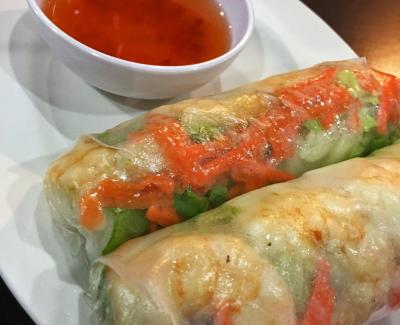 Don't forget the chargrilled pork and shrimp spring rolls as Pho Four Seasons has some of the best in town.
We understand that learning a new cuisine all at once may be overwhelming, but Vietnamese food is not nearly as complex as it might seem. Traditional American food incorporates the exact same ingredients therefore you shouldn't be nervous to try something new.
While Southeast Texas is a melting pot of different cultural cuisines to choose from, we suggest stepping out of your ordinary routine and enjoying what great flavors the Vietnamese community has to offer. You can thank us later!
Author: Lauren Bebeau
Lauren Bebeau is a freelance writer and food blogger based in Beaumont, Texas. For the past decade, Lauren has worked in the food industry. Lauren's interest in Southeast Texas cuisine began after graduating Lamar University when the opportunity of marketing a family owned frozen food product across Southeast Texas arose.  Since 2015, Lauren has  published features about local restaurants for The Beaumont Enterprise publications, Cat5 and VIP Magazines in addition to her personal blog, SETXfoodies. Lauren is dedicated to showcasing what our area has to offer residents and tourists. In her free time, Lauren enjoys dinner parties with friends, lounging around with her pet cat, and traveling.
More Local Favorites