Beaumont Mardi Gras
February 8-11, 2024
Mardi Gras of Southeast Texas's  Annual Mardi Gras Celebrations is held in downtown Beaumont. The festivities kick off downtown with lots of excitement, delicious Cajun food, live music, parades, and of course, all the beads you could want!
Stay tuned for more information and mark your calendars to attend informational meetings that will occur each month!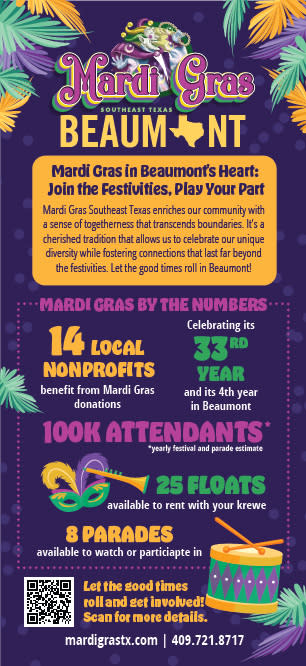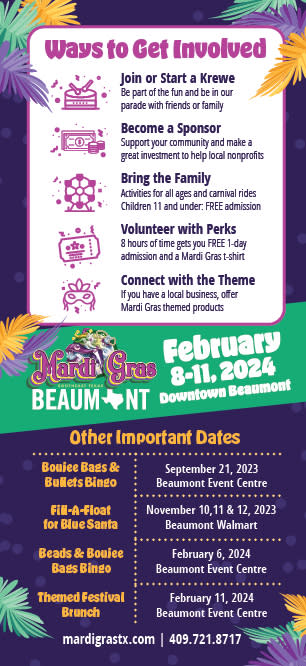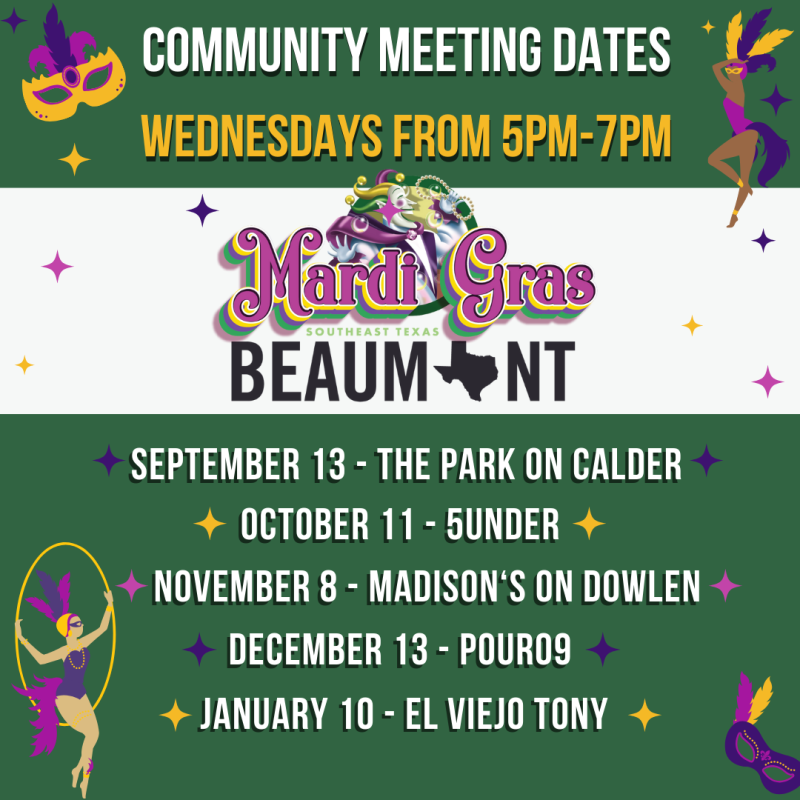 Beaumont Mardi Gras FAQ
When and where is Mardi Gras Beaumont? 
At the Great Lawn of the Event Center downtown (700 Crockett Street) from Thursday – Sunday, February 16-19, 2023.
Do I need a ticket or a wristband? 
You need a ticket to enter the gated area, which is where the stages and concerts will take place. You do not need a ticket to access the carnival or catch a parade, but you can also buy a FUNpass for unlimited rides if you choose.
Where can I purchase tickets?
You can buy tickets and FunPasses in advance at Market Basket, the Mardi Gras Store in Port Arthur, online, or on-site. Children under 12 are FREE.
How do I buy concert tickets?
Concerts are included with your gate admission; you do not need a separate concert ticket.
Is the carnival Fun Pass good for the whole weekend?
No, unlimited ride wristbands are sold daily, you need a new wristband each day you attend and want to ride the rides.
What is free?
All the parades, the kid's zone, and entertainment once you're in the gate. Kids under 12 are also free.
Can you leave and come back?
Yes, with your daily admission you can come in and out as many times as you want as long as your hand is stamped upon exit.
When/where are the parades?
You can see the parade route and schedule here. The most elaborate not to miss parades are Friday and Saturday nights – the Valero Krewe of Krewes Parade (2/17) and Total Krewe of Aurora Grand Parade (2/18). All main parades start at the Civic Center, travel down Main Street to Crockett, Bowie, Magnolia, Laurel, Calder, and end at Edison Plaza.
When/where are the concerts?
There will be musical entertainment the whole weekend on two stages set up on the Great Lawn outside the Event Center. Entertainment is included in your gate admission, you do not need a separate concert ticket. 
Where should I park?
There is no designated parking for Mardi Gras, but lots are located downtown. Make sure to look for signage to ensure you are not on private property. Roadblocks will be located at the entrances of Mardi Gras at Neches Street, Archie Street, and Magnolia Street around the Event Centre. 
Is there a drop-off area? 
Yes, Uber/Lyft and our accessible patrons will be able to drop at Beautiful Mountain Skate Park near the intersection of Laurel and Magnolia.
Is it family-friendly? 
Yes, very. We say Mardi Gras is a celebration for all y'all, and we mean it. Kids under 12 are free anytime, and the free Kid's Zone is available Saturday and Sunday from 12:00 - 6:00 pm, with Sunday unofficially family day with munchkin and truck parades and jazz brunch.
What about alcohol?
Hard alcohol will only be available in the Funky Jester lounge (aka. the Event Center), and beer, wine, and seltzer stations will be available throughout the gated area.
Can you drink anywhere in downtown?
No, alcohol cannot leave fairgrounds. It is only allowed in the gated area with a ticket. You must finish your drink to go to the carnival.
Are chairs and strollers allowed?
Chairs are not allowed on the grounds, but strollers ARE allowed. 
Are there restrooms available?
Yes, portable restrooms will be available throughout the fairground.
Are COVID precautions being taken?
We're not insensitive to what's going on in the world and want everyone to feel good about celebrating with us. To allow plenty of room to socially distance, the entire festival is outdoors and open air. That said, everyone has a different level of risk and tolerance, and certain times will be more crowded than others (i.e. during headline performances), so make a decision that's best for you and your family.