Cajun Cookin':
A DIY Gumbo Crawl Through Beaumont
As one of the signature Cajun/Creole dishes and Louisiana's official state food, gumbo is synonymous with homestyle Southern cooking and a hearty, soul-satisfying meal you can find all over Beaumont.
In its simplest form, gumbo is a combination of seasoning (salt, black pepper, garlic), meat or shellfish, and the "holy trinity" of veggies served up in a tasty stew over rice, but the real secret is the roux. A thickener made of flour and fat, the longer the roux cooks, the darker it becomes, and the more flavor it retains. Part art, part science, it's a real labor of love as it requires a lot of patience to tend to it. How dark you like your roux is largely personal preference, and who has the best gumbo in town a hotly debated topic with everyone having their own beloved bowl. Make it a gumbo crawl to find your favorite cup at these Cajun hotspots and see where you think the "roux is on fire."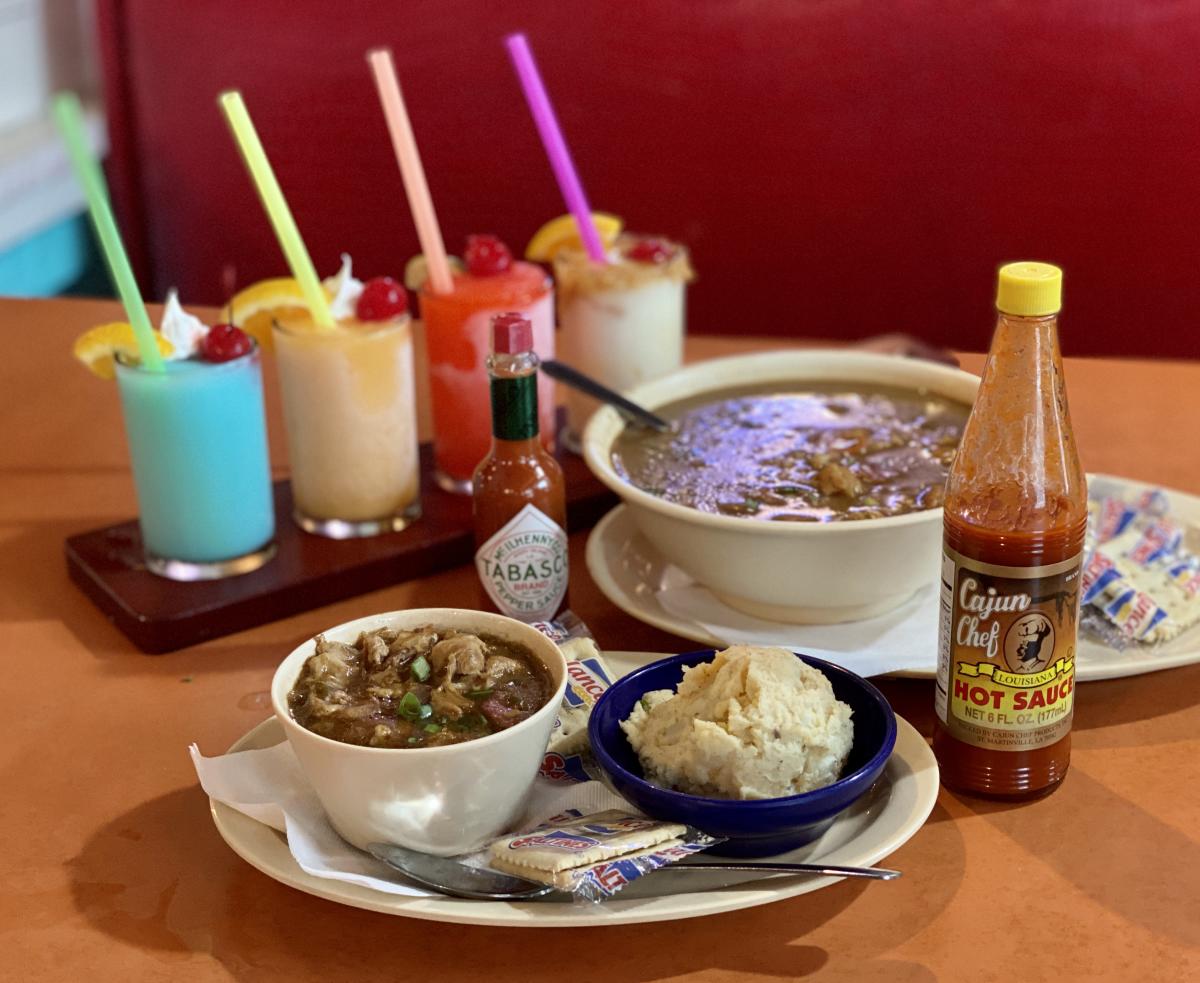 Tia Juanita's Fish Camp
If opening five shops in five years isn't enough of an indication of how beloved Tia Juanita's is in SETX, one bite of their award-winning gumbo will certainly seal the deal. A love letter in a bowl to their Mexicajun roots, they make a batch of each chicken and Zummo sausage and a spicy shrimp seafood each morning from scratch, which they describe as a blend of Texas and Louisiana styles that comes in three sizes. It's served with crackers and hot sauce and is recommended to eat with potato salad, which is a Louisiana tradition for a little more heartiness. That can come on the side for dipping or smothered with the rice to further infuse the flavors. Some guests also request boiled eggs to add to the mix, another Louisiana tradition, which they're happy to oblige. While you're there, don't miss the colorful taster flight of their frozen New Orleans-style cocktails to guarantee any time of day is happy hour at TJ's.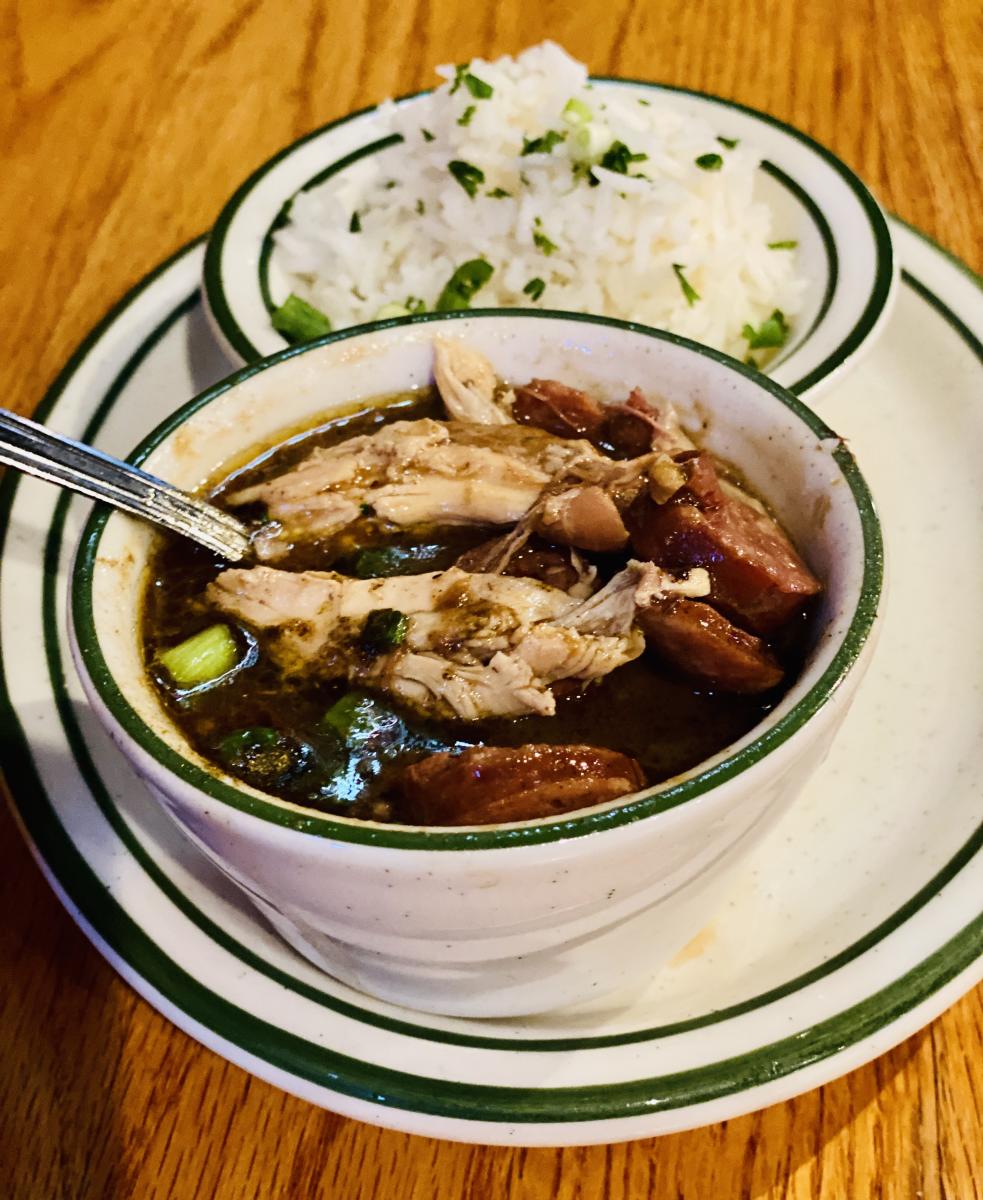 Floyd's
Floyd's takes their gumbo so seriously they have two separate cooks manning the pots, one for the meat (chicken and Zummo sausage) and one for the seafood (shrimp, crawfish, and crab or just shrimp) to ensure everything is done with the utmost quality and consistency. Patricia Howard, aka "Mama," supervises the daily operation, which has been her baby since they opened in 2006. It takes patience and perfection to watch the chicken to ensure it's the exact right color and texture without burning and methodically hand-peel the shrimp to infuse a strong seafood flavor without being overwhelmingly fishy. Their seafood bowl is the top seller but try them side by side to find your own favorite (we're a fan of the shrimp) and pair it with their famous blackened or fried fish.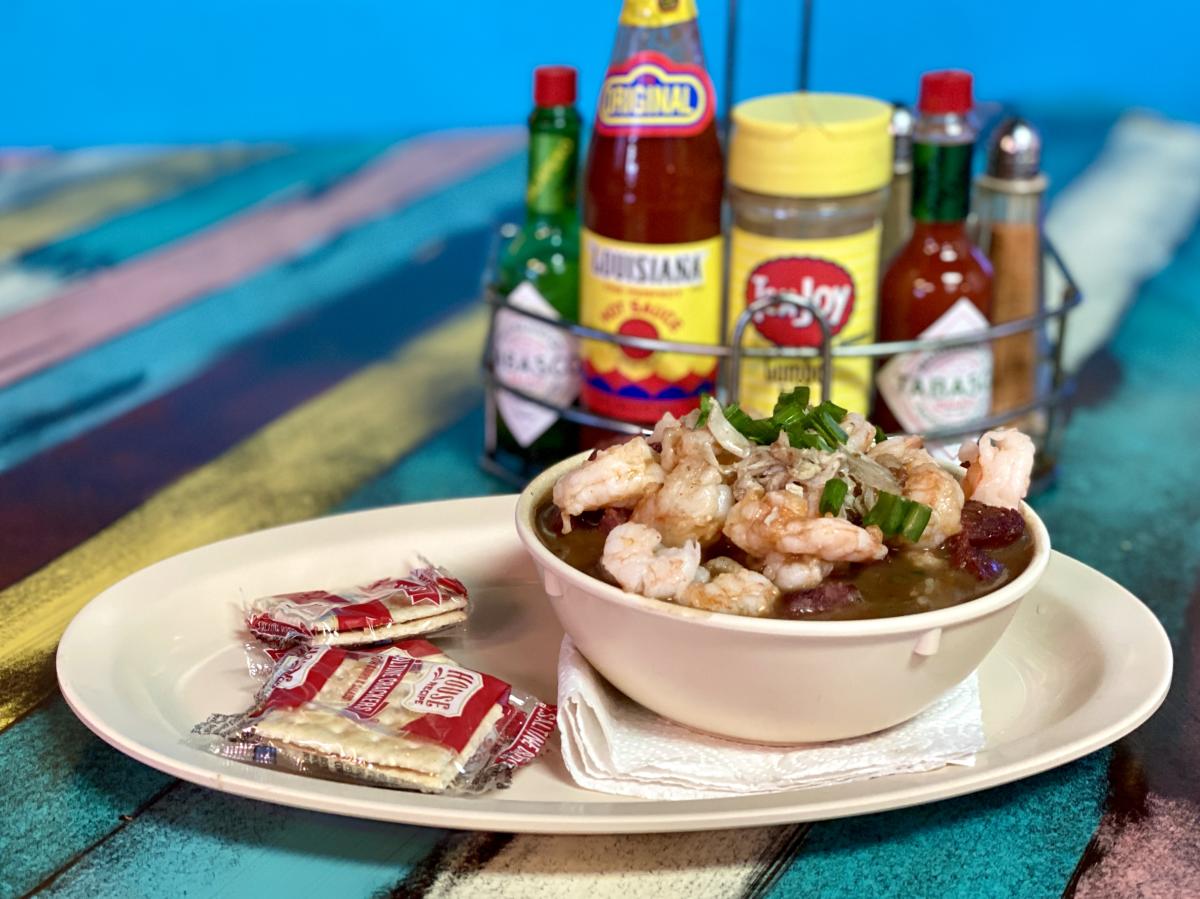 The Bayou Café
A family recipe handed down for generations, the Bayou Café has three types of gumbos on the menu with two types of roux that they make fresh every morning. Choose from chicken and Zummo sausage, a seafood mix of shrimp and crab, and a "four-meat" gumbo that includes all of the above, which is like the kitchen sink of stews and a heaping pile of protein made with the meat base. The father-daughter business has been open for ten years, and over the decade, they've developed many devout gumbo followers, but many others also come for the boiled shrimp and po' boys.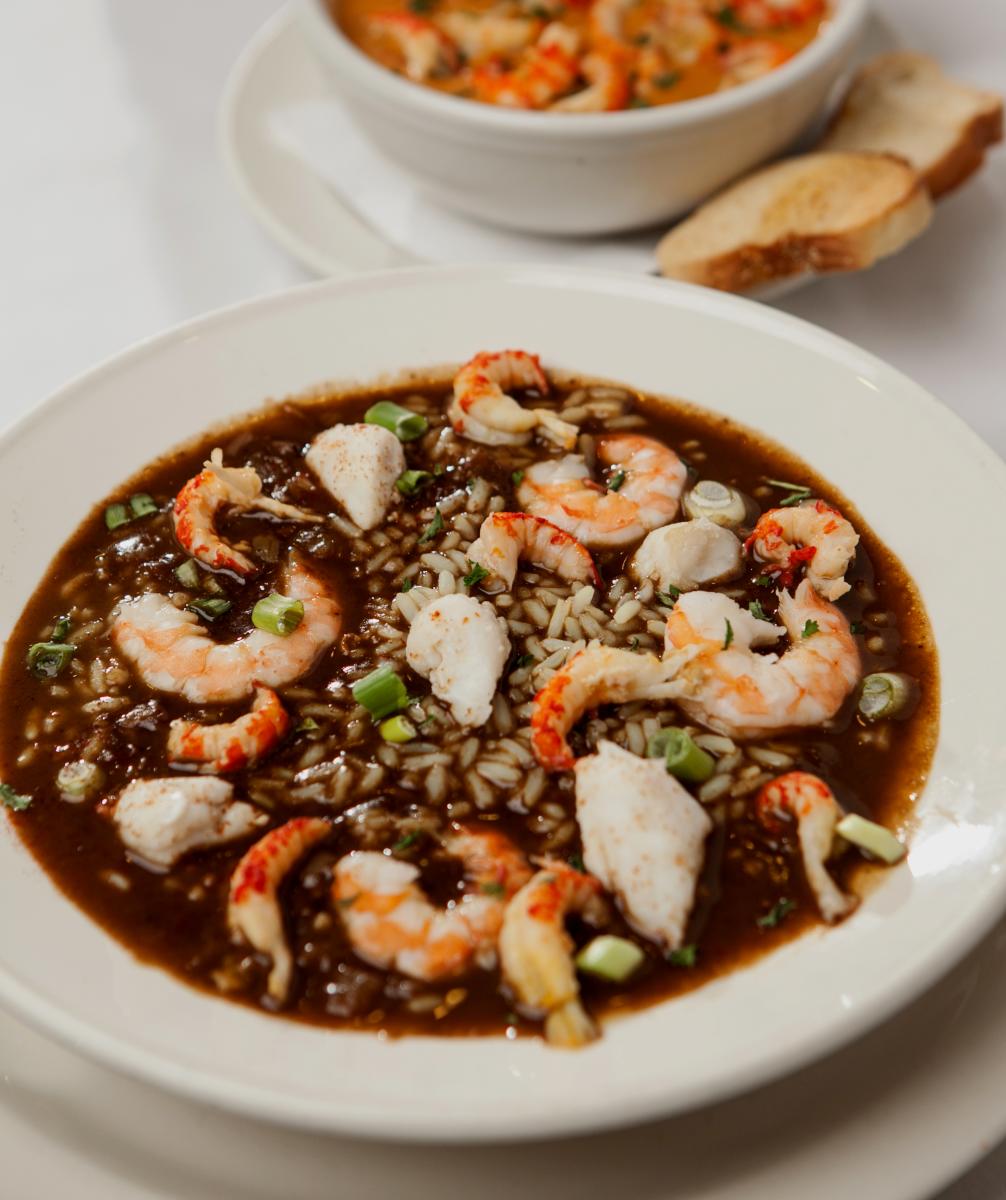 The Schooner
Opened in 1947, The Schooner is a Southeast Texas landmark and one of the oldest family-owned and operated seafood and steak houses in the Gulf Coast. The seafood gumbo recipe has taken all 73 years to perfect, which they make roughly 40 gallons of each morning. They work with local seasoning brand TexJoy to make seasoning blends exclusive to the restaurant, which is why the flavor is unique and unlike any you've tried elsewhere. And forget serving ham over the holidays. "Gumbo by the Gallon" has been a SETX family tradition for generations, and they've been known to dish up over 200 gallons on Christmas Eve alone.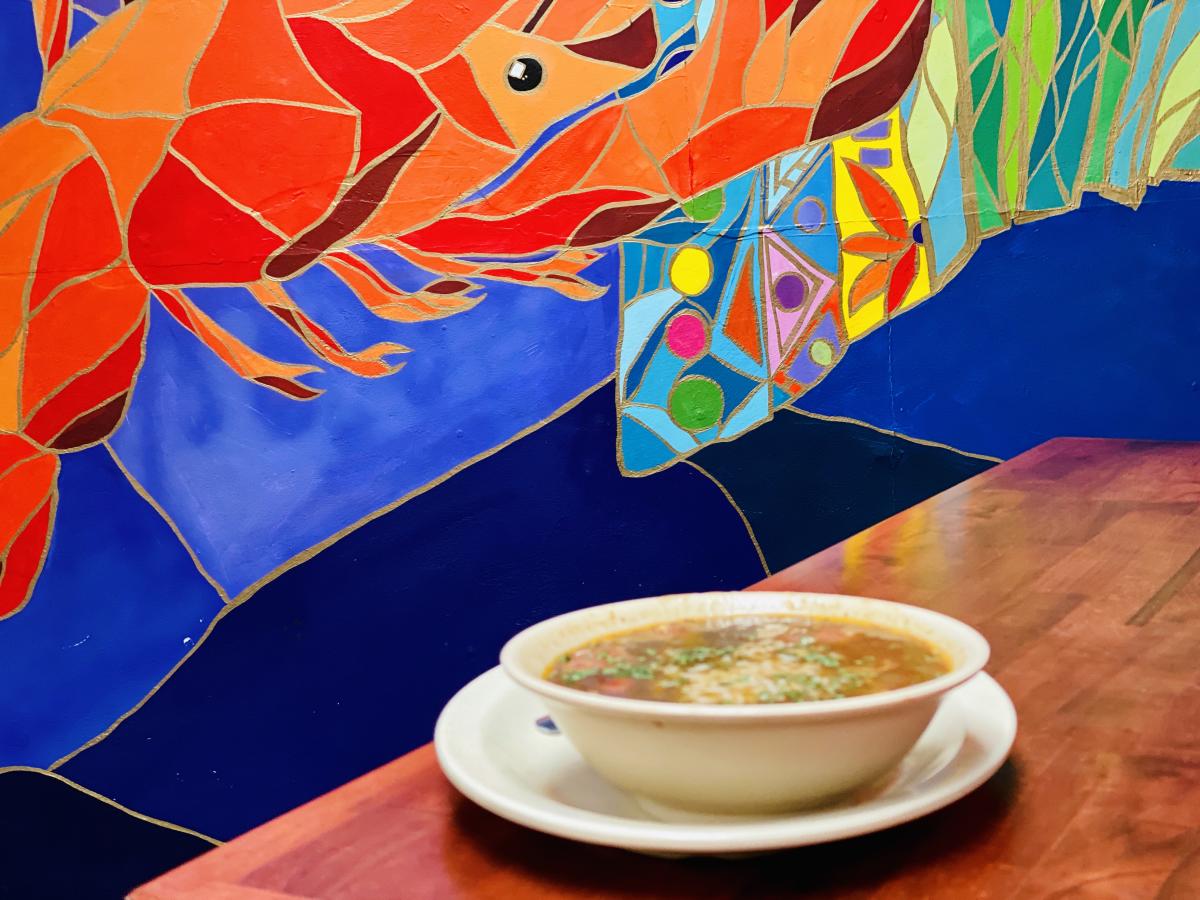 Crazy Cajun
Full of spicy andouille sausage and tender chicken chunks, Crazy Cajun's meat gumbo is an original recipe and top menu seller, despite their popularity as a boil house. A time and temperature-controlled recipe to ensure the perfect balance of flavor and heat, employees have attested having a bowl a day is like the Cajun version of "chicken soup for the soul." While you're there, don't miss the crawfish mac and cheese, another crowd-pleaser worth writing home about.
Pack Your Stretchy Pants
Discover some of our favorite restaurants and best kept secrets from Texas barbecue to Cajun cuisine.
Find your Craving