Explore Black History & Culture 
What to Do, Where to Eat, What to See
Explore Beaumont's black history and culture with an itinerary full of black-owned businesses, black-owned restaurants and pay homage to sites dedicated to black leaders making waves in the community. SETX is one of the most diverse areas in the country and it's high time we celebrate that and start telling those stories.
From Patillo's, the oldest family-owned barbecue restaurant in Texas and the oldest African American owned barbecue restaurant in the state to local legends like Frank Robinson, the only MLB player to win MVP in both the National and American leagues and only African American to manage both leagues, we think you'll find lots of surprising history that comes from diverse voices.

Things to Do
Get Wet and Wild at Golden Triangle Watersports
Cool off from the Texas heat by renting jet skis equipped with Bluetooth speakers from Golden Triangle Watersports and travel the beautiful Neches River. Golden Triangle Watersports offers an experience full of fun and excitement for families.   
Find Retail Therapy at One Stop Shop BMT
Several black owned businesses all under one roof.  No matter what you are looking for, One Stop Shop BMT has it.  Clothing, haircuts, cupcakes from 1014 Plethre, electronics, and much more can all be found at One Stop Shop. 39 N 11th Street Suite C
Relax at Martin Luther King Jr. Park
This amazing park is a constant reminder of freedom and unity. The park is quiet, secluded, and full of historical facts, and there is a stunning statue of the great Dr. Martin Luther King.  Take a journey through black history and take time to appreciate all those that fought for freedom and civil rights. The stone display wall includes excerpts from King's legendary, "I Have a Dream" speech.
Admire the Joe Louis Monument
In downtown Beaumont you can come face to face with one of Boxing's Heavyweight Champions of the World. Nicknamed the Brown Bomber, Louis is widely regarded as one of the greatest and most influential boxers of all time. He reigned as the world heavyweight champion from 1937 until his temporary retirement in 1949. This bronze statue sits on a tall granite base right next tucked in right between City Hall and Beaumont Civic Center.  The sculpture was donated by Ben Rogers, past president of the Joe Louis Foundation.
Explore the Charlton-Pollard and Pear Orchard Historical Neighborhoods
Drive through two of Beaumont great neighborhoods that were built by many of Beaumont under great African American culture and leadership.  These neighborhoods helped to build schools, hospitals, and other businesses and pave the way for Southeast Texas development.

Admire the Charlton-Pollard Mural by Satoshi Fujita, aka Dragon76
View the mural on one wall of the MLK Parkway underpass on Irving Street. This location marks the entry to the Charlton-Pollard neighborhood in downtown Beaumont's south end. The mural honors T.T. Pollard and T.J Charlton, Sr. who were educators in the first Black high schools in Beaumont. The mural was created by Satoshi Fujita, aka Dragon76, who is a well-known muralist from New York City. The artist used the history of these men, their contributions, and the community to inspire his work. Read the full Beaumont Enterprise article on this piece here.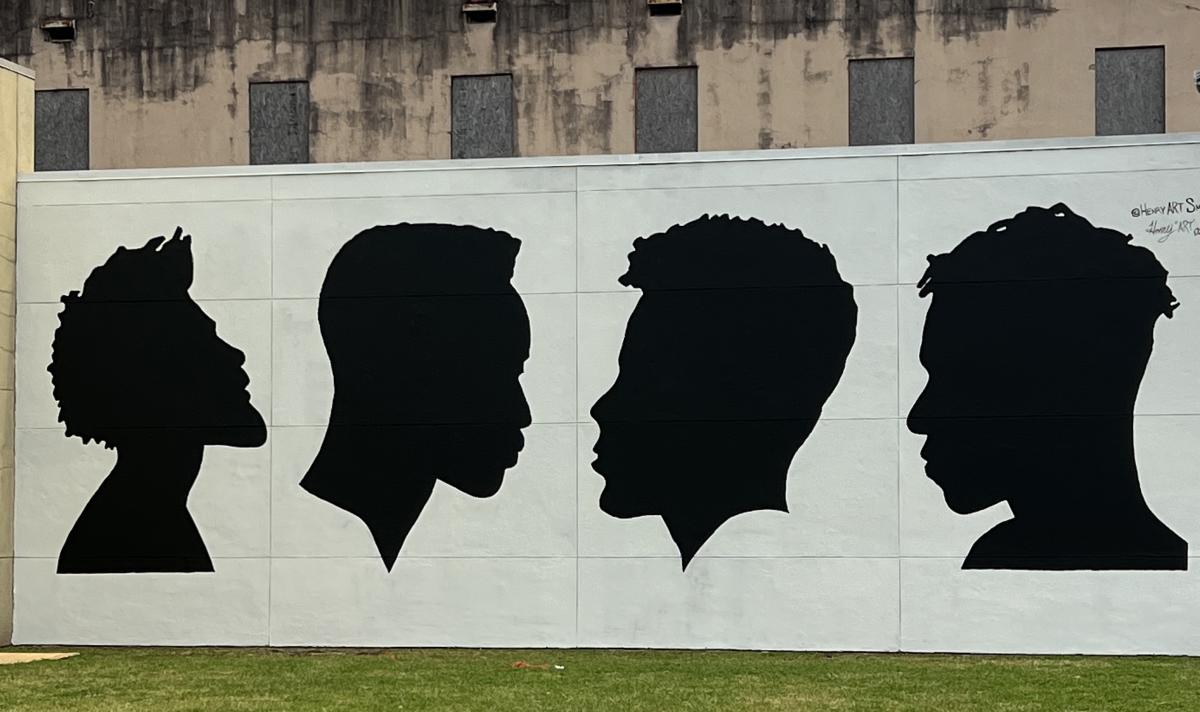 View the Barbershop Mural in Downtown Beaumont
A Beaumont native who now resides in LA, Henry Art Smith returned home to create art for his community. The self-taught fashion designer and muralist created the silhouettes of four African American boys said to depict the different hairstyles and personalities you'll find at a barbershop, along with black unity.
See the Felix "Fox" Harris Gallery at Art Museum of Southeast Texas
A centerpiece of AMSET's permanent collection is the larger-than-life folk art of Felix "Fox" Harris. For over 20 years, Harris crafted his eclectic yard sculptures out of recycled materials inspired to make art by a vision from God to create "somethin' out of nothin.'" The pieces are made out of scrap metal, old toys, and streets signs painstakingly crafted with whatever he had around like knives and hammers. Neighbors used to call him "the Voodoo Man," unsure what to make out of the junk / art. Cutting edge for the time, it also helped define the Art Museum of Southeast Texas's folk collection and motif. The collection was donated to the museum in exchange for paying his funeral costs.

Places to Eat
Patillo's BBQ
Opened way back in 1912, Patillo's is the oldest black-owned and family- owned restaurant in Texas. Patillo's offer some of the most unique Southeast Texas style BBQ including their signature hand stuffed links. Stop by for ribs, dirty rice, beans, and potato salad.
Uncle Henry's Tamales
Open since 1937, Uncle Henry's Hot Tamales offers the best pork cracklin' in the region.  Their specialty is the Creole Tamale which has corn meal instead of masa. Make a quick stop for snacks, and be sure to try the nachos or chili.
Jones' Old Fashion Sausage and Restaurant
If you are looking for some of the best soul food around SETX, Jones' Old Fashion Sausage and Restaurant is your spot. With all the traditional soul food flavors that will have you searching the kitchen for your auntie and grandma, Jones offers not just their homemade beef sausage, but you can get some crispy mouthwatering fried chicken, smothered oxtails, pork bones, smothered quail, green beans, okra, collard greens, sweet-as-can-be candied yams, and much more. They have a flavor explosion of traditional soul food flavors.

More Points of Interest
Go Back in Time at Tyrrell Historical Library
The Tyrrell Historical Library focuses on collecting and preserving the unique history of Beaumont and the surrounding communities in southeast Texas to get a good sense of what life was like over the decades.  If you go through the archives, you'll find a variety of personal papers, business, organizational, civic, fraternal, and city records including family letters, journals, diaries, scrapbooks, newspaper clippings, business reports, minutes and correspondence, along with a multitude of visual items represented by photographs, slides, negatives, and artwork from 1850 to the present.
Relax at Pipkin Park
Pipkin Park is named after a black man and is down the street from Hotel Dieu, the black hospital in Beaumont. It is home to the Memorial Temple to the Brave as well as the War Veterans Memorial Statue. The Temple to the Brave was built by the Daughters of the America Revolution in memorial of those who died in World War I. The date of the dedication - October 18, 1932 corresponds to the day 18 years earlier when American forces suffered some the heaviest casualties of the war - just a few days before the armistice of November 11, 1918 was signed.
See the Blind Willie Johnson Historical Marker at Pilgrim's Rest Baptist Church
"Blind Willie" Johnson, known as the "Sightless Visionary" and bluesman and virtuoso of the "bottleneck" or slide guitar was a self-taught musician. He has over 30 gospel albums before the Great Depression ended his career. He continued to perform as a street singer but and operated a House of Prayer in Beaumont until his death in 1945.
Admire the Dr. Richard Price Auditorium at Lamar University
Dr. Richard L. Price—"Doc Price"—an associate professor of mathematics had a long and distinguished career in academics. He has devoted himself to recruiting and mentoring black students to Lamar and preparing them for careers in engineering, mathematics, and the sciences. He received a lifetime achievement award from the National Society of Black Engineers (NSBE).
See The Oldest Black Church in Beaumont, St Paul African Methodist Episcopal Church 
152 years old, St. Paul African Methodist Episcopal Church grew out of a Methodist church organized for blacks three years after the end of the Civil War. Members met on alternative Sundays in the basement of the Jefferson County Courthouse before moving locations a few times to their current building on Waverly Street.
Explore Another Historic Church, Scott Olive Missionary Baptist
Another historic Golden Triangle Church, the Scott Olive Church is 117 years old. They bill themselves as "the heart of the community, with the community at heart."
Tour the Carriage House at McFaddin-Ward House Museum
Located behind the McFaddin-Ward House, tour the home of two of the longtime residents, Louis Lemon and Cecilia Smith.
Seek Out "Old Sock" Shicole Dickenson's Fishing Spot Near Collier's Ferry Park
One of the oldest slaves, Shicole was born around 1790. The son of an African tribal chief, he was captured by a Spanish pirate ship and sold into slavery where he worked on a Louisiana plantation. Emancipated in 1865, he retired to a life of fishing in Beaumont before drowning in the river from his leaking boat. His nickname came from an old sock he tied to his belt to carry his valuables. Wherever he went he was heard singing mournful African songs, clinging to his native culture. He became such a staple of the community that when he died in 1889 The Enterprise eulogized him in an obituary, which was very rare for a black man in that period.
See the Domestic Employee Quarters at Chambers House Museum
The Chambers family had only one domestic employee who lived on the premises, their cook, Amy. She lived in a small house behind theirs. Amy worked for the Chambers family until sometime between 1928 and 1933, quitting while Florence was away at university. Separate buildings, by the 1920s, it became less common for domestic employees to live onsite, instead choosing to live close to the family in their own homes. Martin Luther King Blvd, once known as Mariposa Street, became a community of domestic employees who worked for the prominent families on Calder Ave and paved the way for the development of the area.
More Black-Owned Restaurants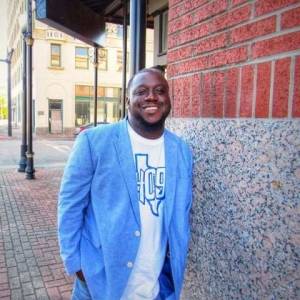 Author: Issacc Mouton
Issacc Mouton is a community organizer in Beaumont, Texas. He created and operates the Southeast Texas Black-owned Restaurant Foodie Facebook page and is a small business owner.
Explore By Theme