Wheelchair-Accessible Guide to Beaumont
Where to Roll Around Town
Texas is one of my favorite states in the U.S. because it has so much to offer any type of traveler. I've visited the Alamo in San Antonio, rolled down the streets of El Paso, eaten way too many tacos in Austin, and spent some time in Houston. One Texas destination that I had never heard of until very recently was Beaumont. I know, I know... it's an absolute shame, but I think not knowing what to expect made it all the better.
When I visited Beaumont for the first time, I fell in LOVE! So much so that it became my new favorite Texas city. As a wheelchair user, I was on a mission to experience as much of Beaumont as possible and see what's accessible. Whether you're looking for delicious food or fun things to do, Beaumont has many options for rolling around town. It may be one of Texas' lesser-known cities but trust me when I tell you that if given the chance, Beaumont will captivate you just as it did me.
From the accessible trails in Big Thicket National Preserve to holding a baby alligator at Gator Country, Beaumont surprised me at every turn. In just a few days, I experienced so much of what Beaumont had to offer, but I already can't wait to return and see even more. If you're a fellow wheelchair user, you know that traveling with a disability can often be expensive. However, Beaumont has a plethora of free things to do, making it a budget-friendly destination for travelers of all abilities. If you're planning a trip to Beaumont as a wheelchair user, I hope that you find this accessible guide helpful and enjoyable.
Wheelchair-Friendly Things to Do in Beaumont

Art Museum of Southeast Texas 
Located in downtown Texas, the Art Museum of Southeast Texas was one of my first stops in Beaumont. I'm always a fan of art museums and this one rivaled many that I've visited in much larger cities. The museum was fully accessible and spacious, and shockingly, admission is completely free. The museum typically hosts between eight to ten exhibits each year, so there's always something new worth seeing.

Photo-Ops with Murals
There is so much great art in downtown Beaumont, even outside of the art museum. The entire downtown area is considered a U.S. Historic District on the National Register—one of the few areas like it in the country with many major attractions clustered in a few blocks' radius that's rollable with curb cuts and wide sidewalks, I loved rolling around and checking out the various murals. Some of my favorites were the "You are the best thing about me" mural at 701 Main Street and the three murals at 660 Fannin Street where there is a dragonfly, a mermaid, and Frida Kahlo for some unique photo-ops.

Spindletop - Gladys City Boomtown 
In 1901, oil was discovered at Spindletop, changing the Texas economy forever. For the next decade, the population more than quadrupled and the area quite literally became a Boomtown. Visitors can roll back in time to 1901 to go inside the recreated buildings, including a barbershop, a doctor's office (where you can see an old wheelchair, medical devices, and an ice cream shop out front), and a blacksmith shop... just to name a few. Every building minus the sleeping quarters upstairs is wheelchair accessible with ramps and there are boardwalks connecting each building. Accessibility probably wouldn't have been as good a decade ago, but today it's great and I would highly recommend visiting while in the Beaumont area! 

Big Thicket Paddle Trail
If you love being on the water, Big Thicket Outfitters offers a wheelchair-accessible pontoon boat ride winding through East Texas's Piney Woods. For two hours, you can enjoy boating along the Neches River in Big Thicket National Preserve on a smooth ride through the swamp. Gerald, the owner of Big Thicket Outfitters, is a phenomenal guy and takes his time to ensure that everyone has a fun and safe time. His company also offers kayaking if you'd rather try that. There are tandem kayaks as well, so he can steer while you enjoy the scenery. The area has been called "American Ark" for its biological diversity.

Big Thicket National Preserve
There are two wheelchair-friendly trails in Big Thicket National Preserve near Beaumont, Texas, making the great outdoors accessible for everyone! Sundew Trail is a paved/boardwalk trail that is 0.3 miles long. While rolling on it, you'll see carnivorous plants, including the pitcher plant. The second accessible trail is Pitcher Plant Trail. This trail is 1 mile long, but only the first quarter of a mile is accessible. It's still absolutely worth checking out! There are so many pitcher plants and the first quarter-mile is a paved boardwalk. Both trails have a picnic area and an accessible restroom at the entrance.

Cattail Marsh Scenic Wetlands & Boardwalk
One of Beaumont, Texas' hidden gems is Cattail Marsh, a wildlife refuge for aquatic animals & more than 250 species of birds annually. There are multiple trails in Cattail Marsh, but the best area for wheelchair users is the new boardwalk where you'll have a perfect view of the marsh. There is also an accessible lift at the Wetlands Education Center for a birds-eye view of the area. On a nice day, this is a great place to enjoy the outdoors right in the heart of the city.

Beaumont Botanical Garden
A botanical garden is located in Tyrrell Park and just a two-minute drive from Cattail Marsh's boardwalk is a definite must-visit. The botanical garden has smooth, paved paths throughout and I enjoyed rolling around and seeing the various displays. The entire botanical garden was much larger than it appears and it's hard to believe that it's completely free to visit.

Gator Country
Gator Country has over 450 alligators and 90% of them have either been surrendered or rescued. There are informative shows (when the gators are willing) and you can even hold many of the animals for photo-ops, including baby gators and snakes. As far as accessibility at Gator Country, there were some dirt/grass paths, but it was pretty smooth to roll on. All buildings had ramps as well. If you use a powered wheelchair, you shouldn't have any problems at all, but if you use a manual wheelchair, you may need a companion to assist you in some areas. 
Recommended Places to Eat in Beaumont

Crazy Cajun
When asking any Beaumont local where you should dine while in town, they're likely to recommend Crazy Cajun. It's one of the most popular places in the city and for good reason. Crazy Cajun gets daily shipments of fresh seafood, so if you want to taste local delicacies like crawfish, alligator, catfish, or shrimp, this is the restaurant to visit. Also, be sure to check out the awesome #EATBMT mural in the outdoor patio area and snap a photo with it. 

Rao's Bakery
Rao's Bakery is an absolute must-visit in Beaumont. As the oldest bakery in Southeast Texas, I enjoyed breakfast here (an egg & cheese croissant and the best chai tea latte I've ever drunk!), and they have plenty of pastries and coffee drinks as well. Since Beaumont is on the Texas/Louisiana border, they are also the King Cake Capital during Mardi Gras season. I had part of a strawberry one and it was delicious! Whether you're visiting Rao's for breakfast or an afternoon snack, you're sure to love this Beaumont bakery. 

Tia Juanita's Fish Camp
Tia Juanita's Fish Camp has delicious food and many different kinds of frozen drinks. Their menu is huge and includes Mexican food, Cajun food, and even "MexiCajun" food. Two menu items that I would highly recommend are the "Pleasure Island Teaser," where you can try four different frozen drinks and the sopapilla cheesecake for dessert. Everything that I ordered at Tia Juanita's was fantastic, but that sopapilla cheesecake was absolutely one of the best things I've ever eaten in my life.

Pine Tree Lodge
Pine Tree Lodge is a waterside restaurant that serves seafood, steak, burgers, and more in Beaumont. They also have great drinks! You can dine outside or inside, but to get indoors, wheelchair users will need to use the lift. It's easy enough to call upon arriving, and a worker will come out and assist you. If the weather is nice though, choose to dine outside and you may see some gators down in the water while you eat.

Koi Japanese Sushi Bar & Lounge
If you're looking to get away from Cajun food for a meal, head to Koi Japanese Sushi Bar & Lounge. Koi has a beautiful setting and a huge menu. The sushi selection is extensive, but they also have meals like chicken teriyaki as well. If you're looking for unique and delicious cocktails, you certainly won't be disappointed here. The lychee martini is a must-get!
Where to Stay
While all hotels are required to have some wheelchair-accessible rooms to be ADA compliant, I stayed at Home2 Suites by Hilton and it was a spectacularly accessible hotel. In addition to having amenities such as a pool lift and plenty of accessible parking spaces, my wheelchair-friendly room had two queen beds and a roll-in shower. The room was incredibly spacious and suited all my needs.

Additional Resources
Van Rentals
Beaumont's regional airport has daily flights to Dallas (DFW). If you need to rent a wheelchair-accessible van, contact American Lift Aids. It's a local, family-owned company that offers accessible vans for rent at daily, weekly, and monthly rates. 
Wheelchair Rentals
If someone is flying into Houston and needs to rent a wheelchair, Complete Medical Supply is a great option, which has a variety of wheelchairs and medical supplies.
There are also a number of local providers if you need to rent a wheelchair. ECare Medical Supplies in Houston offers motorized chair rentals and delivery in Beaumont but must be booked at least 2-3 months in advance. Scootaround, personal transportation solutions, has branches in Houston and Galveston and can coordinate logistics with Beaumont-based hotels.
Wheelchairs Etc. is locally based and rents manually wheelchairs by the day, week, weekend, or month. Medical Plus Supplies Beaumont also locally rents manual wheelchairs.
Accessible Nature Areas and Birding Spots
One of the most surprising things about Beaumont is that it's a huge destination for bird watching. Located on two migratory flyways, you can see over 250 species any time of year and even more during spring and fall migration. Beyond the Big Thicket and Cattail Marsh, a number of other popular nature spots in Southeast Texas are also wheelchair accessible.
Anahuac National Wildlife Refuge has accessible viewing areas at the Shoveler Pond Overlook, East Unit Hunt Blind, East Bay Bayou Fishing Bridge, and Galveston Bay Overlook. Sea Rim State Park has a boardwalk over the dunes and many species can be seen right from the cement parking lot. Boy Scout Woods / Louis B. Smith Bird Sanctuary at High Island has extensive boardwalks that make bird-watching possible for wheelchair users. The new Kathrine G. McGovern Canopy Walkway at Smith Oaks Sanctuary has a handicap-accessible ramp that leads to 700 feet of boardwalk and reaches up to 18 feet off the ground. The Horseshoe Bay Marsh Nature Trail at Bolivar Flats includes a mowed trail and boardwalk across a shallow pond and J.D. Murphree WMA also has a wildlife viewing platform.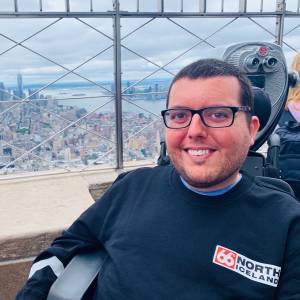 Author: Cory Lee
After being diagnosed with Spinal Muscular Atrophy at the age of two, Cory Lee's thirst for adventure never ceased. He has traveled across all 7 continents in his wheelchair, while managing to run his award-winning travel blog CurbFreeWithCoryLee.com, where he shares his accessible, and sometimes not so accessible, travel adventures with others. He hopes to inspire other wheelchair users to roll out of their comfort zone and see all of the beauty that the world has to offer.
Explore By Theme