Top Pizza Places in Beaumont
Pizza, it's such a simple meal yet the taste can vastly vary. 
Most of us have developed a personal preference over time as to how we choose to order our pies. After all, the majority of Americans are introduced to pizza at a very young age. 
Any given week, millions of pizzas are sold in the United States due to the cheap price and convenience of delivery. 
There is no denying the iconic status of pizza. Whether it's a crispy and thin pepperoni pie or 2-inch thick, deep dish supreme, not much compares to the oven baked deliciousness that is this Italian specialty.
In Southeast Texas, we are blessed to have several independent pizzerias to choose from any day of the week and they all have something unique to offer.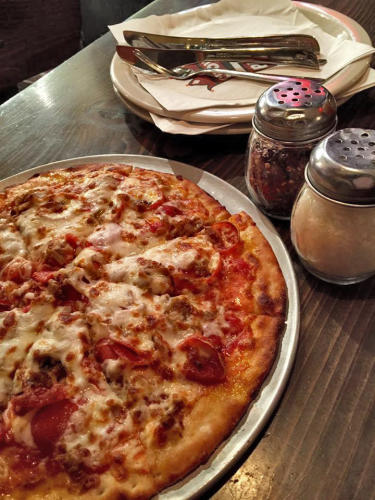 Crown Pizza
5535 Calder, Beaumont
(409) 899-9550
Crown Pizza may be small based on outward appearances, but the menu selection is loaded with impressive mixtures.
Located along Calder, this 450-square foot, locally owned Neapolitan-style pizzeria handcrafts each and every specialty pie for dine in, delivery, or carryout. It's the only place in town that utilizes European imported ingredients.
What is Neapolitan pizza exactly? Originating in Naples, Italy, a Neapolitan pizza must include fresh ingredients. This means a basic handmade dough, fresh mozzarella cheese from cow's milk, fresh basil leaves, extra virgin olive oil, and lastly, San Marzano tomatoes. The pizza is usually small in size and cooked at very high temperatures in a stone oven with a wood fire.
All this is why Crown Pizza elevates your average pizza experience.
Some of our favorite flavors include the "Cheeburger, Cheeburger," which incorporates the use of yellow mustard instead of San Marzano crushed tomatoes, along with ground meat, pickles, and topped with crispy fries. It's basically a deconstructed cheeseburger served atop freshly baked pizza dough. 
A true delight for local Cajuns, the "VooDoo" and "Boogie on the Bayou" are two pizzas you don't want to overlook. It's not so often will you find a pizza made with made with etouffee sauce and topped with fried frog legs, or a blend of seasoned cream cheese, boudin, slivers of Serrano peppers, and green onions.
This is truly one Beaumont pizzeria that must make your list. Did we mention they have Gluten Free options too?
New York Pizza and Pasta
790 Neches, Beaumont
(409) 832-7032
4405 Calder Avenue, Beaumont
(409) 892-6535
Locally owned by the Holman family of Port Neches, New York Pizza and Pasta is represented in three different locations across Southeast Texas, all of which have their own particular identity and offer something delicious.
Most menu items here start off as hand rolled dough that is then baked into a buttery, golden crust. From there, seasoned pork and beef are combined with fresh veggies, and melted mozzarella and ricotta cheese, thus creating crispy calzones and oversized stuffed crust pizza slices.
New York Pizza and Pasta truly does have a menu that rivals most and also keeps loyal customers returning. The affordable eats served in an atmosphere that's ideal for any date night or girl's night out are why this family owned chain continues to be successful.
At the Calder location, customers are invited to BYOB. Meanwhile in Downtown Beaumont, a commendable selection of wine and beer is served alongside extra-large slices of pizza and flavorful pastas. Sometimes you'll even find live music on the weekends!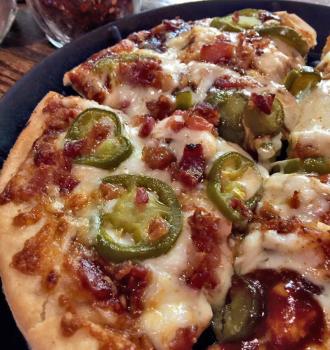 In Lumberton, one pizzeria stands out amongst the rest: Brick Oven Pizza Company.
Having opened several years ago by a local Southeast Texas resident, this pizzeria also acts as a sports bar and neighborhood hangout spot. Any day of the week customers can indulge in special deals on adult beverages and selected menu items.
Pizza, pasta, wings, and more! It's worth the drive from Beaumont to see what Brick Oven is all about. For lunch and dinner, now accepting call ahead orders and drive-thru pickups. 
Author: Lauren Bebeau
Lauren Bebeau is a freelance writer and food blogger based in Beaumont, Texas. For the past decade, Lauren has worked in the food industry. Lauren's interest in Southeast Texas cuisine began after graduating Lamar University when the opportunity of marketing a family owned frozen food product across Southeast Texas arose.  Since 2015, Lauren has  published features about local restaurants for The Beaumont Enterprise publications, Cat5 and VIP Magazines in addition to her personal blog, SETXfoodies. Lauren is dedicated to showcasing what our area has to offer residents and tourists. In her free time, Lauren enjoys dinner parties with friends, lounging around with her pet cat, and traveling.
More Local Favorites