American Goldfinch
Beaumont Birdie Passport
PATILLO
Birthdate: December 5
Male
Currently Resides: Spindletop Gladys City
This handsome little finch is symbolic to many states
A strict vegetarian who's looking for a mate
Brilliant Yellow and black with just a bit of white
active and acrobatic, he shows off his call during flight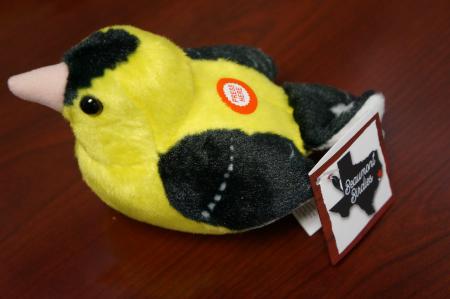 Did you know? In courtship, the American Goldfinch male performs a fluttering flight display while singing.

Spindletop Gladys City
Located 90 miles East of Houston on I-10 is Beaumont, Texas – also known as the birthplace of Spindletop.  In January 1901, the bustling lumber town of Beaumont leaped to international fame when the Lucas Gusher spewed oil on Spindletop Hill, located just south of town. The narrative of how this event transformed Beaumont is told at area museums such as Spindletop/Gladys City Boomtown Museum, a re-creation of the city that grew up during the turn-of-the-20th-century oil boom and the Texas Energy Museum, which explores petroleum science and the history of oil exploration and production. 
Step back in time as you wander through Spindletop/Gladys City Boomtown Museum to experience life of the early wildcatters. The boomtown replica captures the spirit of the Spindletop era with authentically based clapboard buildings, artifacts and a working replica gusher. Learn More
Hours:
Tuesday - Saturday 10:00 AM - 5:00 PM
Sunday 1:00 PM - 5:00 PM
For more information, please call  (409) 880-1750.
You cannot miss the golden hue of the American Goldfinch or the beautiful voice of the songbird. Although very common in North America, the American Goldfinch is engrained in our history and is even the state bird of New Jersey. In the summer, their golden tones shine in the sunlight and change to a light brown in the winter. It is known to have one white-wing bar on each wing and white on his tail. The female has two white-wing bars on each wing with a black tail and white tips.
Gravitating towards deciduous shrubs, trees and weeds as their home, the American Goldfinch normally lives less than 30 feet above ground. The American Goldfinch stays near edges of fields, rivers, gardens, orchards and other brushy areas where thistle is grown.
Thistle seeds are their main source of food, causing their breeding to coincide when there is an abundance of thistle seed in the area. They are most common in the south during the winter time, year-round from east to west coast and during the summer in northern United States and Canada.