Happy Hour in Beaumont, TX
Where to get cheap drinks in Beaumont, Texas
Happy hour - two magical words that can turn any day around. Whether you're meeting friends for post-work drinks or going out with co-workers to commiserate, happy hour gives us a reason to rejoice.
From spending time with coworkers to catching up with old college friends, there is almost nothing better than setting aside a night with friends. But, where should you go? There is no shortage of places in Southeast Texas to raise your spirits with deals on drinks and appetizers.
The West Bar & Grill
6445 Calder Ave
Beaumont, TX 77706
The West is another popular hang out and local favorite for happy hour in Beaumont. A divey vibe with standout bar food, live music can be found at The West every Wednesday and Sunday night. 
Everyday happy hour is offered from 11 a.m. - 7 p.m. with specials such as ½ price appetizers on Monday and ½ price hamburgers on Thursday.
Struggle Street Brewery
2140 Calder
Beaumont, TX 77701
If you think you've tried every type of beer under the sun, think again because this nano brewpub pushes the limits with creative flavor concoctions of small batch mixes including the Strawberry Milkshake NEIPA, PB&J Struggle Tart, and the Big Dill.
Every day is happy hour from 3-6 p.m. with all guest beers on tap 50% off.
Lacuna Tequila Bar
4210 Calder Ave, Suite A
Beaumont, TX 77706
One of Beaumont's newest hotspots, Lacuna Tequila Bar offers over 75 different tequilas and 30 different craft cocktails including their signature paloma flights.  
On Wednesdays, this happening spot offers two tacos and a beer or frozen margarita for $8 and $3 individual tacos. Thursday and Friday happy hour specials vary each week.
MacKenzie's Pub
229 Dowlen R.
Beaumont, TX 77706
At MacKenzie's, if you're in the mood to get your boot-scootin' boogie on, you're in luck. With a dance floor and live music, you'll be hard-pressed not to feel the beat. They also offer more than your typical bar food with items on the menu such as chicken fried steak and a shrimp dinner. 
From 4-6 p.m. throughout the week, you can find $3 well drinks, $3 house wine, and $1 off beer among other deals.
KO Korean Grill
6165 Muela Creek Dr. Suite B
Beaumont, TX 77706
One of the hottest places in town (literally - you can cook authentic Korean dishes at your own table grill), check out this place for a twist on your traditional cocktails before heading next door to their sister spot, Pour09, the first rooftop bar in SETX. Ko Korean Grill has a full bar featuring top-shelf soju (a Korean liquor similar to sake), a watermelon that could serve the entire table, soju flights, and high-end Asian whiskeys,
Happy hour is Monday-Friday from 4:30-6 p.m. at the bar. $3 domestic bottles, $4 premium bottles, $4 draft beer, $5 soju cocktails, $8 soju flights, $9 house wine, and ½ price wine bottles are just some of the items on the menu. If you're feeling peckish, Ko also offers ½ price appetizers, $10 off beef/pork combos, and $20 off deluxe combos. 
Neches Brewing Co.
1108 Port Neches Ave
Port Neches, TX 77651
Located in the heart of downtown Port Neches, the Neches Brewing Company offers 70 different beers, including their own brews. With over 20 taps and canned beer from all over the country + wine, this family-friendly establishment offers something for everyone. Live music livens up the atmosphere from Thursday-Saturday with food trucks occasionally offered outside but a good time always offered inside.
The brewery offers daily specials. On Mondays, it's the 16 oz can Montucky Cold Snack for $3, and on Wednesdays, it's $4 for select wines including Strawberry Peach, Pineapple Bubbling Moscato, Pinot Grigio, Chardonnay, Sauvignon Blanc, as well as $4 for champagne or mimosas. On Thursdays, wear your Nomex or plant worker uniform and get $1 off any of the house draft beers. Saturdays and Sundays boast $3 mimosas.
Buckstin Brewing Co.
1211 Boston Ave
Nederland, TX 77627
This family-friendly environment in Nederland offers something for everyone from their brews (made in-house) to their handcrafted pizza and giant pretzels. If you're not into beer, no worries - Buckstin has you covered with a selection of wines, cider, and champagne. 
Happy hour is Tuesday-Thursday from 3-6 p.m. with $3 pints of 'Stroberry, Easy Breesy Blonde, Blueberry Breesy and Buckstin Avenue. 
The Logon Café & Pub
3805 Calder Ave
Beaumont, TX 77706
The Logon Café & Pub has been a staple in the Beaumont scene for years with a lively pub scene featuring live music, karaoke, stand-up comedy, and games, as well as drinks and food.  
Drink specials are offered 3-7 p.m. daily offering the likes such as Taaka Vodka Tuesdays ($2), Well Whiskey Wednesdays ($2), and Well Rum Thursdays ($2) as well as daily draft and bottle beer specials. Taco Tuesdays feature karaoke, $2 tacos, $2 well vodka, and $2 margaritas. 

J. Wilson's Restaurant and Bar
4190 Gladys Ave
Beaumont, TX 77706
J. Wilson's is a locally owned neighborhood restaurant that offers fresh, made-from-scratch menu items prepared by chef, Evan Catlett. With 16 craft beers on tap, J. Wilson's is a great place to meet up with friends after work and unwind. The bar also offers an extensive list of wines, bourbons and craft beers. Brunch and dinner menus consists of burgers, seafood and other cuisine served on cast iron skillets. They regularly switch up the flatbread selections and have rotating favorites like fried chicken and hot dog nights.
From 11 a.m. - 6 p.m. Tuesday - Saturday, customers can find 33% off liquor at the bar. 
​JW's Patio
6420 Phelan
Beaumont, TX 77706
J.Wilson's sister spot, this more upscale, breezy Phelan restaurant offers a contemporary take on Mediterranean classics with the same homestyle feel as the original. Let the music and the drinks transport you to a faraway island. 
Get 33% off specialty cocktails, beer, and wine from 11 a.m. - 6 p.m. on the patio and the bar. 
Madison's on Dowlen
4020 Dowlen Road
Beaumont, TX 77706
A staple of the community for 18 years, Madison's live music and happy hours is a favorite among the locals! Their patio recently got a beautiful facelift complete with swings and lawn games so if you haven't checked them out recently it's time to give them another look.
Half-price happy hour is from 2-6 p.m Monday-Saturday. All drinks are half-off, pork rinds are $2, and ball-park nachos are only $1.
Cafe Del Rio
2830 Interstate 10 East
Beaumont, TX 77706
Cafe Del Rio is known for having a lively atmosphere and great authentic Tex-Mex. Sip signature drinks including a Tequila Mockingbird or a Sangria Swirl and enjoy complimentary ice cream on the patio. Happy Hour specials include $3.00 margaritas from 11:00 am - 7:00 pm everyday! There are several options for Queso dip - a favorite for happy hours and gathering with friends.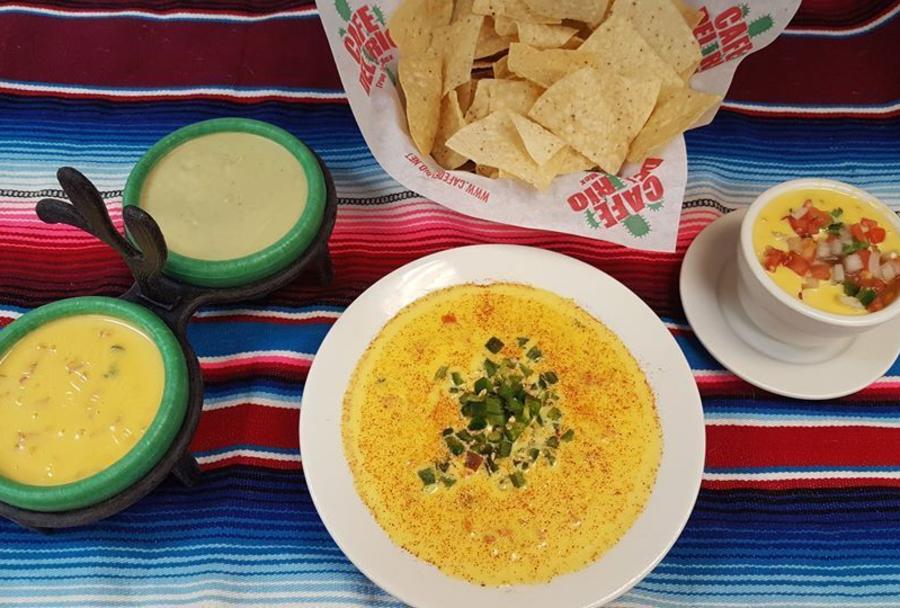 Carrabba's Italian Grill
1550 IH-10 South
Beaumont, TX 77707
Carrabba's is one of the most popular happy hour spots in Beaumont. The bar and lounge area is almost always hopping! There are weekly happy hour specials that include small bites and drinks. One popular special is every Wednesday you can enjoy $10 off any bottle of wine and any pizza for only $9.99. 
Fuzzy's Taco
5655 Eastex Frwy
Beaumont, TX 77706
Fuzzy's Taco Shop serves fresh, handmade Baja-style Mexican food. This is a great place for happy hour because there is plenty of indoor and outdoor patio seating along with the tastiest Queso around. The atmosphere at Fuzzy's is bright, fun, and energetic – perfect for gathering with friends and family to watch a game, enjoy a beer or margarita, or just hang out.
Tokyo Japanese Steak House & Sushi Bar
4438 Dowlen Rd
1970 I10-South
Beaumont, TX 77706
Here's a happy hour you won't soon forget! Tokyo offers hand carved steaks and fresh seafood, prepared right at your table by master chefs. Guests can also choose sushi or sashimi from over fifty rolls offered daily. Tokyo features specials by the week and on special holidays.
Willy Burger
5535 Calder Avenue
Beaumont, TX 77706
Willy Burger is a retro restaurant that prides itself on fresh hamburgers but it's also an awesome place to gather with friends! The menu is simple: great burgers, cold draft beer, hand dipped onion rings, yummy fries, New York charbroiled hot dogs & a grilled chicken sandwich. Willy Burger always has happy hour prices with draft beer for $3.95 and wine for $5.50.  Patrons can dine in booths, sit at the counter on bar stools, outside in the patio area or if your lucky, sit in the refurbished 1971 Airstream trailer.
Thirsty's
229 Dowlen Rd Suite 1A
Beaumont, Tx 77706
You might miss Thirsty's if you didn't know it was there. It's one of those places where everyone knows your name. The popular happy hour and late night hangout is in The Oaks Shopping center and often has live music. Specials include all whiskey for only $4.25 until 11:00 pm!
Beaumont's Heritage Happy Hour is another unique way to get involved with the rich history Beaumont has to offer, with traveling happy hour specials at various historical sights around town. Check out popular porches and patios in the area.
Pick your Bar Scene