Crawfish Trail
From the border to the bayou, crawfish are a coveted treat in the South. Said to taste like bite-sized lobsters, there are various techniques and seasonings to preparing crawfish. Whether you get them from the grocery store, the local seafood shack, or a traditional sit-down restaurant, each venue puts their own take on the seafood delicacy. But with everyone's claiming their crawfish is the best, you'll just have to try them all to find your favorite. And with more than 15 places to grub on mudbugs in the Beaumont area, the only challenge will be deciding where to go first. 
Crawfishin'
What started as a food truck is now a full-service restaurant in Lumberton. Specializing in crawfish, boiled shrimp, and snow crab, Crawfishin' is nothing fancy (basically a converted carport with community-style picnic table seating), but what they lack in ambiance they make up for in flavor, a testament to their perfect five-star reviews on Yelp.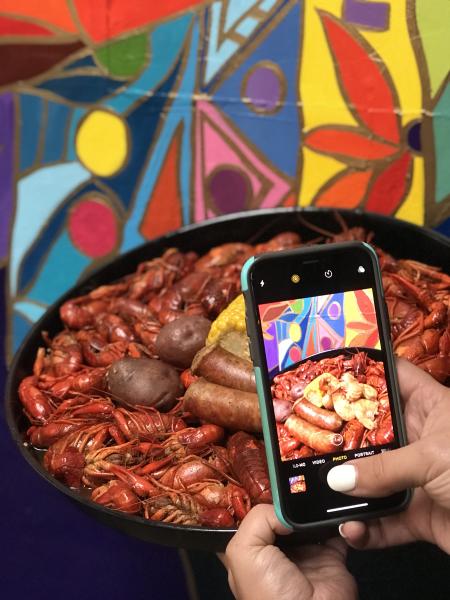 Crazy Cajun
Authentic Cajun straight from the Bayou, Crazy Cajun began in Pineville, Louisiana before expanding to Beaumont, Texas. They serve crawfish a variety of ways from boils to bait buckets, etouffee, and even have crawfish mac and cheese, which is always a crowd-pleaser. They boast a great outdoor seating area with live music, heaters and patio games, and be sure to snap a photo by the mosaic mural courtesy of the local artist, Ines Alvidres.
Crustaceans Boil House at the Silos
With mix and match crustaceans by the pound, you can also order gold, silver, and bronze "treasure bags" and platters containing various combinations of crab, shrimp, clams, mussels, crawfish, and lobster mixed with corn, sausage, potatoes, and boiled eggs. Cooked in your choice of sauce from garlic to lemon pepper, mild or hot, the bags seal in the flavor and really pack a punch. If you're looking for a unique menu item to try, the seafood avalanche spud hits the spot, which overflows with cheese, shrimp, crab meat, and crawfish tails. 
Floyd's Cajun Seafood
Despite having three locations in Southeast Texas, Floyd's is rooted in the Louisiana tradition. The décor, ambiance, cuisine, and attitude are influenced by the Gulf Coast, which means the fried tails, po'boys, boils, and crawfish bisque, will all leave you roux-ing and awing.
Judice's French Market
Judice's has been dishing up Cajun fixins' for almost a century. Owned by a family that originated from New Orleans, they've been a staple of the community since inception and were the first to sell crawfish in a retail environment in the area. While technically a grocery store, their hot bar offers all kinds of tasty Southern staples from boudin to fried chicken.
Juju's Cajun Crawfish Shak
If you didn't know what you were looking for, you'd likely drive right by Juju's. An authentic crawfish shack in a broken-down building with a hand-painted sign, Juju's is the very definition of a hidden gem. Open only from January to June; people travel from far and wide (and often multiple hours) to try their tasty mudbugs through word of mouth. As a testament to their success, they've doubled their business every year since 2003, but being BYO doesn't hurt either.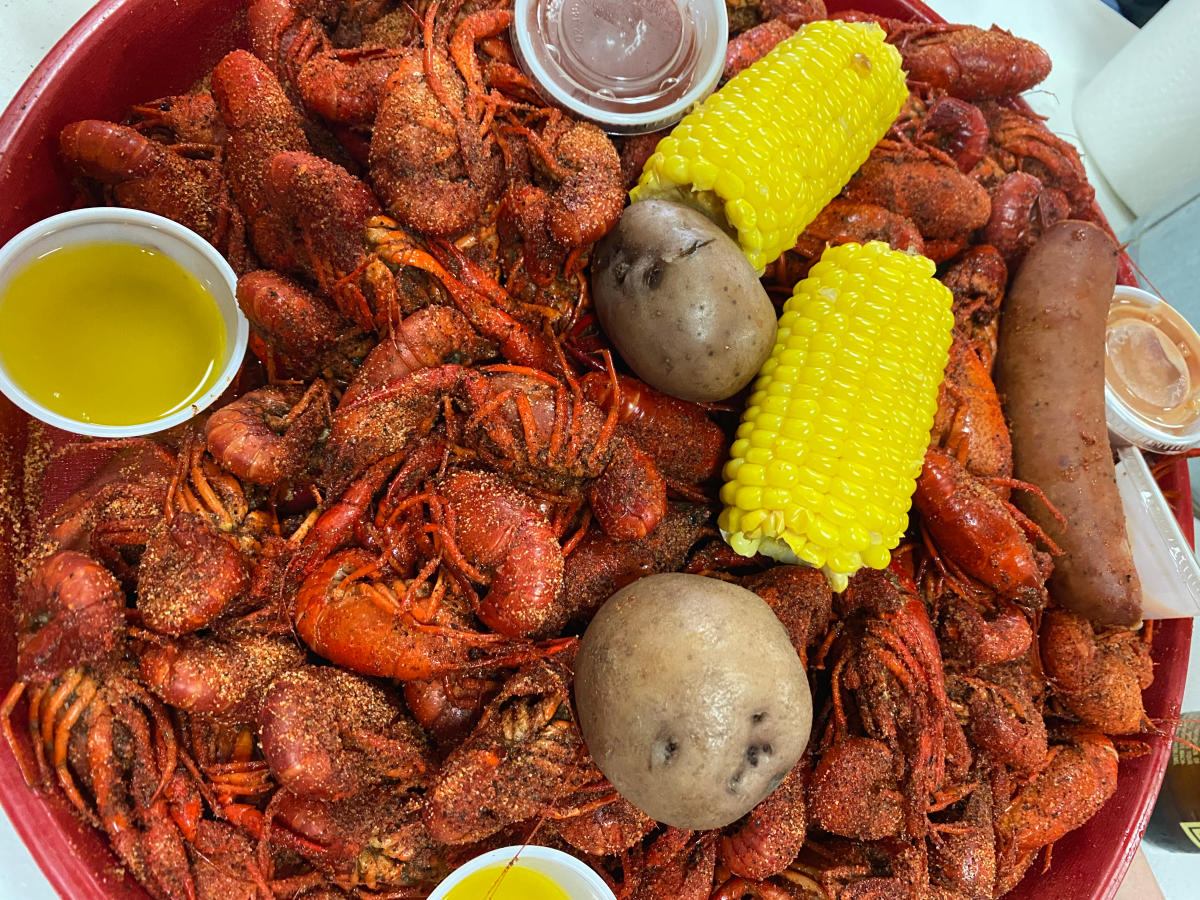 K-Asian Kitchen
A no-frills strip mall venue, K-Asian is one of those "don't judge a book by its cover" kind of establishments. Their crawfish are spicy, seasoned to perfection, and sold by the pound. Besides large and affordable mudbugs, they also offer chicken, shrimp, oyster, and catfish platters.
Krazy Kajun Seafood
With both fried and grilled seafood, Krazy Kajun is a fast-casual establishment that has crawfish boils, tails, and fish combos to order. Their style is best described as "Casian," Cajun-Asian with sauces like ginger and teriyaki for dipping.
Larry's French Market
Home to the famous all-you-can-eat seafood buffet on Thursday, Friday, and Saturday nights, Larry's is the place to grub down on unlimited BBQ crabs, fried alligator, frog's legs, crawfish fettuccine, crawfish etouffee, gumbo, and boudin aplenty. In business since the '70s, they have Cajun, Zydeco, and Swamp Rock bands play every weekend for an authentic taste of Cajun culture.
Red Tailz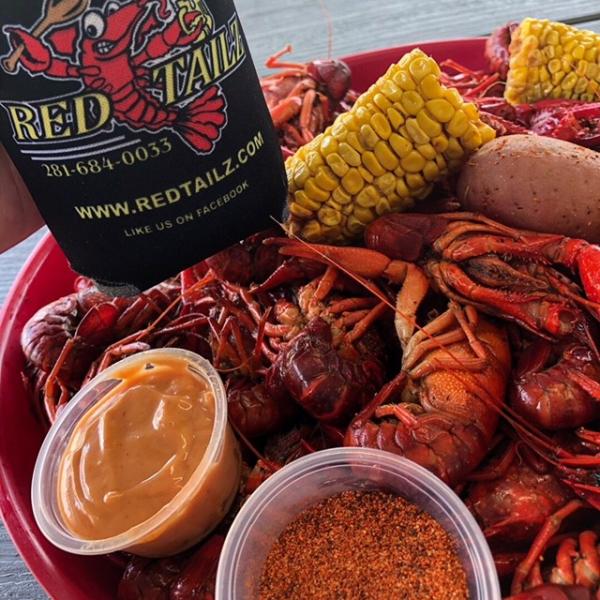 A family-owned and operated crawfish farm in Fannett, Red Tailz is the very definition of hook-to-plate. The crawfish comes from their very own ponds, so it doesn't get much fresher than that. Especially kid and pet-friendly, there's a playground for the little ones and plenty of room for your four-legged friends to run around. If you'd prefer to host your own crawfish boil, they also cater parties, and offer both cooked and live crawfish.
Madison's on Dowlen
One of Beaumont's rowdiest bars, Madison's is the place to get your boiled crawfish with a beer back. There's often live entertainment to jam out to inside or on their large patio. The menu is largely comprised of American favorites (think: burgers and tacos), but they do have sharable seafood platters seasonally.
Red's Icehouse
Cold beers, a friendly atmosphere, and the wind in your hair, Red's is a covered patio bar that features seasonal seafood boils. They're known for their all-you-can-eat crawfish on Tuesday nights and celebrate because it's always patio season in Southeast Texas.
Reel Cajun
Elevated Cajun cuisine, Reel Cajun is the go-to spot for your seafood fix. One of the nicest restaurants in town that still encourages you to "come as you are," they are the three-time Reader's Choice champs for best crawfish. All the food is locally sourced so you can feel good about supporting the neighborhood.
Rodair Roadhouse
A casual dine-in Cajun-Creole joint and live music venue, Rodair Roadhouse is one of Port Arthur's most beloved restaurants. They have crawfish boils a few nights a week along with crawfish pasta, po'boys, etouffee, and fried tails available year-round. You'll also want to save room for their fried green tomatoes, hush puppies, and boudin balls.
Sweet Basil Vietnamese Noodle House
Viet-Cajun fusion, Sweet Basil has nightly crawfish boils until they run out prepared in a unique garlic butter glaze. Their menu is mostly comprised of Vietnamese rice plates and noodle bowls, and if you've never tried pairing crawfish with banh mis or pho before, you don't know what you're missing. Their hot mess fries are also the talk of the town.
Tia Juanita's Fish Camp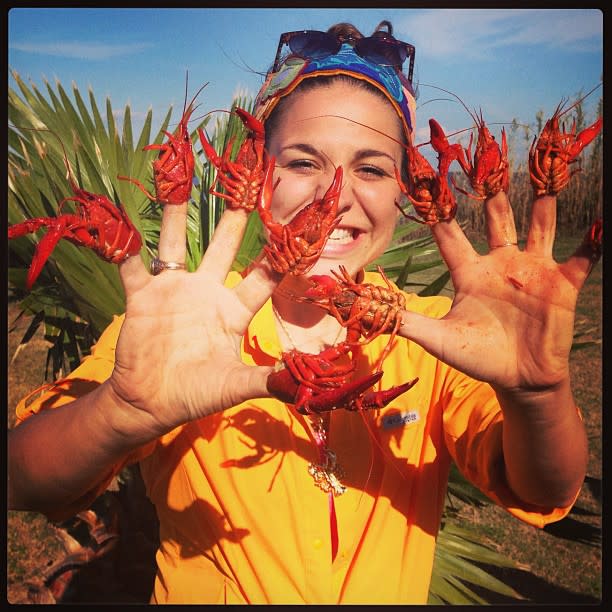 Beyond frozen drinks as big as your head, Tia Juanita's is the go-to for Mexi-Cajun cuisine. With a few outposts around the region, they are all rockin' and always busy. With a motto of "you hook 'em, we cook 'em," they offer a variety of Southern seafood dishes from blackened Pontchartrain to shrimp and grits and of course, crawfish.
Vautrot's Cajun Cuisine
After shuttering for more than two years due to tropical storm damage, local favorite Vautrot's is back and better than ever. The third-generation family business is happy to be offering its beloved gumbo and crawfish in a new larger building at the same location and is excited to welcome new customers into the fold.
S&R Crawfish Hut
Live or boiled, sold loose with sides or by the sack, S&R is a lowkey family establishment.
Beyond seafood, they also offer true Southern staples like pig feet and pork bone in a relaxed environment.
The King Crawfish Shack
A Mexican joint in Port Arthur, The King, offers boiled crawfish in portions of 2-100 lbs. so bring the whole crew and come hungry. Seafood dishes are specialties, but they also offer ethnic favorites like volcano nachos and churros and are known to have one of the best Micheladas in town if you need to wash down the heat.
Find your Craving