Meet the Beaumont Birdies!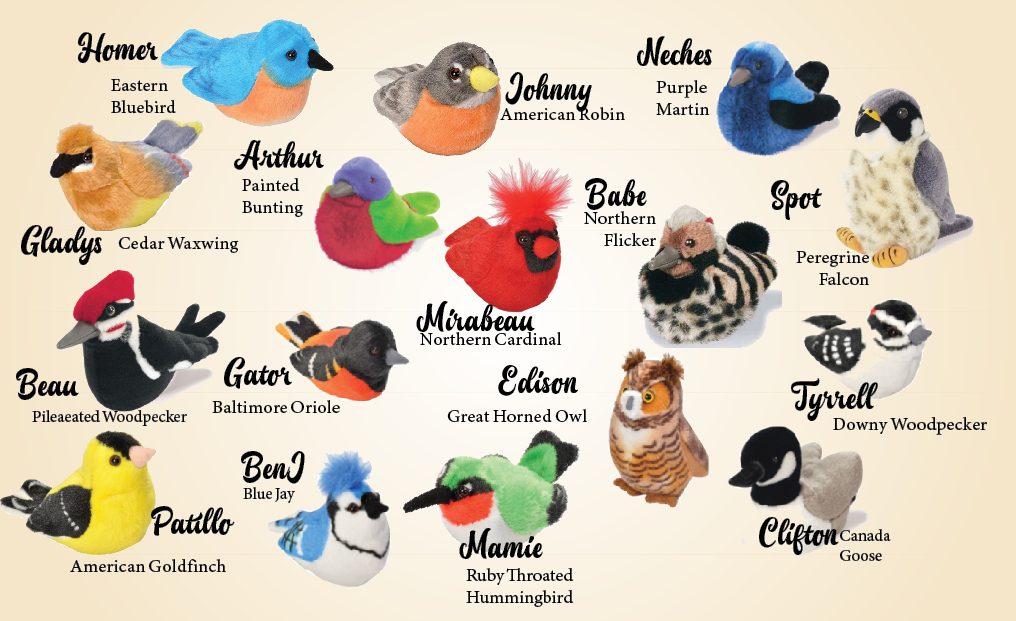 This flock of feathered friends represents some of the region's most sought-after bird species, and they invite you to get out and explore some of their favorite places to see. 
The Beaumont Birdies are part of the Beaumont Convention & Visitors Bureau's nature tourism marketing initiative, designed to capture the interest of a broader audience in the birding community and to increase awareness of Beaumont's birding hotspots. These namesake Birdies will serve as Beaumont ambassadors, helping the CVB to raise awareness about the nearby 28 Birding Trails and local attractions.
These Beaumont Birdies are not for sale, but there are two ways to get your own!
Birdies Passport
A free downloadable PDF passport highlighting 16 of Beaumont's best museums and outdoor spaces, collect a stamp from at least 10 stops and you'll be gifted with one of the signature birdies that call the area home. You can also snag a passport booklet at any of the locations or from the Beaumont Visitor's Center or download the app to track your progress right your phone from Visit Houston's experiences page. The best part is, eight of the locations are completely free, and almost all the rest will set you back less than a 10-spot.
Each stuffed animal has its own unique story, poem and signature sound. Think of them as town ambassadors or tour guides, leading you on a scavenger hunt around the area's star attractions while introducing you to the local wildlife. And as they say in the world of Pokémon – gotta catch 'em all.
Cattail Marsh Wetlands & Boardwalk
Cost: Free
Notes: The place to try birding in Beaumont, Cattail Marsh is a special place to take in the local wildlife and sounds of nature. Beau the pileated woodpecker is the representative of the area, but on any given day you can see more than 250 species.
Don't Miss: The sunrise or sunset (and keep your eyes peeled for gators!)
Spindletop Gladys City
Cost: $5
Notes: A replica boomtown educating travelers on Beaumont's black gold rush, peruse everything from the old-timey soda shop to the printing press. The barbershop is one of the more interesting spots as they would rent the chairs out to sleep in thanks to the massive housing shortage.
Don't Miss: Plan your visit around one of the monthly reenactments where you can actually see the gusher blow. Dates/times vary so check the website for the current schedule.
Fire Museum of Texas
Cost: Free
Notes: A great place for kids to sit behind the wheel and get hands-on with gadgets, the Fire Museum is interactive, entertaining and more than just a historical look at vintage rigs. 
Don't miss: Snapping a selfie with the largest working fire hydrant in the world. The design matches the resident bird, Spot, which was donated by Disney in celebration of 101 Dalmatians.
John Jay French Museum
Cost: $5
Notes: The oldest house in Beaumont that's been restored to its original state, the John Jay home was built in 1845. The interior is full of antiques and documents the life of a prosperous 19th-century pioneering family. 
Don't Miss: Outbuildings on the property include a blacksmith shop, tannery, privy, and smokehouse.
Beaumont Children's Museum
Cost: $5
Notes: Designed to ignite creativity and imagination through interactive STEM exhibits, kids love learning motor skills, practicing paleontology, playing with augmented reality, and becoming artists.
Don't Miss: Located inside the Beaumont Civic Center, there's another great mural on the exterior wall proclaiming, "You are the best thing about me."
Art Museum of Southeast Texas (AMSET)
Cost: Free
Notes: Home to approximately 1,000 pieces of art, the exhibits are always changing to keep it fresh. The bird of the hour, the painted bunting, looks like a psychedelic rainbow work itself.
Don't Miss: The permanent folk piece made out of recycled materials from Felix "Fox" Harris. What looks like a giant yard-sale explosion was once housed in a yard, to which he says God told him to "make somethin' out of nothin," giving him the idea to give old junk new life.
McFaddin-Ward House
Cost: $5
Notes: One of the most architecturally significant buildings in Beaumont, the McFaddin-Ward House is a fascinating look into the lives of one of the society families of the Spindletop period. Offering insight into life of a Southeast Texas oil family in the early-20th century, docent-led tours are offered by appointment Tuesday-Sunday a few times a day.
Don't Miss: The man cave / billiard's room and opulent Tiffany lamps and accoutrements. 
Babe Zaharias Museum
Cost: Free
Notes: Beaumont's leading lady, Babe was unequivocally the world's greatest female athlete, called "Wonder Girl" after her performance in the 1932 Olympics. Nicknamed for Babe Ruth, she participated in almost every sport imaginable from bowling to diving but really gained notoriety in the golf world. The museum memorializes her awards and achievements along with a bird of the same name.
Don't Miss: Her many trophies and three Gold Medals.
Clifton Steamboat Museum
Cost: $7
Notes: Dedicated to local heroes of past, present and future, the Clifton Steamboat Museum is an eclectic personal collection of wartime memorabilia, scouting, frontier art, and a vintage tugboat. They are open Monday-Thursday or by appointment. 
Don't Miss: The collection of wildlife prints and sculptures – you may even be able to find a piece that matches their resident birdie.
Pro Tip: You can save $1 by liking their Facebook page.
Ben J Rogers Visitor's Center
Cost: Free
Notes: The spot to learn about Southeast Texas area attractions, Ben J is a resource to all nine counties in the surrounding area. They have brochures and travel guide for any possible attraction you may want to visit.
Don't Miss: Snapping a photo with the LOVE statue outside. 
Lamar University Honors College
Cost: Free
Notes: Relieve those old college co-ed days on campus.
Beaumont Botanical Gardens
Cost: $3
Notes: In sprawling Tyrrell Park, the Beaumont Botanic Gardens are the oldest public gardens in Southeast Texas and one of the largest in the state. A paved Friendship Walk takes you through various themed gardens in the part indoor, part outdoor exhibit.
Don't miss: Feeding the giant koi in the pond out back and the antique roses.
Chambers House
Cost: $5
Notes: Owned by a quirky middle-class family who had the property in their lineage for 90 years, very little has changed since 1924. It's worth comparing the Chamber's abode to the McFaddin-Ward House to see how differently the two socioeconomic classes lived.
Don't Miss: They go all out for the holidays. Halloween is an especially eerie time to visit when they lead haunted tours and tell local ghost stories.
Gator Country
Cost: $16
Notes: Part animal sanctuary, part animal show, Gator Country is home to dozens of "nuisance" alligators varying in size from palm-sized babies to massive 1,000-pound beasts. You can hold them, feed them, and even swim with them along with visiting other animals like baby goats, reptiles, and giant turtles. They also offer swamp boat tours (by reservation).
Don't Miss: Big Al and Big Tex, both record holders for being the biggest alligator in captivity and biggest alligator captured alive.
Edison Museum
Cost: Free
Notes: A tiny museum dedicated to Thomas Alva Edison, America's greatest inventor, the hands-on museum is an eclectic collection of his innovations. It's the kind of place where you just may have your lightbulb moment.
Don't Miss: His more famous inventions like the phonograph and cylindrical records. 
Texas Energy Museum
Cost: $5
Notes: The story of oil through engineering, learn how black gold is turned from geological formation to modern chemical refinery.
Don't Miss: The robotic figures in the exhibits who do the storytelling.