Family photos are something we love and something we sometimes dread. It's not always easy to get everyone to cooperate, but getting that perfect picture is really something to treasure for years to come. It is even more special when you can take photos in a place that really represents your family and where you live. We talked with several photographers in the Beaumont area to give us an inside look at some of the best places around to have family photos taken. 
Tyrrell Park
6088 Babe Zaharias Drive
Beaumont, TX 77705
Header photo credit: Emily Huval with EMagery Photos
Tyrrell Park has several areas that make for the perfect place to take family photos. The park is home to the new and beautiful 900-acre Cattail Marsh Wetlands Area and there are dozens of other beautiful places around the park. The Beaumont Botanical Gardens has beautiful flowers and trees in bloom. There are several walking bridges and garden structures that make for great places to take photos. 
Wiess Park
255 Magnolia Street
Beaumont, TX 77701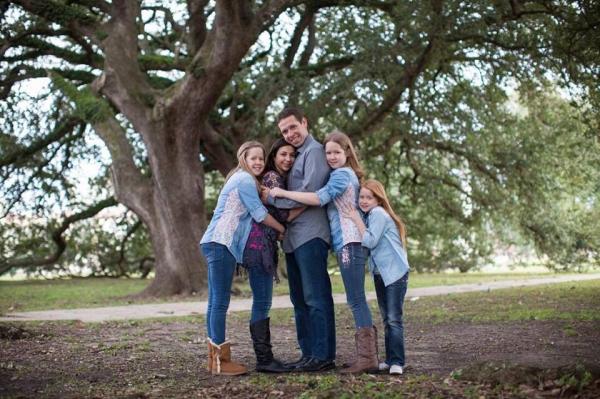 Photo credit: Emily Huval with EMagery Photos
Wiess Park has beautiful oak trees that really show the history and beautiful setting of parts of Downtown Beaumont. There are picnic areas, walking trails and plenty of shade. 
Crockett Street
200 Crockett St
Beaumont, Tx 77701
Park at Crockett Street Entertainment District in Downtown Beaumont and walk along Crockett to find several cool areas to take photos. The unique metal wall with yellow and red is near the Event Centre on Crockett. There are several other "brick wall" areas with plenty of character along the walk from the Entertainment District to the Event Centre area. 
Bowie Street near Suga's Deep South Cuisine
461 Bowie Street at Park
Beaumont, TX 77701
Photo credit: Emily Huval with EMagery Photos
Another unique location Huval uses for photos is near Suga's Deep South Cuisine on Bowie Street. The red brick wall stands out in photos and makes for a statement for your family. This would be especially pretty for a Christmas card photo or Valentine's Day shoot!
Neches River Salt Water Barrier
6790 Bigner Rd
Beaumont, Tx 77708
The Neches River Salt Water Barrier is one of the most popular areas for boats to launch in the area and it's a great spot for fishing. But, did you know it's also a beautiful setting to take photographs? This "off the beaten path" location has long stretches of water with tall trees and moss in the background.
Wuthering Heights Park
3650 Delaware
Beaumont, TX 77706
Wuthering Heights Park features a 1.01-mile jogging trail and is surrounded by a large, beautiful wooded area. Numerous trees offer shade and the jogging trail and park benches make for a beautiful backdrop for family photos. This park is dog-friendly! So, bring your four-legged friend along!
Delia Harrington Park
North St and Pearl Street
Beaumont, TX 77701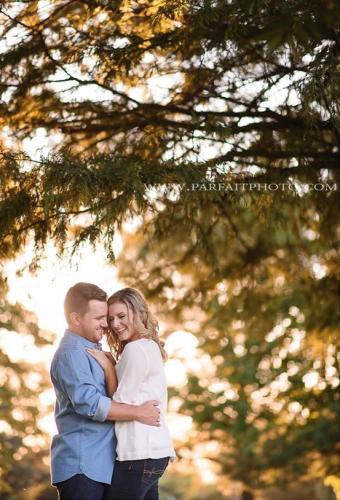 Photo credit: Kyle and Kimberly Parfait with Parfait Photo
If you blink you might miss the tiny Delia Harrington Park. Despite being surrounded  by busy streets it has tall, mossy trees that create texture and depth to an image. When the sun drops in the sky behind the trees it creates a kaleidoscope effect in the focus area. 
Klein Park
6530 Major Drive
Beaumont, TX 77706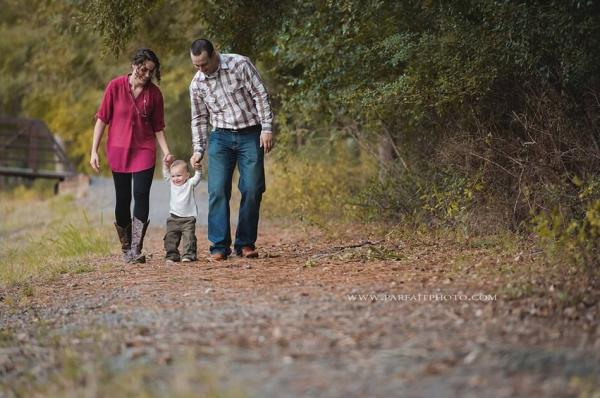 Photo credit: Kyle and Kimberly Parfait with Parfait Photo
Klein Park features a 1.6-mile jogging trail, a multi-purpose sports field, and disc golf. In addition, the park has a softball field and two tennis courts.  You can use the many walking paths and bridges to frame and compose an image. 
Photo Tips: 
Getting the perfect photo is about much more than location. Photographer Sarah Smith recommends talking with your photographer before the session about what you hope to get out of the photos.
"I talk to all of my clients and get to know what they like and their personalities and then I suggest places," said Smith. "It helps a lot to listen to your photographer's opinion and consider that and then make the decision."
And, don't forget about your wardrobe. Emily Huval with EMagery Photos says one of the most common questions she gets asked is about clothing. She says matchy-matchy is not always best. 
"I tell families to try and pick a color group they like," said Emily Huval. "For example, everyone can wear cool colors or everyone can wear nice neutral tones with a hint of color."
For other cool photography locations, think about checking out the quirky finds in the area such as the 24-foot fire hydrant, the Muffler Man and of course the world famous Spindletop!