From a 24-foot fire hydrant to the Muffler Man and of course the world famous Spindletop… there are quite a few quirky and fun things in our great city! Beaumont is home to some really cool items you won't see anywhere else. So, grab your selfie stick, print out this list and get ready to have some fun! 
Roadside Attractions
Big Beau
Gator Country
21559 FM 365 Rd
Beaumont, Tx 77705
You can't miss this guy. Big Beau is a huge alligator sitting right off of Interstate 10. He's 135 feet long and 30 feet tall and made out of wood, metal, siding, framing and rubber. For the full experience, head inside to hold a real life alligator. Don't worry, they only let you hold the babies at Gator Country in Beaumont. There are more than 300 alligators, caimans, crocodiles, and snakes. The Park is Open 7 days a week. Prices vary from $12 for kids and seniors to $15 for adults. Learn more about Big Beau here.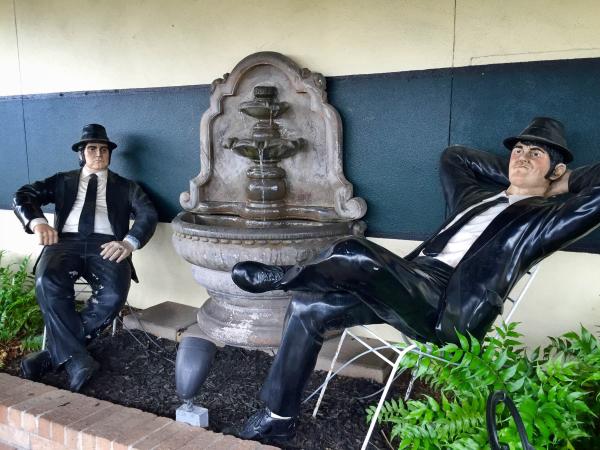 Blues Brothers
Rao's Bakery & Coffee Café
4440 Dowlen Road
Beaumont, Tx 77706
You've probably seen these guys while visiting Rao's Bakery off of Dowlen Road. Rao's Bakery was founded in 1941 by Johnny Rao and is now owned by Sicilian Giacamo "Jake" Tortorice, Jr.  Rao's is known for delicious cakes, cookies, pastries, coffee, sandwiches and of course the renowned King Cake! Grab a coffee, sit back, relax and enjoy a Beaumont classic while hanging out with the Blues Brothers. (Well, sorta.) The two statues sit at the Rao's location off of Dowlen.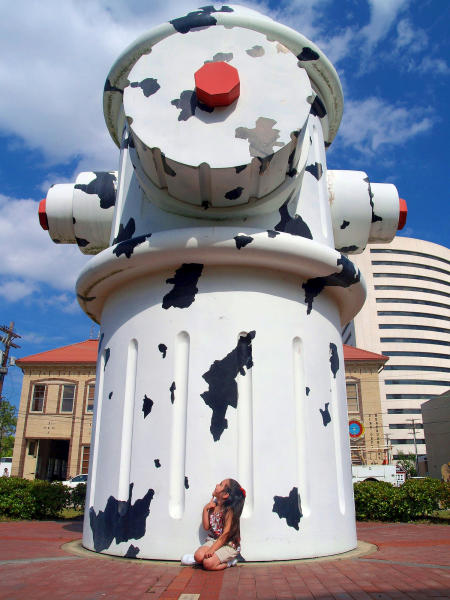 Huge Dalmatian Fire Hydrant
Fire Museum of Texas
400 Walnut
Beaumont, Tx 77701
This 24-foot, Dalmatian-spotted fire hydrant is at the Fire Museum of Texas. It was donated to the City of Beaumont by Walt Disney in 1999 for the re-release of the animated movie "101 Dalmations."  At one point it was the world's largest fire hydrant, but since then a few more have popped up around the world.  When you stop to see the hydrant, pop into the Fire Museum of Texas to see what life was like for firefighters through the decades. Admission is always free and they even host birthday parties for kids! Learn more about the Dalmatian Fire Hydrant here.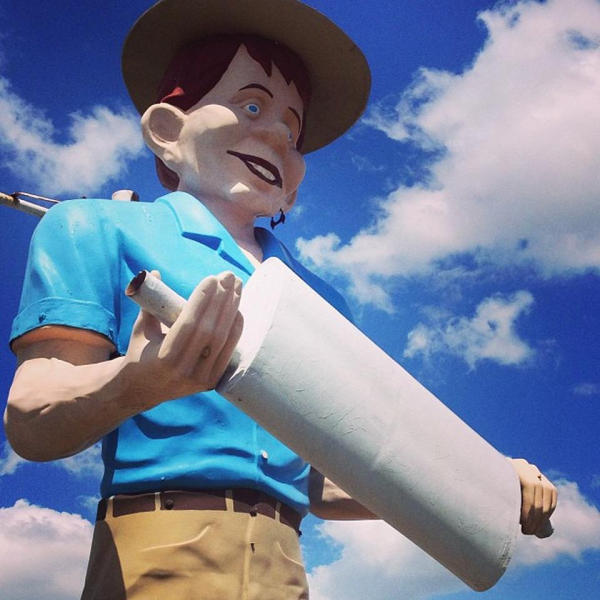 Muffler Man: Happy Half Wit
Ken's Mufflers
830 South 11th
Beaumont, Tx 77701
Inspired by the famous MAD character, Alfred E. Neuman, Happy Half Wit is about 25 feet tall and lives outside Ken's Mufflers on11th street. There are actually several "Muffler Men" scattered around the United States. You'll find an assortment of sizes and personalities along highways all across America. Beaumont's Happy Half Wit is unique for several reasons: he's a half-wit, which is one of the less common variations of the muffler men. Secondly, he's holding a muffler, which is also rare. (Other muffler men are holding things like an ax, a hot dog and baseball hat.) To learn more about Happy Half Wit and to find other muffler men across the country, check out RoadsideAmerica.com.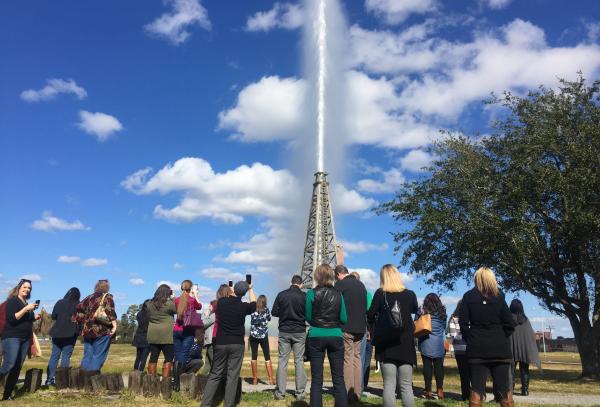 Replica Gusher
Spindletop Gladys City / Boomtown Museum
5550 Jimmy Simmons Blvd
Beaumont, Tx 77705
It's what Beaumont is known for. Gladys City was founded in 1892 after the Spindletop oil boom. In 1975, a replica of the Gladys City Boomtown was created. The mini town includes a post office, saloon, general store, livery, working print shop and a working replica of the gusher. On occasion, you can also see re-enactments of life during the oil boom. Click here to see a schedule of the Lucas Gusher blowing water. 
Admission: Adults, $5. Kids, $12 with kids 5 and under free.
Artsy Bike Racks
You may have noticed these bike racks around town, without knowing the reason they are there. The Oaks Historic District Neighborhood Association had a bike rack design contest a few years ago and the top designs were created and placed in four areas at different spots down Calder Avenue. These creative pieces were crafted by local artists!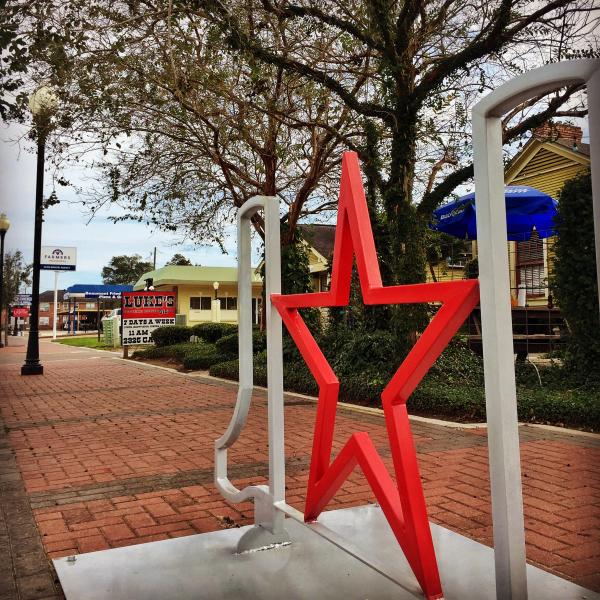 Boots & Lone Star
Luke's Icehouse 
2325 Calder Ave
Beaumont, Tx 77702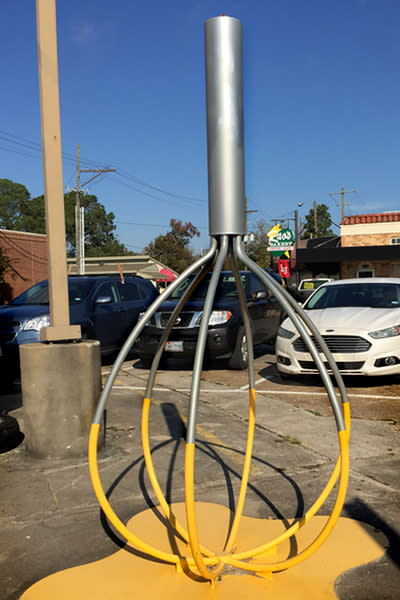 Egg Beater
Rao's Bakery & Coffee Café (shopping center)
2596 Calder Ave
Beaumont, Tx 77702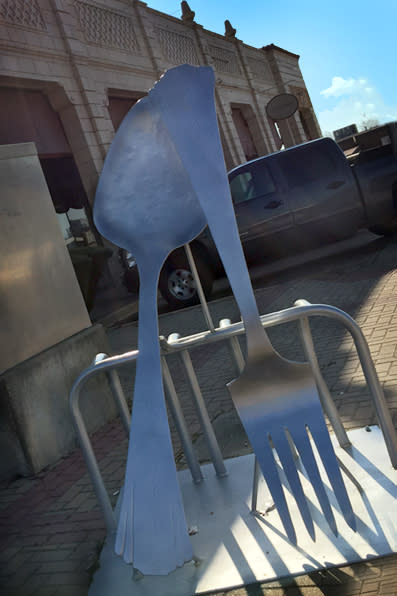 ​
Fork & Spoon 
Katharine & Company
1495 Calder Ave
Beaumont, Tx 77701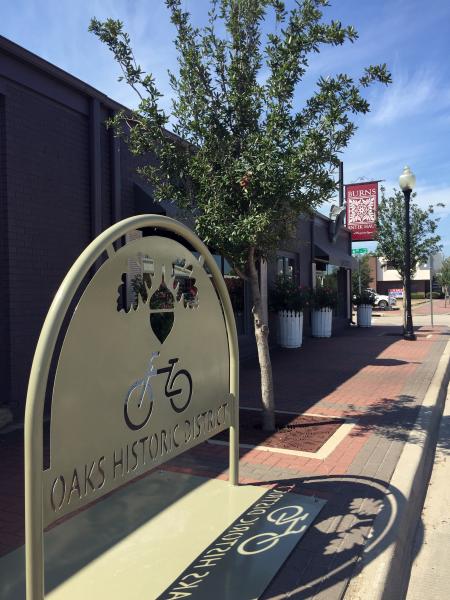 Oaks & Bicycle
Burns Antik Haus
2195 Calder Ave
Beaumont, Tx 77701
These unique and quirky items are part of what make Beaumont so special! If you take a photo, we would love to see it! Post it on social media and use the hashtag #bmttx. 
Let us know if you spot any other "quirky" items around town!