Visitors who come to Beaumont for the city's museums, historical attractions and nightlife may not realize they're cradled in one of the most biodiverse parts of the world, but a peek into the woods and waterways of Big Thicket National Preserve reveals a surprising side of east Texas that's easy to overlook.
This federally protected area stretches north and west of Beaumont across 112,250 acres of land and water, and it preserves the area's unusual combination of habitats that converged here during the last ice age. Along the Neches River, which serves as the preserve's primary waterway, visitors can find desert plants like cacti thriving near swamp species like cypress. Additionally, four of the five carnivorous plants native to the U.S. can be found within the preserve's boundaries.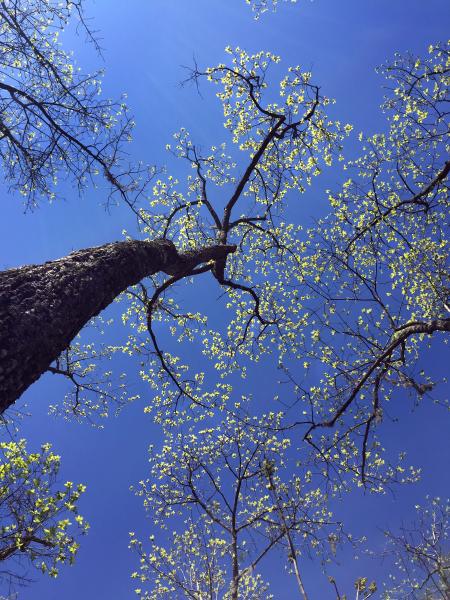 Kayaking or canoeing the Cook's Lake to Scatterman Paddling Trail on the Neches River gives a look into the heart of the Big Thicket unlike any experience found on land. This official Texas Paddling Trail begins and ends at the Lower Neches Valley Authority (LNVA) Saltwater Barrier Boat Ramp (6790 Bigner Road, Beaumont), and the full trail covers 4.8 miles of generally easy paddling over open stretches of the river as well as a shaded maze through one of Big Thicket's many cypress/tupelo swamps.
From the boat ramp, the trail travels upstream along calm, flat water to the junction of the Neches River and Pine Island Bayou, where it then veers left into the bayou. Paddlers will begin seeing the distinctive "knees" of the swamp's cypress forest on their left. Overhead, bird species including blue herons, osprey, ducks and woodpeckers spread their wings, and closer to the water's surface, turtles can be seen sunning themselves on logs. Occasionally, other wildlife including alligators, raccoons, opossums and more will appear along the water's edge, and fish frequently leap up and splash back into the water.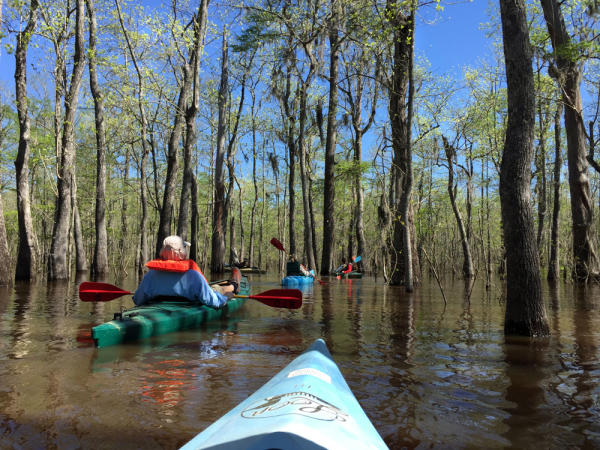 The trail forks again at Cook's Lake, and here paddlers will want to stay to the right. Cook's Lake stretches into the slough as an open area of water, and boaters can spend some time exploring the varied shoreline. After turning around, boaters will put the swamp to their left and begin looking for the blue-tipped plastic poles that indicate the trail's path through the marsh. This section offers the most challenging portion of the trail, as boaters may need to paddle against the current through a tangled maze of underwater stumps. On the other side, oxbow-shaped Scatterman Lake offers flat water once again, and from here paddlers can enjoy a leisurely float back to the starting boat ramp. 
The entire trail can easily be completed in two hours, but since the swamp offers endless possibilities for exploration, this trail can also provide a full day's entertainment.
Maps and information:
Cooks Lake to Scatterman Paddling Trail
Paddling the Big Thicket 
Big Thicket National Preserve
Outfitters (boat rentals and guided tours):
Big Thicket Outfitters
www.bigthicketoutfitters.com
(409) 786-1884
Eastex Canoe Trails
www.eastexcanoes.com
(409) 385-4700