Unique Places to Meet in Beaumont
Take a break from the traditional venues and host a meeting at a unique venue that's spacious, steeped in history and will show your attendees a different side of Beaumont, Texas. Beaumont's Southern flair is embedded in its venues, and the hospitality greets you the moment you enter the city from Interstate 10. Plus, many of the spaces are within a 10-15 minute drive from anywhere in the city.  Here are five exceptional venues that will give your meeting a unique, fresh edge.
Historic Theaters
Jefferson Theatre
Built in 1927 by famed architect Emile Weil, the Jefferson Theatre is one of the few remaining art deco movie houses in the country. It was the showplace for decades and hosted some of the world's greatest movies, including the 1947 premiere of "It's a Wonderful Life." The Beaumont Journal once described the theatre: "Of striking Old Spanish architecture, the interior radiates romance and charm in the perfect blending of color, tone, architecture, sculpture, and fabric and breathes an eloquence of grandeur that is felt quite as much as it is seen."
The grandeur and eloquence are still present today, especially after it underwent a $6.5 million renovation in 2003. The fully restored downtown theater now includes modern technical systems, seating for up to 1,200 and an opulent lobby and mezzanine. One of the shining stars of the theater is the Robert Morton Wonder Organ, which can rise from the orchestra pit to stage level, filling the air with angelic music from its 778 pipes. Have your trainings and seminars here, and then take your attendees to Suga's Deep South, a sophisticated jazz club next to the theatre, for them to enjoy its delicious, upscale Southern meals.

Julie Rogers Theatre
The Julie Rogers Theatre is another one-of-a-kind venue in downtown that's great for seminars and training sessions as well as lectures and large meetings. The magnificent and grand theatre opened in 1982 and is home to the Symphony of Southeast Texas and the local ballet, and many famous musicians and artists have performed here, including The Beach Boys and Mikhail Baryshnikov. You can host an opening reception in the same place The Beach Boys sang "Good Vibrations." That's something you can only experience in Beaumont!
After 25 years, the beloved theater underwent renovations in 2007 and was meticulously restored. As you walk in the lobby, you're greeted by twin grand staircases and sparkling chandlers, which add to its elegant ambience. The theater has continental seating for 1,650, an impeccable sound system in the auditorium and a hydraulic orchestra pit. An added bonus about the theater is that it's adjacent to the Beaumont Civic Center, so it's convenient for trade shows and other meeting possibilities.
Meet in Museums

Spindletop / Gladys City Boomtown Museum
It's no secret that Texas and the Gulf Coast are home to much of North America's oil and gas industry, but did you know that the area's first significant production of petroleum occurred in Beaumont? The history of the Lucas Gusher at Spindletop Hill, where a geyser blew a stream of oil over 100 feet high in 1901 until it was capped nine days later, is on display at Lamar University. The exhibit highlights Beaumont's oil history and how the city changed the world when it came to its fuel production. Documenting the birth of the modern petroleum industry is the off-site venue Spindletop / Gladys City Boomtown Museum, which has event space among its 15 re-created boomtown buildings with period furnishings.
Experience the allure of Spindletop since the entire facility is available to rent, and the re-enactors who recreate the era with skits and shoot-outs will enthrall them. The diverse event spaces can accommodate many meeting styles. The Log Cabin Saloon is great for banquets, outdoor concerts and small receptions, and Hamill Square is ideal for large parties, receptions or reunions, with the capacity to fit 500. The facility also has an interactive blacksmith demonstration and a craft beer tasting in each building. Where else can you have a meeting where beer is readily on tap? Once a week the museum does a gusher re-enactment (using water) that adds to the excitement and splendor of this famous area.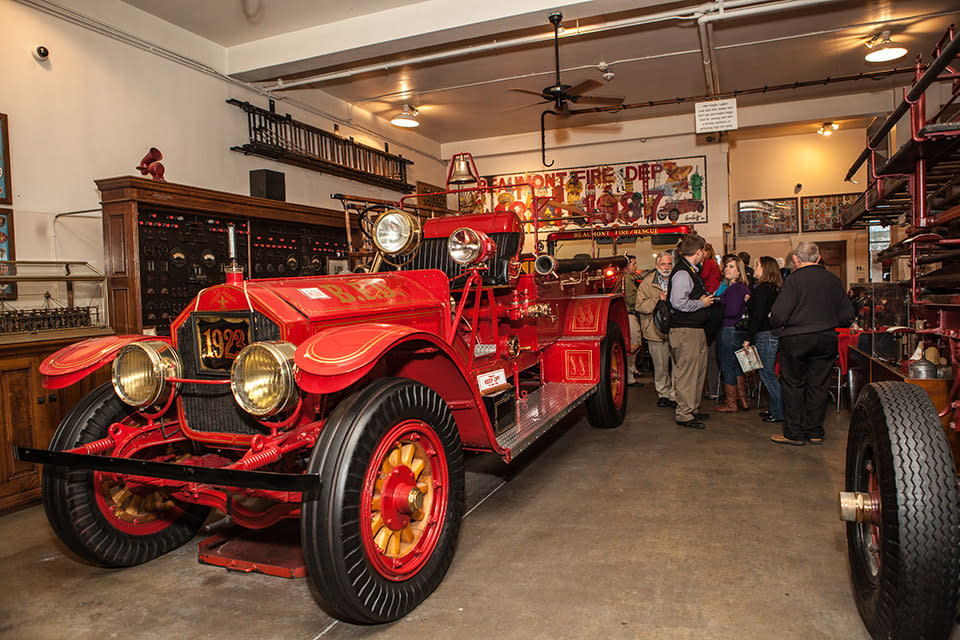 Fire Museum of Texas
You can't miss the 24-foot Dalmatian-spotted fire hydrant—the World's Largest Fire Hydrant—that greets you as you enter the Fire Museum of Texas. This famous statue is a local landmark and photo-ops with it are a must. After you get a few snaps with it, you can peruse the museum and see exhibits and relics from firefighter equipment used in the 1800s, including hand-cranked aerial ladders, extinguishers, telegraph equipment and more. Opened in 1984, the museum is a tribute to firefighters of the past, present and future.
Beaumont used this cherished museum as the anchor for a fresh approach for a progressive dinner. The attendees were dropped off at the fire hydrant, where they were greeted by the Fire House Band and enjoyed steaming hot gumbo served by firefighters. They toured the museum and enjoyed the festivities before taking a short stroll to the Texas Energy Museum, Crockett Street and Art Museum. The Beaumont CVB team worked with the museum to customize various menu items and themes relating to the museum's collections that were provided at different stops.  The eventful day ended at the Art Museum, where delicious Cajun food and crawfish was served, and a zydeco band kept everyone dancing.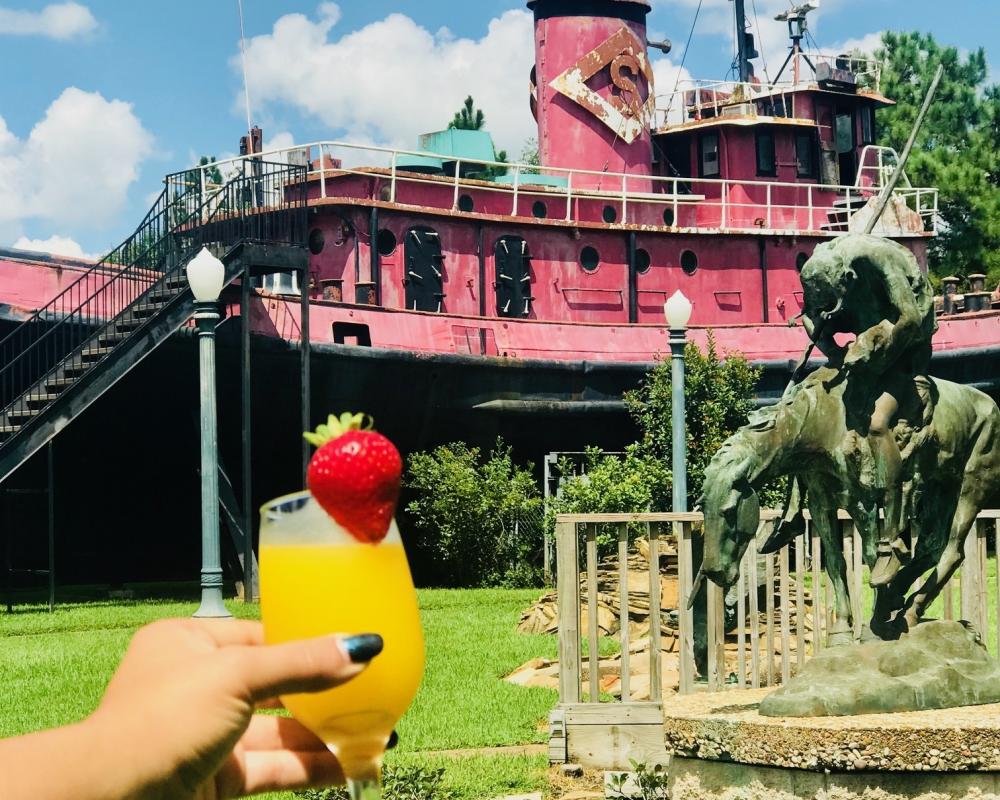 Clifton Steamboat Museum Complex
Step back in time to another era at Clifton Event Complex and Museum. This historical museum honors the military and civilian heroes, and its art galleries bring to life the wars fought in Southeast Texas and Louisiana as well as World War I, World War II and other wars. David W. Hearn, Jr., built the complex in 1995, and now his granddaughter, Sarah Wells, manages the day-to-day operations. All the buildings are replicas of something, with all the building structures having historical significance, said Wells.
"The great thing about our venue is that we have multiple buildings on the property," she said. " There's a potential to do up to seven venues at a time." You have your pick when it comes to selecting a space, with the largest building being the Moresi's Foundry Event Center, a replica of the original namesake built in Jeanerette, Louisiana.  This space can accommodate a number of events, from banquets to lectures to seminars. One of the highlights of the complex is O'Hearn's Pub, an authentic Irish pub. But it's only open for private events, which adds to its exclusivity. 
"It's a different atmosphere of the whole museum experience," she said. "Some our clients are investment firms and do a lot of client appreciation dinners. They have dinner in one of the rooms and then move to the museum, which gives them an easy way to interact with their clients and stay longer." Another way groups can enjoy the museum and make connections is taking a teambuilding exercise like Painting in the Pub, where they create DIY projects.
Traditional Venues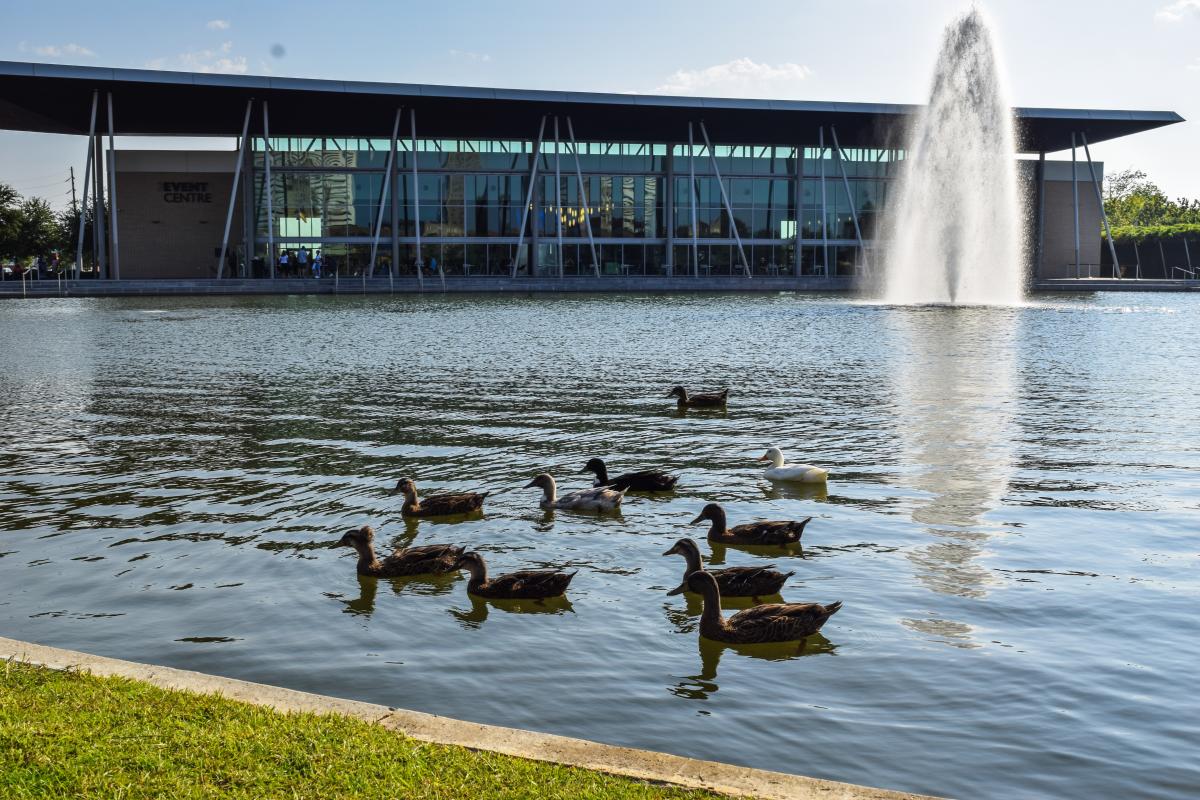 If you prefer a conventional venue, Beaumont's as you covered as well. The Ford Park Entertainment Complex is a 221-acre multipurpose park and event center right off I-10. Concerts, trade shows, conventions, festivals and sporting events all use this versatile five world-class facilities. If you're in downtown Beaumont, near the banks of the Neches River, you'll find Beaumont Civic Center, with a stadium-style seating arena for 6,500. You'll also find The Event Centre, which has a 16,000-sq.-ft. event hall and a 14,000-sq.-ft. patio overlooking a lake.
Complemented by modern décor and a three-story atrium with a waterfall as its centerpiece, the Holiday Inn Hotel & Suites Beaumont Plaza features a full-service conference center with over 20,000 square feet of flexible event space including a 10,500-sq.-ft. ballroom. The MCM Eleganté Hotel& Conference Center, with 18 meeting and banquet rooms including a 9,000-sq.-ft. ballroom, offers a full-service restaurant, on-site day spa and Starbucks coffee. At the Holiday Inn Beaumont East Medical Center, a $12 million renovation was completed in 2018, and you will find several new meeting spaces – the largest seating up to 200 – available for booking. 
Beaumont's cultural sites and natural environment that create a one-of-a-kind backdrop for your meetings and events, with most attractions and the Jack Brooks Regional Airport just a few minutes from the city's event venues. From one-of-a-kind, historic spaces to modern venues, everything is bigger and better here, including the events you can host. Beaumont is ready to welcome you and help your meeting shine brightly under the Texas sky—day or night.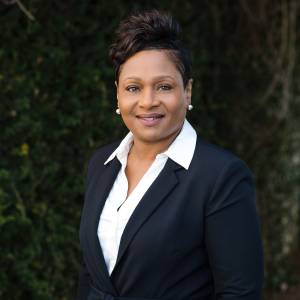 Freddie Willard, TDM
Director of Sales
Phone: (409) 880-3160 | 1(800) 392-4401
freddie.willard@beaumonttexas.gov
Freddie leads the Beaumont CVB sales team in their efforts to market and promotes Beaumont as a meeting and sports destination. Along with overseeing all convention sales activities and initiatives, Freddie develops relationships with prospective clients, local leaders, and hospitality partners. She works directly with the sports market, local events, and annual state conferences.