When it comes to fair food, there is nothing too extreme for your taste buds. In fact, the bolder, the better. Who needs fast rides with all these thrilling flavors?
With the arrival of the YMBL South Texas State Fair, all diet restrictions go out the window. This is the one time a year that locals come out in droves for unique items such as deep-fried Oreos and grilled pork kabobs.
In 2018, the selection of vendors to choose from has never been better. Our list of must haves includes several veterans and a handful of newbies who earn a spot for unusually tasty and creative snacks.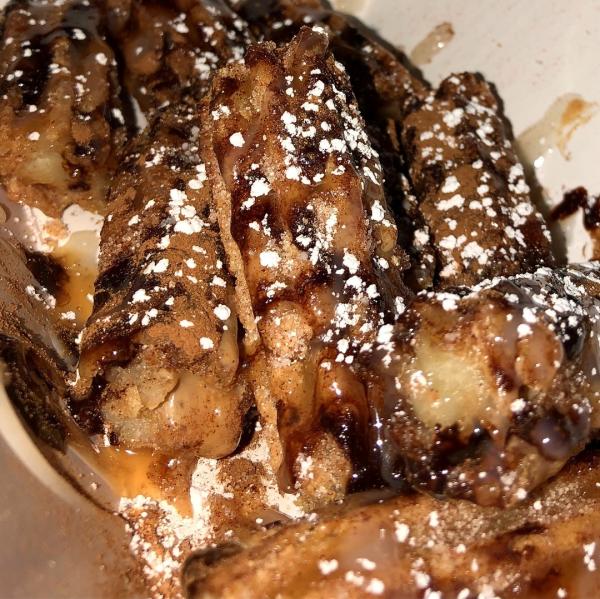 Fry Daze – Churros
If you don't pay attention, you might miss it! Beaumont's newest food truck, Fry Daze, is located near the fair entrance. 
"My menu was inspired by New York City street food," said Renee Tamayo, Beaumont resident and owner of Fry Daze food truck which specializes in adventurous snacking.
We're here for the churros! For $6, we recommend a handful of tasty churros served Cajeta style which includes a topping of Mexican caramel sauce, dusted with chocolate syrup and cinnamon powder. Fillings include Bavarian cream, Tres leches, and more!
Crystal Beach Cafe - Shrimp On a Stick
When it comes to Cajun food at the fair, Crystal Beach Cafe has the right flavor.
The menu here includes: shrimp on a stick (grilled or fried), bloomin' onions, crawfish sausage, and even gumbo! We are privy to the fried shrimp kabobs which are served piping hot.
Each item is made-to-order fresh.
The Nut Shack – Cinnamon Roasted Almonds
When fried Oreos don't get you excited, how about a bag of cinnamon coated almonds? Located inside the Ford Park Arena, The Nut Shack has the perfect mix of sweet and salty to satisfy your cravings. This traveling nut company offers a wide array of roasted and flavored pecans, almonds, cashews, and peanuts, at an affordable price. They've also got 12 different kinds of homemade fudge to choose from! It's no wonder why The Nut Shack is one of our favorite vendors.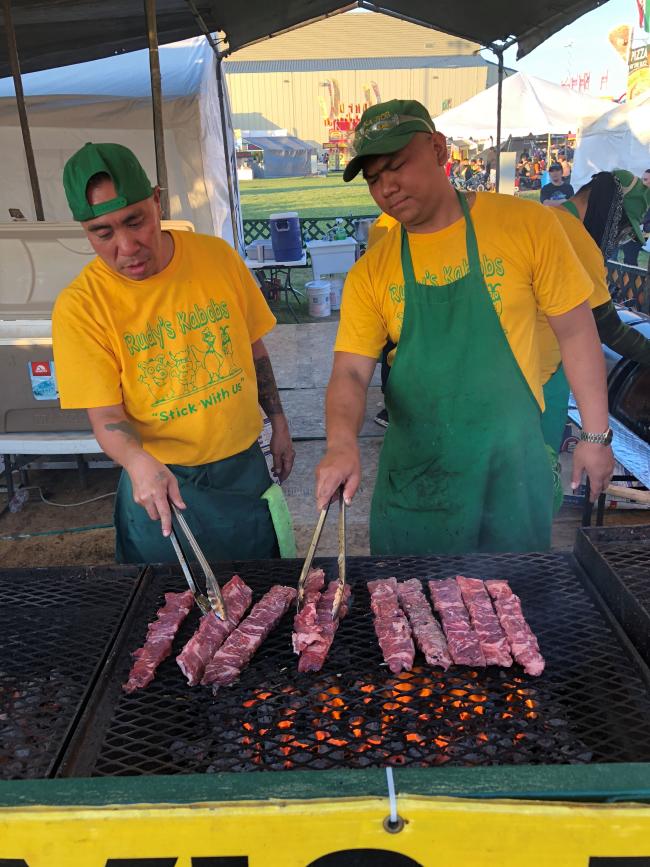 Rudy's Kabob - Beef and Pork Kabobs
The fair wouldn't be the same without Rudy's Kabobs. You can usually spot the booth because of the size of the line. Just the taste and smell of these meaty kabobs sizzling on the flat-top grill is enough to make your mouth water. 
Rudy's is so well known, the past few years they have had two booths for fairgoers can order from. The second, smaller booth is located near the Ford Park arena entrance.
Flavorful kabob options include marinated chicken, beef, pork, and shrimp.
Gyro Connection - Gyros 
One of the best meals at the fair has to be the gyros. They are super yummy and not to mention, easy to eat as your make your way around the fairgrounds.
While Gyro Connection was our favorite pick, several other vendors serve these tender meat sandwiches nestled on a warm pita with delicious grilled onions and topped with a creamy Tzatziki sauce.
Wicked Casian - Salt 'n' Pepper Pork, Fried Rice and Crawfish
The last place you would expect to find crawfish is at the fair. However, a new vendor called Wicked Casian is making moves with their Viet-Cajun inspired dishes
Whether it's the salt "n" pepper pork or a platter full of spicy, garlic crawfish, you can't go wrong here. Wicked Casian brings so many flavors to the plate, making this affordable and tasty creation one of our favorites.
In southeast Texas, a foodies' favorite time of year is when the YMBL South Texas State Fair comes to town. Until April 1st, it's the one week you can indulge with all types of outlandish food without judgement. 
With this list, we hope you'll try what all the hardworking vendors have to offer. Whether its sweet and salty nuts or marinated meats on a stick, we hope you enjoy yourself this fair season!
Show us what you're feasting on this year at the YMBL South Texas State Fair by using hashtag #EATBMT on your social media photos.