Whether you are in the mood for relaxing jazz ensemble or ready to dance all night to the latest rock band, there are plenty of places to enjoy live music in Beaumont. From the well known favorite music spot "The LogOn" to the newer place for live music over at "Courville's," soaking up performances by local talent has never been more fun! There are so many of options! We've got the top 10 places to listen to live music in Beaumont (in no particular order).
Top Spots to Listen to Live Music In Beaumont:
1) Courville's Catering & Concerts
1744 Rose's Lane
Beaumont, TX 77713
Courville's has made a name for itself by offering outstanding BBQ and catering for events all over town. They eventually put up a store front and have a great space to serve food and to host parties! Corvette's also has live music on a regular basis. A wide variety of music acts come to Courville's to perform. Just a few performances include: American Aquarium, an alternative country band from Raleigh, North Carolina; Peter Rowan, an American bluegrass musician and composer who plays guitar and mandolin, yodels and sings; and Ezra Charles one of the most popular piano players in Texas for over thirty years!
2) BarLocal
6358 Phelan Blvd.
Beaumont, TX 77706
BarLocal, located in the Colonnade Shopping Center in Beaumont, is where you'll find good drinks and a good time. BarLocal is always hosting some of the biggest musical performers in the Beaumont area. Regulars include Blake Sticker, Chalkline Empire, The Coast & True Heroics and of course the music mixes from DJ Aaron. Of course, there is a dance floor. The TacoLocal food trailer is out front on the weekends to make sure you don't leave hungry!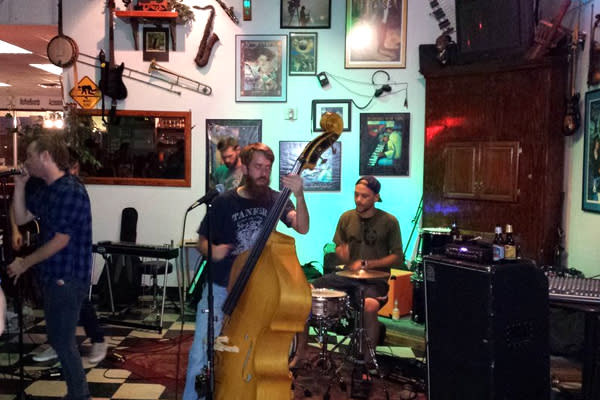 3) Logon Café
3805 Calder Ave 
Beaumont, TX 77706
The Logon Café throws some of the best theme and live music parties in town! They've offered events such as a Roaring 20's party complete with costumes and music! Feeling brave? Got talent? Wednesdays are Open Mic night with signup starting at 7:30. The Logon also supports budding musicians around town. The Tonalta School of Music in Port Neches brings their musicians to the LogOn to perform. 
4) Luke's Icehouse
2325 Calder Ave 
Beaumont, TX 77702
Luke's Icehouse is located in downtown Beaumont and offers one of the best patios in Southeast Texas. The wrap around porch and different sitting areas in the outside area make this the perfect place to bring a crowd. Luke's offers craft beer, cocktails and a full menu of burgers, sandwiches and more make it a favorite among locals. You can enjoy live music on the patio featuring some of the most popular local singers around including Blake Sticker and David Joel.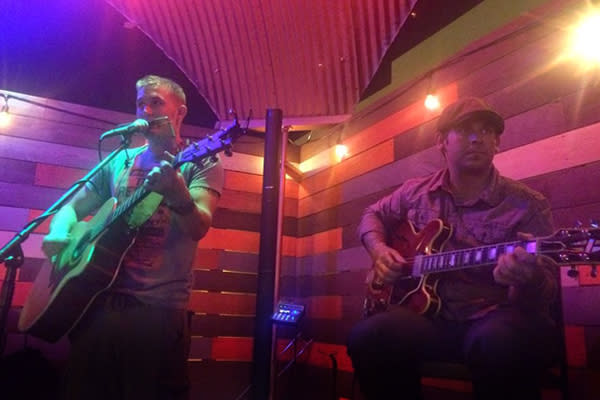 5) Mackenzie's Pub
299 Dowlen Road, #9B
Beaumont, TX 77706
At MacKenzie's Pub you'll find nice people, cold beer and good food along with regular live music. The music includes: jazz, blues, classic country and rock. Regular performers include: Pub Jazz Trio, Easy "The Band" and Larry Tillery, Mackenzie's hosts other fun weekly events and food specials. You can also host an event or party at Mackenzie's! 
6) Madison's on Dowlen
4020 Dowlen Road
Beaumont, TX 77706
Madison's on Dowlen offers a full menu with great food and a full bar. Live music and regular happy hours make Madison's a favorite among locals.  For music, there is a DJ on the patio area always playing the latest hits and mix from popular songs from all the generations. Local artist Alex Rozell plays almost weekly at Madison's on Dowlen. His smooth, airy voice perfectly complements his heartfelt lyrics with stories of love, heartbreak, joy, paid and perseverance. Also, if you ever feel like getting up on stage yourself, Madison's offers regular karaoke nights and drink specials!
7) The West
6445 Calder Ave
Beaumont, TX 77706
The West is the place for friends to gather! They often create menu specials to coincide with the live music they will have in the house. For example, Fried chicken covered in gravy and live music from Bronco Junior! The small stage gives you an up close experience with the musician. Scott Desormeaux and Keith Buesing are also regulars on the music scene at The West.

8) Suga's 
461 Bowie Street at Park
Beaumont, TX 77701
There is nothing like good wine and good jazz in a relaxing atmosphere. You can get this at Suga's Deep South Cuisine. They offer a "Jazz and Brunch" on the weekends which includes live music. You can also hear piano music live from the beautiful bar area. Popular jazz musicians include Jeremy Benoit and Kiana Smith. Keep an eye out during special holidays because Suga's is known to put on specials for certain days like Mother's Day for example.
For a complete list of entertainment spots in the Beaumont area, check out our "Things to do" section.