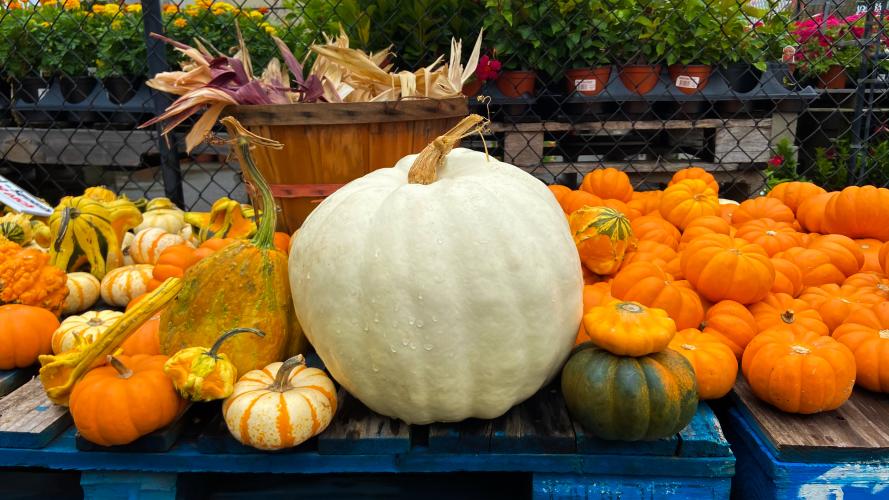 SOUTHEAST TEXAS PUMPKIN PATCHES
BEAUMONT
WESLEY UNITED METHODIST CHURCH
3810 N. MAJOR DRIVE
It's hard not to notice this massive hometown favorite driving down Major Drive in October. Wesley United Methodist Church hosts and operates this pumpkin patch as an annual fundraiser for their youth group. Here, you'll find a variety of different pumpkin, squash, and gourds, as well as several photo ops sprinkled throughout. The perfect place to break out those coordinating outfits and grab a yearly family photo! If attending for photos only, please consider a donation.
OPEN: October 6-31
HOURS: Monday-Friday: 3-7PM, Saturday: 10AM-7PM, Sunday: 12-7PM
Facebook | Website
PEAR ORCHARD COMMUNITY GARDEN
2840 GLENWOOD DRIVE
One of the only places to grab a locally grown pumpkin!
This sweet little garden is the vision of Chef Delilah Johnson and her family. The family and volunteer community members are planting a small crop of pumpkins to be ready for harvesting this November (later in the season due to drought conditions). During this special "Pumpkin Fest", the family plans to have pumpkins, tea cakes, popcorn, and apple cider for purchase, along with a photo op spot to welcome the public.                                                               OPEN: October-November HOURS: Tuesdays & Wednesdays: 9AM-12PM (NOON), Saturdays: 9AM-1PM
Contact Chef Delilah Johnson for more information: 409-338-3712.
ELLIS HOME & GARDEN
3737 CALDER AVE
Nestled in Old Town, Ellis Home & Garden's greenhouse offers pumpkins, fall mums and even a "Fall Family Fun Day" on Saturday, October 7th from 9:30AM-3PM!
OPEN: Daily
HOURS: Monday-Saturday 9AM-7PM, Sunday: 12-6PM
Facebook | Website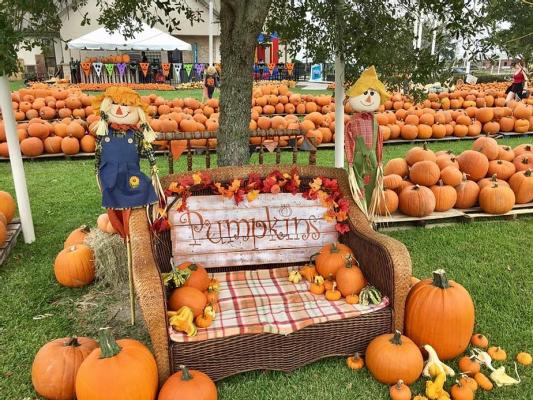 ---
BRIDGE CITY
FIRST BAPTIST CHURCH
200 W ROUND BUNCH RD
This spacious pumpkin patch is open and ready to enjoy! The public is invited to come out for photos, picnics, or just to let the kids play and run around!
OPEN: September 23 - October 31 HOURS: Monday-Saturday:10AM-7PM, Sunday: Noon-7PM
Facebook | Website
---
FANNETT
FAITH UNITED METHODIST CHURCH
18895 FM 365
This pumpkin patch offers a variety of pumpkins and photo ops, as well as fun seasonal activities.
OPEN: October 9-31
HOURS: Monday-Friday: 4PM until dark, Saturday: 9AM until dark, Sunday: 1PM until dark.
Facebook | Website
---
JASPER
THIRD DAY FARM AND RANCH
373 CR 092

This year-round farm is officially in Fall Mode with their pumpkin patch gearing up to open soon! Please note that this pumpkin patch is not free and does charge an admission fee. Admission includes a hayride, bounce house, hay climbing, barrel cart ride, animal feeding, hay maze with 150 round bales, and photo prop ops. Concessions are also available, offering snow cones, BBQ, along with homemade jams, jellies, honey, and produce for sale. With over 2,000 pumpkins to choose from, there's plenty here for a fun family day out!
ADMISSION: $12 cash or check only; Free admission for ages 3 & under.
OPEN: September 30 - November 4
HOURS: Monday-Friday: 9AM-1PM, Saturday: 9AM-4PM; closed Sundays.
Follow their Facebook Page for info and updates, including weather closures.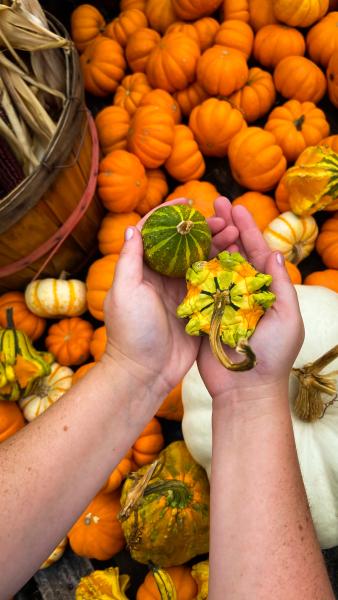 ---
KOUNTZE
CORNERSTONE BAPTIST CHURCH
1600 S PINE STREET
The pumpkin patch at Cornerstone Baptist will be ready to welcome visitors soon! The public is invited out to enjoy this scenic spot and support this fundraiser for the church's Children's Ministry. Choose from a variety of pumpkins, take photos, and stay tuned for family friendly events at the patch all month long!
OPEN: October 2-31
HOURS: Monday-Saturday: 10AM -7PM, Sunday: 12:30PM – 7PM
Facebook | Website
---
LUMBERTON
WOODCREST UNITED METHODIST CHURCH
1684 US-96
The Woodcrest Pumpkin Patch isn't just offering up pumpkins and photo ops – they have a packed calendar of events all month long! Come out on October 14 specifically for Family Fun Day from 1PM-4PM and Pet Adoptions from Noon-5PM. Baleigh Photography will also be offering Pumpkin Mini Sessions for $30 for 3 images on October 5th & October 8th starting at 5PM until dark! No appointment needed.
OPEN: October 1-31
HOURS: Daily 12PM (NOON)-7PM
Facebook | Website
VILLAGE MARKET
1015 NORTH MAIN
Located in the heart of Lumberton, Village Market is receiving rave reviews over their selection of pumpkins and fall mums! They also offer corn stalks, Indian corn, hay, and much more. 
OPEN: Daily
HOURS: Monday-Friday 10AM-6PM, Saturday: 8AM-5PM, Sunday: 10AM-4PM
Visit their Facebook Page to learn more!
---
NEDERLAND
NEDERLAND APOSTOLIC CHURCH
1308 S 27TH STREET
Self-proclaimed "best pumpkin patch in SETX" is back! Pumpkins, photo ops, bake & link sales, and more to be announced will be rounding out the events at the patch this year. Free to visit and enjoy, Mid-county residents swear by this favorite!
OPEN: October 13-31
HOURS: Monday-Friday: 4PM until dark, Saturday: 10AM until dark, Sunday: 12PM until dark
Facebook | Website
---
ORANGE
ORANGETOBER FESTIVAL
RIVERSIDE PAVILLION
708 SIMMONS DR

Although not a traditional pumpkin patch, the City of Orange is bringing back Orangetoberfest for the 3rd year! The Pumpkin Village promises over 10,000 pumpkins and gourds, along with endless photo ops. There will also be the 3 Bros Running Company's The Big Pumpkin Run, vendor market, gumbo cook-off, kids activities, food vendors, live entertainment, a showing of Halloweentown on Friday night, and more! Starting at 3PM on Sunday, guests are encouraged to grab a pumpkin to bring home and decorate.
ADMISSION: FREE (Even the concerts!)
OPEN: October 6-8
HOURS: Friday: 4PM-9PM, Saturday: 10AM-10PM, Sunday: 10AM-3PM
Please follow the event for updates and more info!
THE SCARECROW FESTIVAL
SHANGRI LA BOTANICAL GARDENS
2111 W PARK AVENUE
Another non-traditional pumpkin patch, this fall festival is one you won't want to miss! The Scarecrow Festival is a great way to celebrate the changing season and see what talented members of the community can create with repurposed and recycled materials as well as a heap of imagination. Scarecrow exhibits are always innovative, inspiring, and kind to their world! As always, Shangri La Garden's theme focuses on "environmentally friendly" scarecrows created by talented people from community organizations, businesses, schools, churches and families. No two are the same and it's a wonder to see each year! In addition to the amazing scarecrows, Shangri La promises thousands of pumpkins among flowering fall displays and autumn decorations.
ADMISSION: FREE
OPEN: October 10-28
HOURS: Tuesday-Saturday: 9AM-5PM
Follow the event for updates!
---
PORT BOLIVAR
M.O.M.S PETTING ZOO PUMPKIN PATCH
900 MADISON AVE
"Your Guide To An Unforgettable Fall Visit At M.O.M.S Petting Zoo Pumpkin Patch!"
This newly opened petting zoo is putting a fun spin on pumpkin patches! Meet goats, sheep, pigs, bunnies, a mini donkey, and more, all while picking out the perfect pumpkin and decorating on-site. To make the trip all the more enticing, activity zones are filled with a pumpkin slingshot, giant swing set, life-size checkers & chess, art stations, bubble zone, four square, and the Little Tike creative play village & sand pit. Please note that this pumpkin patch is not free and does charge an admission fee. With all of this plus all the photo ops, there's plenty here for a fun day out!
ADMISSION: $10 for adults; $5 for ages 3-15, 2 & under are FREE
OPEN: September 28 - November 6
HOURS: Thursday-Monday: 10AM-7PM
Facebook|Website
---
SILSBEE
FIRST UNITED METHODIST CHURCH
670 N 5TH STREET
In true self-serve style, Silsbee's pumpkin patch operates on the honor system: there is a lockbox attached to the building for visitors to pay for their pumpkins on the way out. Large pumpkins are $6 and small pumpkins cost $2. Visit the pumpkin patch on October 15th from 11:30AM-1PM for a Pumpkin Patch Mini Photo Session ($25 for 5 images) too! No appointment needed.
OPEN: October 9-31
HOURS: Daylight until Dark