It's fair time y'all. Growing up in Beaumont, Texas it was easy to take the YMBL South Texas State Fair for granted. I mean, we got to take a day off from school every year to visit the fair. (Didn't everyone do that?)
Being older and wiser, the fair is just as fun as it was when I was a child, but I have a whole new appreciation for the quality and grandeur of this event. Whether you want to join the screaming masses on the many exciting rides, succumb to the calls of the carnival workers to play a midway game, smell the aroma of the farm animals at the livestock show, experience the thrills of the rodeo, or view art in the exhibit hall, there is bound to be something to strike your fancy.
But, of course, the most important element of the fair is the food. Fair food is like no other - weird, finger-lickin', decadent, magical. Here are some of the highlights from the extensive selection of food at the YMBL South Texas State Fair.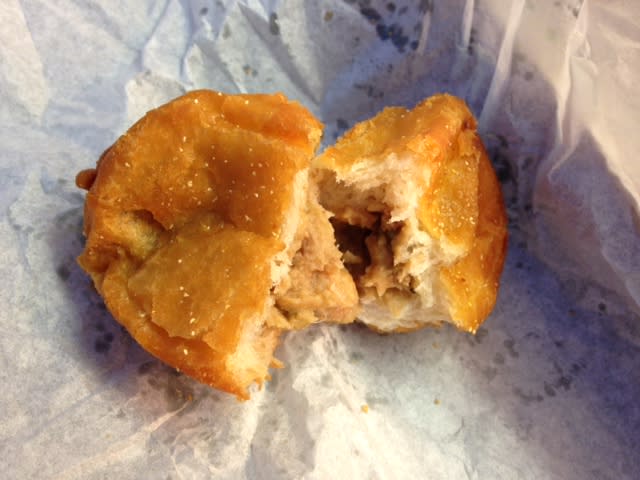 Regional / Local Cuisine
Pistolettes - These fist-sized balls of tender bread are typically filled with shrimp or crawfish etouffee (a tasty, rich sauce). This year, I even happened upon a gator version!
Jambalaya - This dish is a medley of typical Cajun spices, chicken and sausage and rice.
Gumbo - This thick, dark soup starts with a flour and oil base (known as roux), and is chock-full of veggies and chicken and sausage, or seafood. Local Tip: Ask if the vendor makes their roux from scratch. 
Shrimp Creole - A tomato-based sauce with shrimp and bell peppers is served over rice.
Red Beans & Rice - Self-explanatory, but when seasoned properly, it's the epitome of Southeast Texas comfort food.
Boudain, Boudain, Boudain - This brilliant Cajun delicacy combines pork, rice and spices in a casing. It is outstanding when smoked and is often made into boudain balls. Try the Ma & Pa's Meats N Sweets trailer for their made-from scratch boudain link, homemade boudain tamales covered with homemade chili, and their baseball sized fried boudain balls.
Crawfish - The fortunate side of the fair being in the spring is crawfish season! (It took place in the fall for many years, but was permanently rescheduled to spring in order to prevent hurricane interference.) Use this opportunity to acquaint yourself with some mudbugs, and check out an earlier blog on how to eat crawfish. You can also find crawfish links, pistolettes, cornbread, and nachos.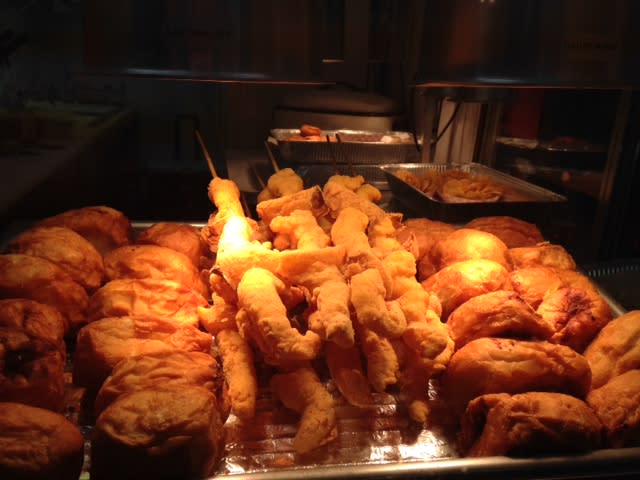 Fried Goodness On a Stick
Fried Strawberries with Cinnamon & Whipped Cream - It's fruit, so the healthy benefits completely override the effects of deep frying. (One can hope, right?)
Fried Cheese or Fried Vegetables - Again, the fried vegetables (including cauliflower, broccoli and zucchini) are sure to be more beneficial than anything else.
Fried Gator On a Stick - This also counts as regional cuisine. If you've never had alligator, well, it kinda tastes like chicken.
Fried Candy or Sweets (basically anything you can think of) - cinnamon roll, Moon Pie, Oreo, peanut butter cup. What took the fry cake for me though, was fried Nutella. I'm still dreaming about it.
Fried Ribs - This unique option was found at Comeaux's Cuisine, which also offers other non-fried items. (DON'T MISS their chocolate-covered bacon with toffee sprinkles. It needs a category all its own!)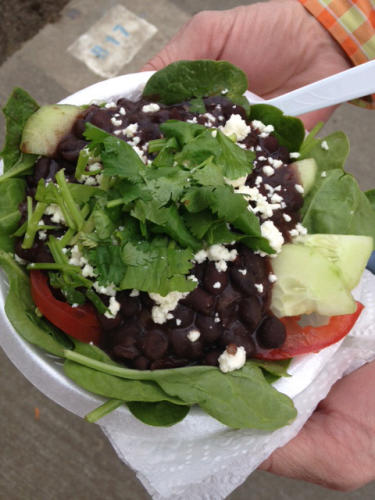 Relatively Healthy Options
If you're on a diet and can be a little flexible, there's no reason that you can't join in the fair food fun. (Just keep an open mind and have a smidge of leniency.) 
Low-carbers will love all the high-protein options. Turkey legs galore infiltrate their tempting smell into every nook and cranny. Pork kabobs are all the rage as well. Locally, the stand with a line every year is Rudy's Kabobs. Rudy makes his teriyaki marinade from scratch. And the shrimp and vegetable kabob is pretty dang healthy.
Taste of India claims to be the first Indian food booth at a fair in Texas. While I have yet to substantiate that claim, Indian food is definitely on the healthier and lighter side. Chicken, vegetables and rice with amazing flavors abound.
Mimi's Food Hut (a locally owned Cuban food truck) is where I found the lightest option, a custom-made vegetarian black bean bowl. Just ask for it, and Mimi will pile her flavorful black beans, spinach, tomatoes and cucumbers in a bowl and top it with feta cheese.
*Food vendors vary from year to year. For a current list of vendors, please visit the YMBL website.