Raw, Edgy and Compelling… with home grown talent. One of the most well known and popular musicals around is coming to Beaumont. The Beaumont Community Players is putting on the critically acclaimed musical RENT. The rock musical tells the story of a group of young artists struggling to survive in New York City's East Village, under the shadow of HIV/AIDS. Organizers hope the production will not just entertain but also help the community.
"This show has amassed a huge following since its debut, and I'm 'over the moon' to see the response from the audience," said actor Matthew Phillips, "I guarantee you won't leave the show without being moved emotionally in some way."
Phillips has used his talent in several Beaumont Community Players (BCP) productions. This time he's taking part in what's called "Theatre on the Edge" featuring the musical Rent.
"We do Theatre On the Edge to attract the non singer, serious actor and also the younger audience. This one is so on the edge," said BCP Technical Director Jerry McMillan, "there is no holds bar, the language has not been cut and the production instructions have not been swayed."
Dee Dee Howell is Director for the show and all of the talent and crew is people who live in the Southeast Texas area. McMillan says when people come to a BCP production for the first time they are always shocked at the high level of expertise. 
"The talent level is so extraordinary," said McMillan, "people ask where do they come from? We tell people from the grocery store, your neighbor or waiter; we are community theatre with local talent center stage."
It takes a lot of people to put on a production. While you may have a cast of 50 or so people, you've still got another 25 or 30 more between musicians, costume makers, scenery builders, technical help and more. McMillan thinks the theatre scene is so successful in the Beaumont area because of the huge community of dancing schools, music programs and more.
"One of the most exciting things about this production is being able to perform some challenging material, but the common thread throughout the cast is how honored we are to share this story and open a dialogue for HIV and AIDS awareness, a subject that is unfortunately rarely talked about," said Phillips.
BCP is using the production to help others. A portion of the profit from Rent will be donated to the Triangle Area Network (formerly the Triangle AIDS Network). 
"Not only are you helping a non-profit theater organization continue to be able to produce fantastic shows, but you're also inadvertently helping another community-outreach program," said Phillips.
You can even watch the show from the Orchestra level with groups of chairs around small tables. Each table will be given a bottle of wine with two keepsake wine glasses. Tickets for the Cabaret Seating is $40. Regular tickets are $25, Seniors $23 and children 12 and under $12. All shows take place inside the McFaddin-Ward Auditorium at the Betty Greenberg Center for Performing Arts at 4155 Laurel Street. Show time is 7:30 p.m. with an additional 2:00 p.m. matinee on Saturday, May 14.
Show dates:
May 6, 7, 13, 14*, 19, 20 and 21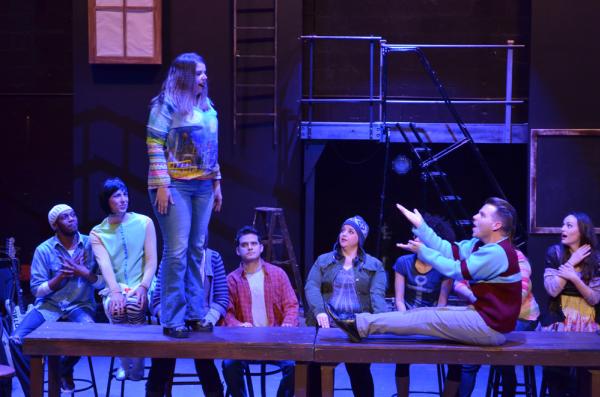 While the performance of RENT is for adults only, BCP hopes to get kids involved in theatre with their popular summer program "Kidmunity." During the summer camp students learn about theatre etiquette, how to put on a production, rehearsal techniques, dancing, singing and acting.
"The summer program brings in a huge crowd," said Phillips, "some of these kids struggle with social anxiety, and the theater helps bring these kids out of their shell."
There are several kid productions scheduled including: Once Upon A Mattress, School House Rock and Shrek the Musical. Everyone who auditions will get a part in the play.
For more information on the summer program and other performances from the BCP, click here.
From critically acclaimed musicals to fun plays put on by kids, BCP hopes everyone will get involved in performing arts.
"It's important to support the arts in your community," said McMillan, "arts go back to as far as men drawing on caves and making pottery. Supporting theatre fulfills the betterment of a community."