Tacos are not just for Tuesdays! When it comes to finding the perfect taco, Beaumont is the right spot. If it seems like there is a Mexican restaurant on every corner that is because there just about is! From grilled fish to spicy pork and of course, the favorite ground beef version, there are tons of options for tacos being served up in Southeast Texas.
Carmela's
3925 Calder Ave
Beaumont, TX 77706
Carmela's is always hopping - serving up traditional Tex-Mex with spicy salsa and great specials! They are probably best known for the tacos al pastor which is a delicious combination of pork and pineapple. Stop by for 99 cent Taco Tuesday and 50 cent margaritas on Mondays. Check for other specials throughout the week. Don't forget to grab homemade Mexican treats and candy on the way out!
Elena's Mexican Restraurant
1865 College St.
Beaumont, TX 77701
6290 Phelan
Beaumont, TX 77706
Elena's Mexican Restaurant is a Southeast Texas tradition serving both Tex-Mex and authentic Mexican dishes. When it comes to tacos, there are 10+ options on the menu and you can order mix and match dishes and try out several types. Don't forget the homemade from scratch chunky salsa. On a warm day, it is pure pleasure to sit outside on the patio with a frosty Corona.
Fuzzy's Taco Shop
5655 Eastex Frwy
Beaumont, TX 77706
Fuzzy's Taco Shop serves fresh, handmade Baja-style Mexican food. The atmosphere is bright, fun and energetic and a great place to gather with friends and family. For tacos there are lots of options including: spicy shrimp, shredded brisket, grilled veggie, tempura fish and the customer favorite - California Heat that includes grilled shrimp, bacon, avocado, feta, pico de gallo and sriracha-lime sauce served on a soft corn tortilla. The house garlic sauce with a hint of mint adds a special kick to your tacos. And, breakfast tacos are served all day on Sundays.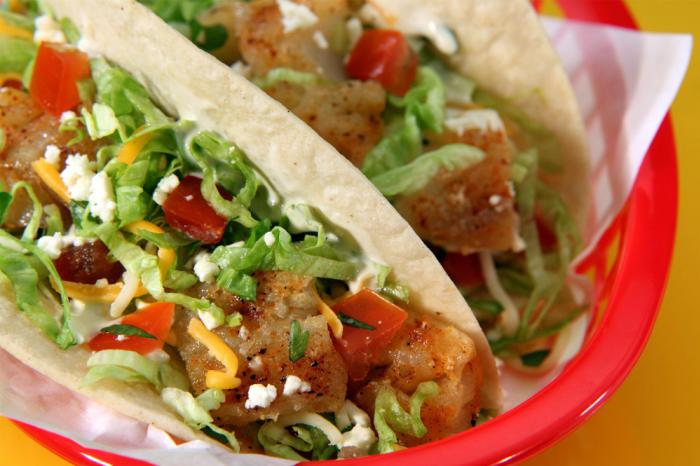 La Cantina 
4555 Dowlen Rd
Beaumont, TX 77065
La Cantina by Parkdale Mall has been a popular stop after a day of shopping. (There are several other locations around Southeast Texas too.) Tex-Mex dishes feature seafood and steak specialties. New on the menu: tasty street tacos including the La Tuna taco, a peppercorn crusted tuna topped with jicama slaw, queso fresca and citrus vinaigrette. We also suggest the Crazy Shrimp taco featuring craft beer battered and breaded shrimp, jicama slaw, pickled jalapeño, queso fresca and chipotle cream sauce. There are fun meals for the kids and $1.50 ice cream for a special treat. 
La Salsita 
612 Washington Blvd
Beaumont, TX 77705
La Salsita offers a special treat for your tacos with a loaded salsa bar that has just about everything you can imagine to put on top of your tacos. The favorite is the barbacoa corn tortilla tacos but there are more than a dozen other taco options including the al pastor and horchata. The portions are very generous and always fresh. (We've heard some people make the drive from Houston to hit up this taco spot.) 
Maria's Mexican Kitchen & Seafood
2305 Calder Ave
Beaumont, TX 77702
Maria's Mexican Kitchen & Seafood has a new home on Calder Avenue near 7th street. Stop by on Saturdays and Sundays to check out the $1 mini tacos. They offer the traditional taco options and even have tasty breakfast tacos in the mornings!
Tacos La Bamba
2005 Calder Ave
Beaumont, TX 77701
Stop by Tacos La Bamba for 99 cent taco night on the first Thursday of the month from 5:00 - 9:00 p.m. The selection of tacos includes barbacoa, pork, spicy pork, chicken and beef. Make sure to try out the delicious dark, roasted salsa. Tacos La Bamba has a fun outdoor area with tables and chairs for dining. There is often live music for your enjoyment!
Tacos El Primo #2
3595 Concord Rd
Beaumont, TX 77703
You might recognize the authentic Mexican tacos from the South Texas State Fair! It's always one of the most popular food booths. Tacos El Primo #2 is known for the rich flavor of the rotisserie chickens that are made daily. They use the rotisserie meat in their delicious tacos. Other taco options are available too. 
Tia Juanita's Fish Camp
5555 Calder Ave
Beaumont, TX 77706
Tia Juanita's Fish Camp is best described as Mexican Cajun Seafood. The menu includes: fish and shrimp tacos, BBQ shrimp tacos, spicy pork tacos and more. Tia's also has a great covered patio and live music on occasion. They provide a fun a lively, yet relaxed atmosphere.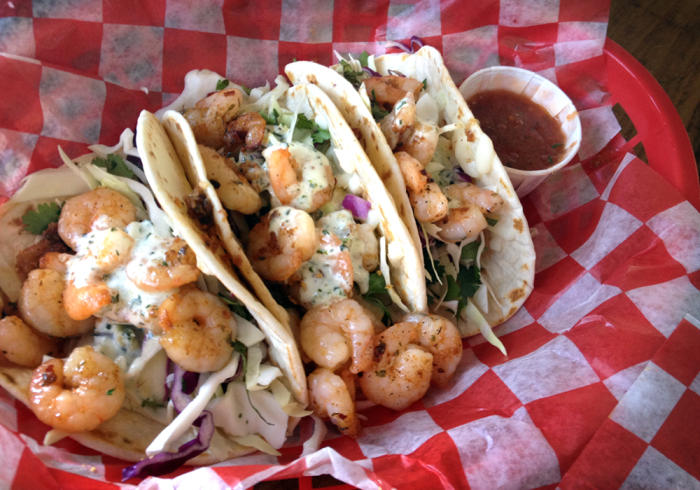 Food Truck
Unick Eat'z 
2498 Washington Blvd
Beaumont, TX 77705
Unick Eat'z is a food truck that has a few favorite locations around Beaumont. You have the option to mix and match tacos and most people add the famous fries. For tacos you can choose between fried fish, chicken fajita and brisket! Check the Unick Eat'z Facebook page to find the exact location for the day. They also deliver for orders over $15. 
Still can't get enough? Many of the popular happy hour spots around Beaumont also serve up various types of tacos.