Springtime in Beaumont, Texas brings the weather for more time outdoors which makes our area the perfect place to explore. Visit museums and exciting attractions, gardens, nature and wildlife. 
1. Visit Beaumont Museums 
Check out the world's largest fire hydrant, donated by the Walt Disney Company and decorated in dalmatian spots at the Fire Museum of Texas. learn about Beaumont's oil history at the Spindletop Gladys City/Boomtown Museum and the Texas Energy Museum. Children will love the Beaumont Children's Museum with tons of activities. Tour our three historic homes: John Jay French Museum, Chambers House Museum and the McFaddin-Ward House Museum.
2. Take a Neches River Boat Ride
Enjoy a leisurely trip on the ecologically diverse Neches River, called "The Last Wild River" in east Texas on the Neches River Boat Ride. Relax in a comfortable, open boat while a guide from the Bit Thicket Association showcases this beautiful river with its unique ecosystem and dense bottomland forests of hardwoods and pine trees. The Neches is home to more than 200 tree species, 47 mammals species, 300 bird species and many reptiles and amphibians. As you view nature at its best, tour guides will relate to you the history of the river and its vast and diverse ecosystems.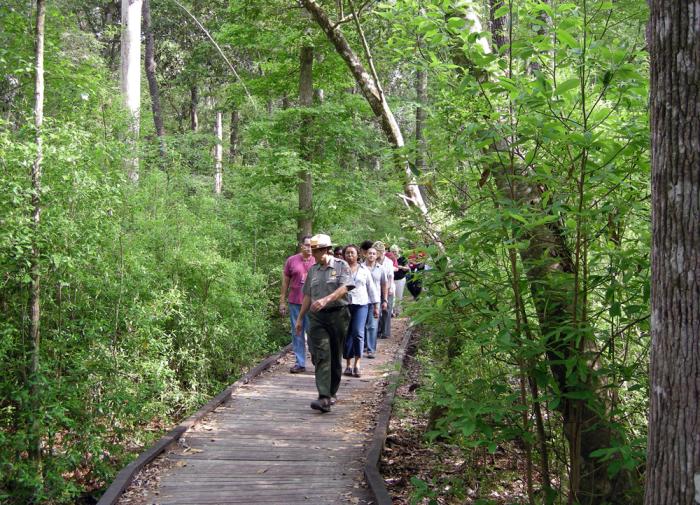 3. Hike the Big Thicket National Preserve
Encompassing more than 108,000 acres, the Big Thicket offers more than enough nature opportunities throughout the park. Pick between the four different trials ranging from 0.3 miles to 18 miles. Whether wanting to look at certain vegetation, backpacking, fishing, biking or distance; there is a trail for it all. While there, don't forget about creeks, bayous and river that run through the Big Thicket. With numerous access points, visitors can explore the waterways via canoe, kayak or paddle board.
4. Canoe or Kayak Village Creek
Rent a kayak or canoe and experience the outdoors of Southeast Texas. Whether a short or long trip, you can do both at Village Creek. Explore the wildlife within Southeast Texas by floating down the river. The flow is generally quite low, giving paddlers a fairly easy paddle throughout the trails. Bring your own equipment or feel free to rent!
5. Explore Beaumont's Boutiques and Antique Shops
For shopping in Beaumont, head to  Dowlen Road and Phelan Boulevard. Style mavens will delight in chic finds at locally owned boutiques like Gaudie and Company, Bungalow and Ella + Scott. Dowlen Road is also where you'll find the mall and brand name stores. And if antiques are more your style, you'll love Beaumont's antique shops, where you'll uncover exquisite European furnishings at Burns Antik Haus or vintage finds at Urban Habitat.
6. Relax at the Shangri La and Beaumont Botanical Gardens
Take some time to relax and enjoy the fresh blooms, nature and wildlife while you explore and wander through the gardens of Shangri La and the Beaumont Botanical Gardens. Perfect for a nice date night or some alone time, both attractions let you get away from it all.
7. Enjoy the Outdoors and Birding at Tyrrell Park and Cattail Marsh Wetlands
Cattail Marsh is a wildlife refuge for a variety of aquatic mammals and more than 250 species of birds annually, including: pelicans, egrets, roseate spoonbills, ducks, ibis, doves and red-winged blackbirds. More than eight miles of gravel levee roads are found within the Marsh and allow for a variety of recreational activities, including jogging, biking and horseback riding.
8. Hold an Alligator at Gator Country
With hundreds of gators within the park, as well as various animals, Gator Country offers families a unique and fun experience. Watch shows put on by the park staff feeding the alligators and getting up close and personal with Big Al and Big Tex, two, 1,000-pound alligators. Visitors can get a chance to hold a baby alligator during the visit to the park. For nature and animal lovers, this park is the perfect spot!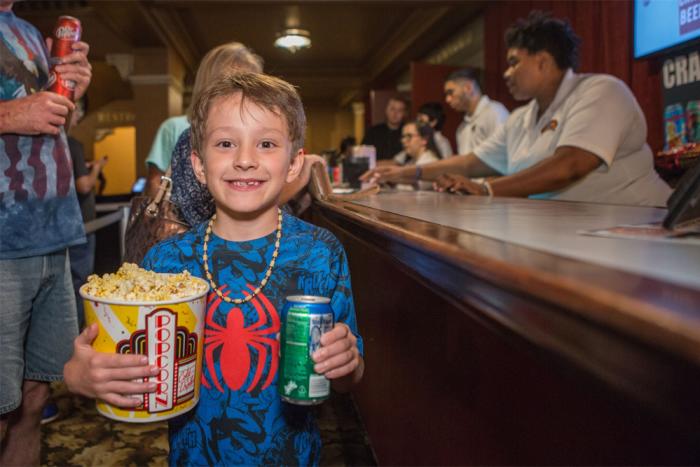 9. Catch a Classic Movie at the Jefferson Theatre
Watch classic movies at the historic 1927 Jefferson Theatre. Dress up as your favorite characters from the films and enjoy the experience with the whole family! Ranging from cartoons to seasonal movies throughout the year, classic movie night at the Jefferson is a must-do event!