If having two, full-blown celebrations for Cinco de Mayo is something that sounds like a good time to you, then look no further than Tacos La Bamba! Not only is one of Beaumont's favorite taquerias having a jam-packed event for Cinco de Mayo but also a Frida Kahlo event on Thursday, May 3 for First Thursdays on Calder! Be sure to check out the new Frida table designed by local artist, Marjorie Grace Mathis. Truly incredible work that shines among a variety of table art.
Head to Tacos La Bamba from 5 – 10 p.m. for a Frida Kahlo costume contest for prizes, $1 tacos and beer, DJ Krazy Glue and DJ Flashback, Ballet Folklorico, a photo booth, Frida Kahlo t-shirts and more! Check out the booths outside for giveaways and additional vendors that will put you in the partying spirit! Double the fun on Cinco de Mayo from 2 – 7 p.m. for amazing entertainment, food and drink specials and activities for a fun-filled day for the whole family. Local artist, Ines Alvrides, will be in attendance for a mural project, encouraging children to participate in painting the mural. Make sure to stay until the end for a Mariachi band send-off!
Tacos La Bamba has established itself as a local favorite, cranking out delectable tacos and other traditional Mexican dishes in Southeast Texas. The colorful atmosphere of the local art on the walls and tables add an extra touch of love that customers really enjoy.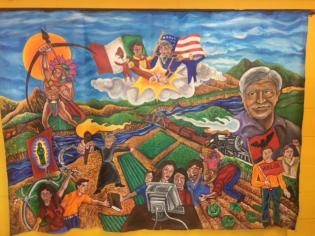 With a true heart for the community and a passion for making not only the Beaumont food scene but the city itself better, Carlos Zuniga, Tacos La Bamba owner, is continuing to make a positive influence in our area.
"We are very excited to host the Frida Kahlo event and Cinco de Mayo celebration," said Carlos. "The opportunity to showcase our culture and celebrate with the community is the best feeling. We hope that we can continue to do events like these in the future."
Head to Tacos La Bamba on May 3rd and 5th for terrific events packed with entertainment and tasty food. You do not want to miss out on the fun!