As they say, home is where the heaART is. Mural Fest bathed Beaumont in color with a slew of new artworks as 16 artists descended on Beaumont to create as many pieces as they could in six days. Whether you were able to make it out to the festival or not, make it a plan to see the finished works because they're all beautiful and represent a variety of styles from artists all over the country.

Be 308 - 308 Orleans
Four different artists decorated the nature-themed alley, and the exterior of the building was given a facelift by two more to celebrate Beaumont's ecotourism initiatives and birding background. The new event space is now one of the liveliest spots downtown.
The Alley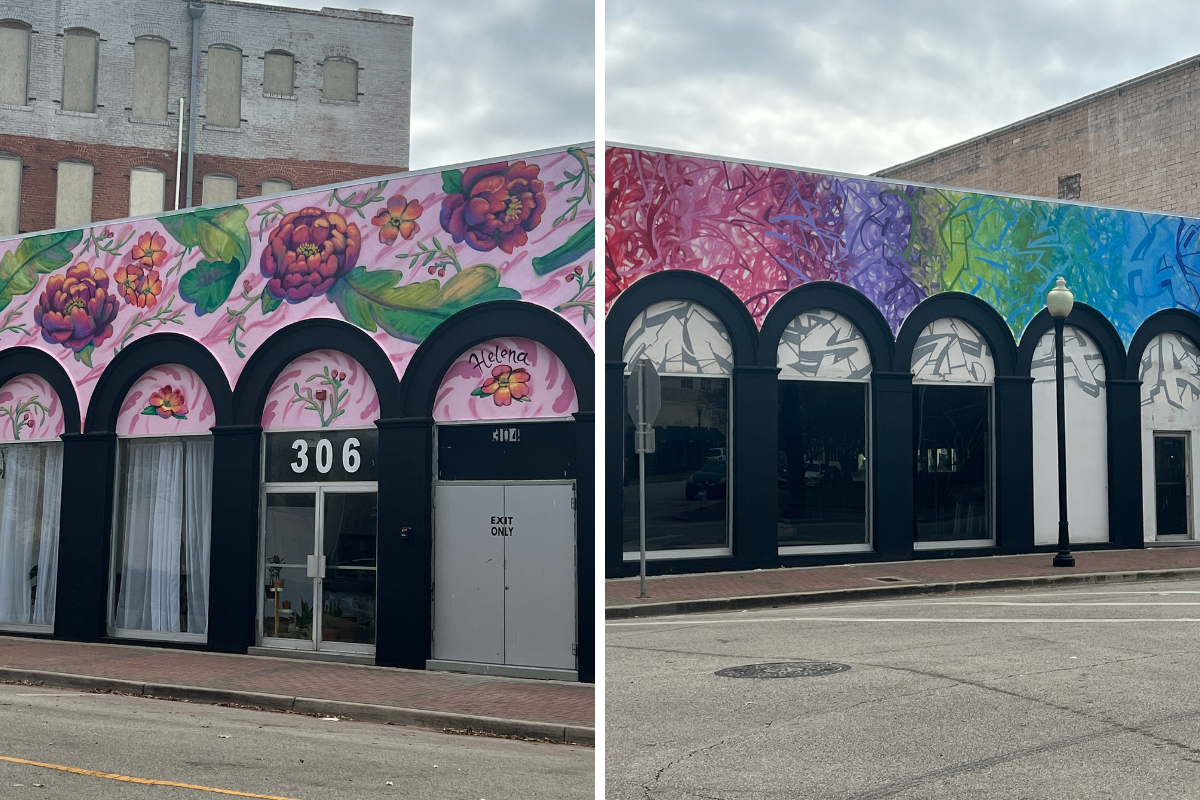 Exterior

This nostalgic postcard-themed mural puts Beaumont's best sights on full display, with each letter prominently highlighting one of our attractions from Cattail Marsh to the McFaddin-Ward House.
@thedaskone – "Greetings from Beaumont" Postcard

Byrd Law Firm - 448 Orleans St
Would you believe this unique collaboration was between two artists who had never met before? The inspiration was designed to embody the law firm with a modern take on justice.
@w3r3on3 and @kimieflores – Scales of Justice

Cocomo Joe's - 2024 Calder
"Beaumont Betty" is a retro and colorful take on every woman. There's even an easter egg hidden in there – see if you can find the Spindletop, an homage to the city's boomtown past.
@feebee_n_jay – Beaumont Betty

Each of these colorful artists set out to embody the spirit of the family-centric craft studio. A Houston resident, Caroline Truong, made her return to Beaumont after painting her very first mural in our city -- inside the Tokyo restaurant. Newcomer Fabian Rey brought his Latin roots to his project. Best known for his work with the Austin Soccer Club, his Puerto Rican heritage contributes to the whimsical character style of his designs.

Adding on to the three murals already here, two new ones were added to this colorful stop downtown. A guitarist herself, Krystal Cooke, was inspired by legendary local musician Barbara Lynn and wanted to bring more attention to the underrepresented talent. Lynn, a Beaumont native is a rhythm and blues and electric blues guitarist, singer and songwriter best known for her R&B chart-topping hit, "You'll Lose a Good Thing," which was later recorded by Aretha Franklin and went on to become a country hit for Freddy Fender. Continuing down the alley, Paul Garson's mystical tiger was meant to be something colorful and non-controversial that everyone could enjoy.

One of the only West End Murals, this cartoon gator fishing is an homage to the swampy bayous of our Gulf region.
@Tarboxx2 - Gator

Barber's Trade School – 665 Orleans
A Beaumont native who now resides in LA, Henry Art Smith returned home to create art for his community. The self-taught fashion designer and muralist created the silhouettes of four African American boys said to depict the different hairstyles and personalities you'll find at a barbershop, along with black unity.
@henryartsmith1 - silhouettes

Air Comfort - 625 N Main St
Designed to normalize mental health issues, the Air Comfort team wanted to shatter the stigma of silent suffering and create an encouraging and inspiring message for people to have open conversations about mental health.
@anatronen1971 - Mental Health Awareness

Pour09 – 6165 Meula Creek Dr. Suite A
The primary festival sponsor also added to their own growing mural collection starting an art alley between the bar and sister restaurant, KO.  

A Local Artist Collaborative Mural, each of the different makers was given a space for their own design and creations.
Participants Included: