Halal Restaurants in Beaumont
Halal is an Arabic word meaning 'lawful or permitted.' In reference to food, it is food permissible to eat by Islamic law due to the way it is prepared. For example, pork can never be halal as it cannot be slaughtered in a way that avoids cross-contamination. 
It can be challenging for those who eat halal to find restaurants and places to eat, so we created this guide for those visiting Beaumont. While Al Basha is the only 100% halal restaurant in Beaumont, everywhere else has vegetarian and even some vegan options, so you can still enjoy great food while abiding by your dietary practices.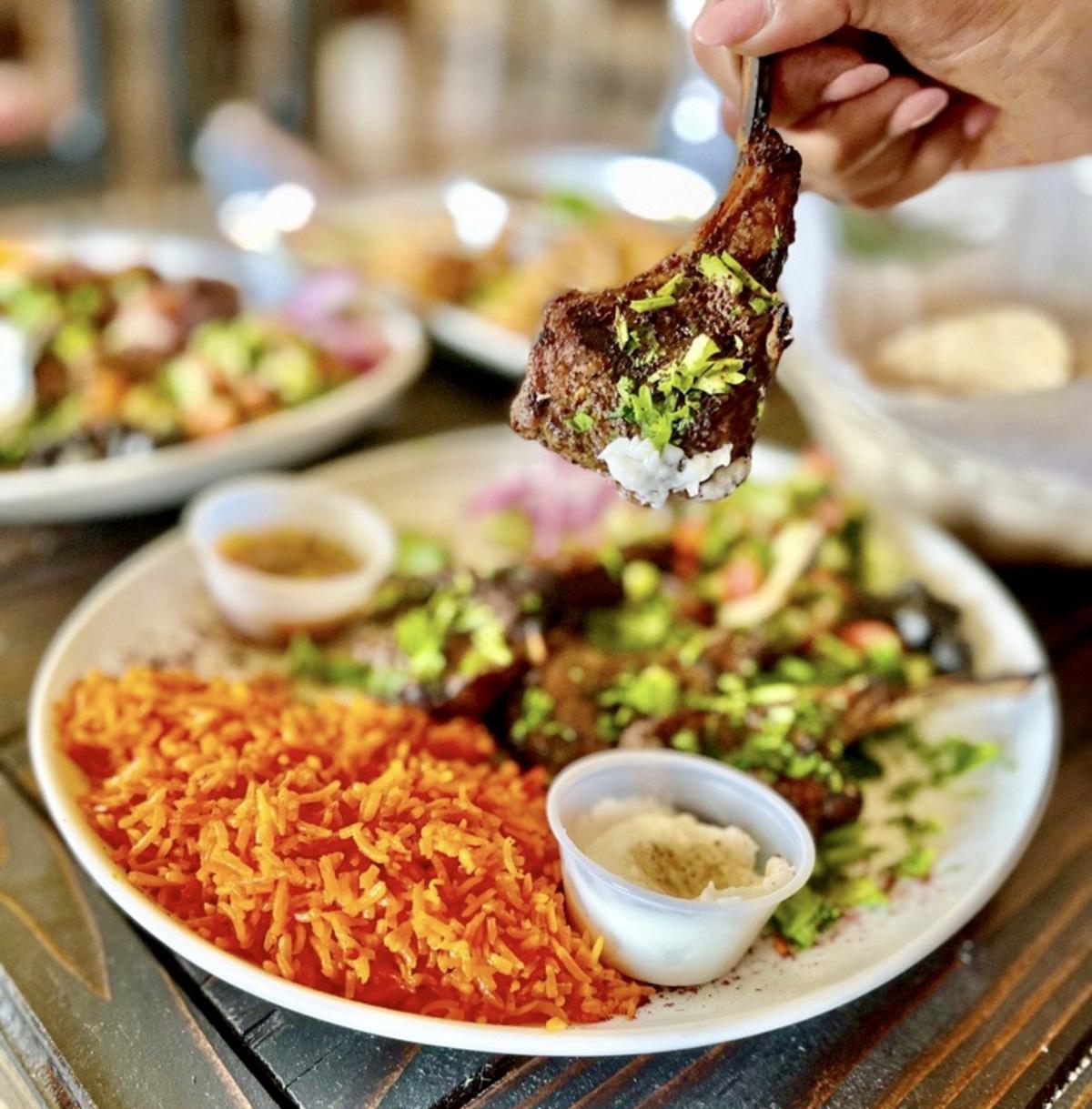 Al Basha Mediterranean Restaurant & Market
Food: We ordered their sampler appetizer tray, which includes a choice of four items. We chose the fried cauliflower, baba ghanouj (eggplant dip), hummus (chickpea dip), and fava bean dip. We loved their delicious lamb chops and mixed grill (beef, chicken, lamb) with rice and seasoned vegetables that were aromatic and cooked perfectly. When we talked to the owners, we learned that people travel far and wide to taste their meats. Everything was fresh, made in-house, well-flavored, and full of seasoning. Vegetarians have plenty of options between the salads, dips, and falafel in an ambiance that transports you to the Middle East!
The neighboring Al Basha Market is a treasure trove of halal meats, freshly-baked bread and pita, pastries, spices, and packaged items. We loved the baklava and knafeh and also tried some Mediterranean cheeses and grape leaves which they have available to sample on the weekends. Everything was way more reasonably priced compared to specialty markets in bigger cities such as Houston. It was even competitively priced with your everyday grocery store despite having a much more unique ethnic and local selection. We loved it so much we went back to take groceries and desserts home with us. We picked up international chocolates, soda, snacks, and if we had brought a cooler, we would have snagged even more goodies, such as that hard-to-find halal meat!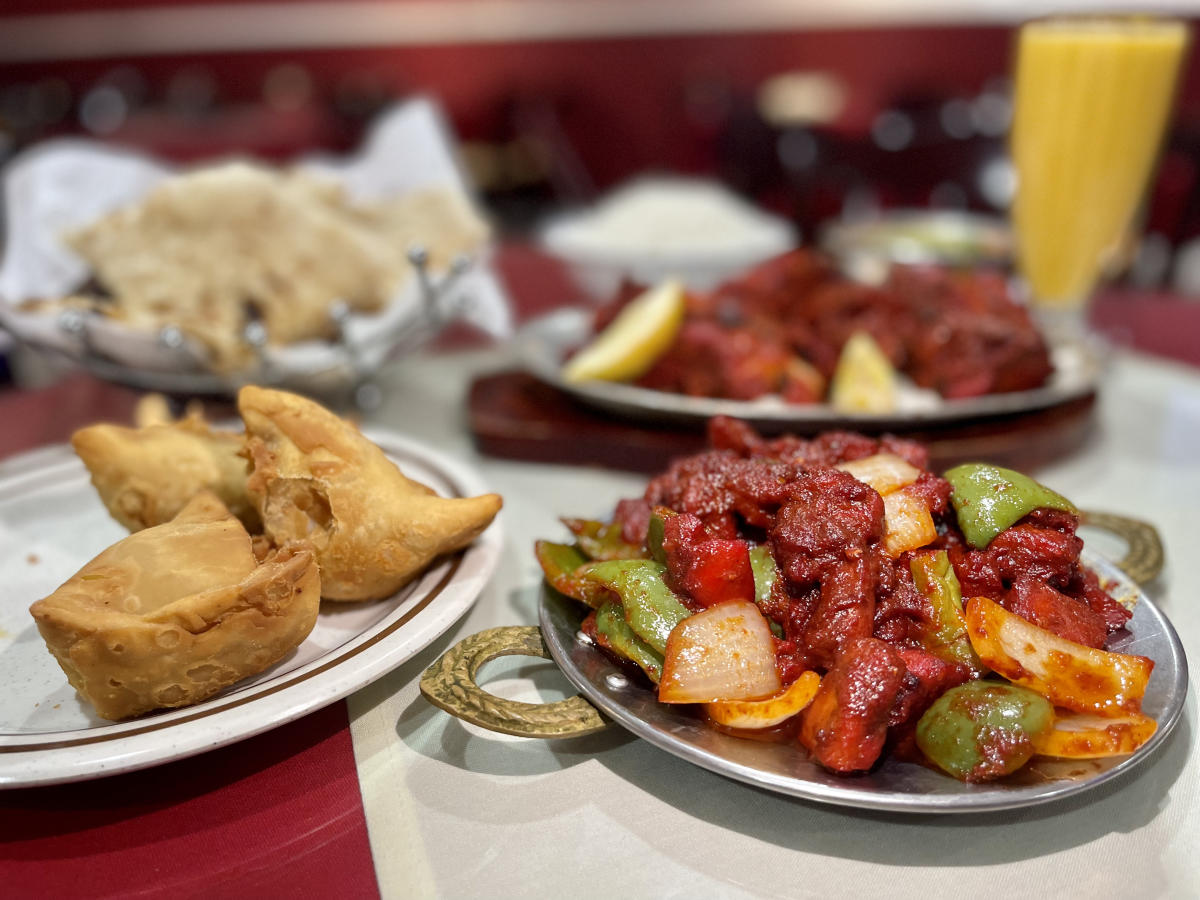 Taz Indian Cuisine
Food: We ordered their samosas, chili chicken, chicken tandoori, and chicken tikka masala with mango lassi. The food was delicious, and the service was wonderful. Taz will adjust the spice level to your liking and have a full menu of goat, chicken, seafood, lamb, and vegetarian options. There are plentiful veggie options such as onion pakora, Manchurian, paneer (cottage cheese), and a variety of curries such as dal (lentils), channa (chickpeas), and gobi (cauliflower) to enjoy with rice and garlic naan (pita bread). The restaurant has a nice spacious sit-down area that is very family-friendly.

I Heart Mac and Cheese
Food: We were very impressed by their hearty "make your own" mac and cheese bowls and cheesy and gooey grilled cheese sandwiches. Not only do they have vegetarian options with a variety of toppings, but they also have vegan options, as well. This was our first time trying "Beyond meat," and it really was a good alternative protein.
The vegan burger patties were delicious - especially in the sandwich. I Heart Mac and Cheese literally has something for everyone - whether you are vegetarian, vegan, gluten-friendly, keto, low carb, or a traditional cheese-lover. Everything was hot, fresh, and cooked to perfection! The restaurant was clean, and service was on point. We ordered the vegan melt (vegan grilled cheese with beyond meat protein patties), vegan grilled cheese, and vegan delight mac and cheese. 

Sweet Basil Vietnamese Noodle House
Since vegan, vegetarian, and seafood is permitted for halal foodies - Sweet Basil has a lot of options from vegan pho to tofu! Try the Vietnamese noodle soup, vegan crunch rolls, chargrilled tofu with vegetables, or vegetarian spring rolls. 

Quenchies 
 For a sweet treat, swing by Quenchies for NOLA-style Sno-balls in Beaumont. There are over 100 different flavors and are very refreshing during the hot Southeast Texas summer. We tried the ocean breeze (mango, kiwi, and strawberry) but were also intrigued by the frozen coffees, lemonades, cakes, cupcakes, and more!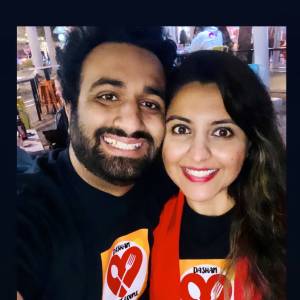 Author: Dasham Foodie Couple
Dan & Shama are two adventurous native Houstonians united in love with a passion for food on their growing food blog, Dashamfoodiecouple.com. They love exploring, traveling, and trying flavorful and unique cuisines from different parts of the world - many of which are Halal. Apart from working their 8-5 jobs, Dan & Shama munch away and enjoy date nights while sharing their experiences with others. They also love to help and make a difference in the lives of businesses that they visit.
Pack Your Stretchy Pants
Discover some of our favorite restaurants and best kept secrets from Texas barbecue to Cajun cuisine.
Find your Craving