One of my family's favorite holiday traditions is to drive around town looking at holiday lights and decorations. We put on our PJ's, pile in the car, crank up the Christmas music and head out! But where are the *best* places to see lights in the Beaumont area and beyond? Here is a great list to get you started!
Beaumont
St. Elizabeth Hospital
2830 Calder Ave
Beaumont, Tx 77702
Cost: Free
A Christmas lights tradition for years, St Elizabeth hospital always does a beautiful holiday lights display. You can see an ornate nativity scene and lights decorating dozens of trees on the property.
Neighborhoods 
Calder Place Neighborhood: This older neighborhood just off I-10 between Harrison and Calder (19th and 23rd streets) has unique homes that are well decorated for Christmas. While you are in the neighborhood check out nearby Ridgeland Street, East & West Circuit, and Manor Ave.
Off Delaware: There are plenty of well-established and well-decorated neighborhoods in this area of Beaumont. Neighborhoods include Ashton, Montclaire, and Delaware Place. You can also check out many of the neighborhoods off Phelan and Gladys. Evangeline and Collier Road have homes that you can sync with your radio for sound and light effects. There's one right off Delaware on Shadow Bend that's so extra the kids call it Arendelle, because it looks like it's straight out of Frozen!
Thomas Road: This neighborhood has many large homes set on larger plots of land. One homeowner does an elaborate "12 days of Christmas" theme. Many other of the homes are worth checking out! Nearby Thomas Park edition also has great light displays!
Windemere: Just outside of Beaumont on Highway 105, the Windermere neighborhood has various themes on each street. In years past, people living in this neighborhood coordinate decorations for the holidays.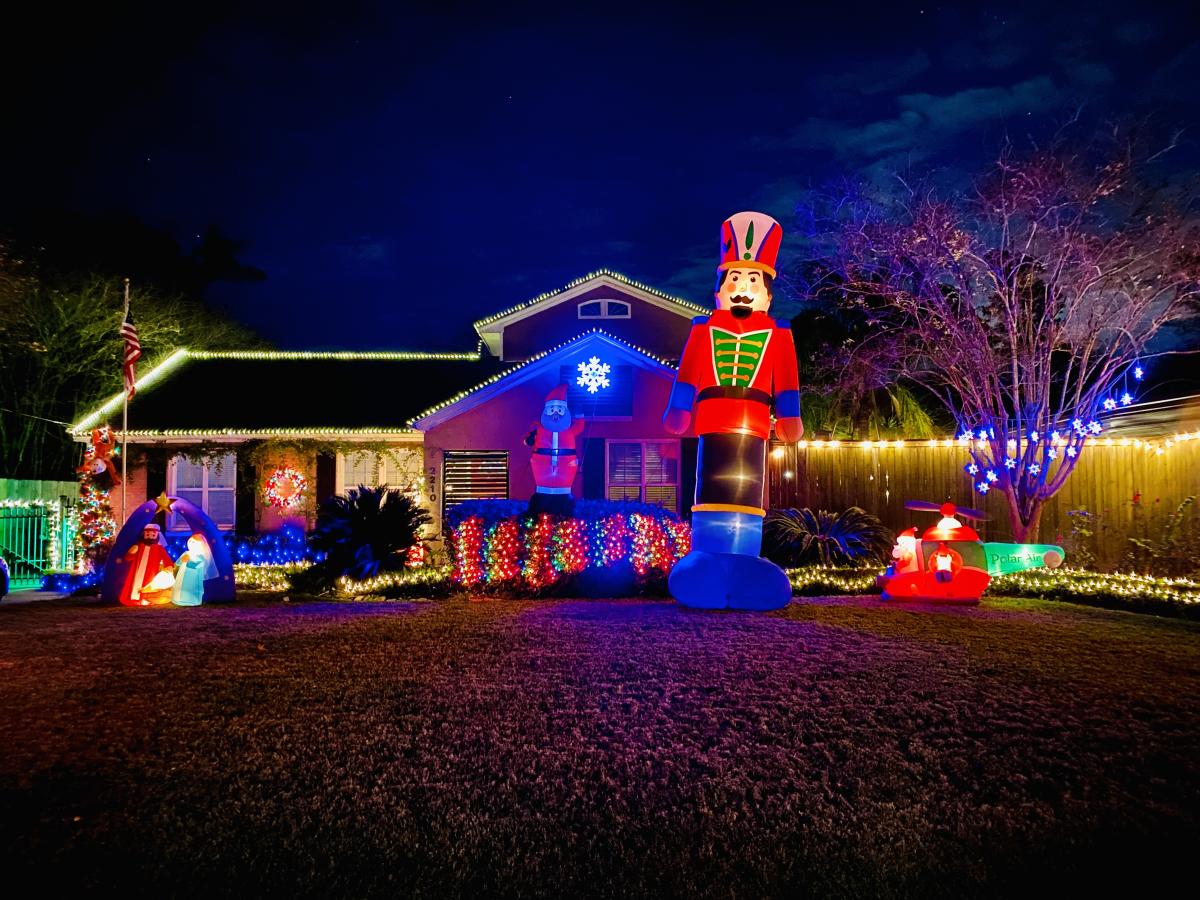 Mid-County
Nederland: Highway 69 and Beauxart Gardens is a great place to see over-the-top holiday displays! Of course, there's also Lolicane Lane off Helena Ave near US 69. Themed streets include signature candy canes and lollipops. This was a huge tradition back in the '80s and '90s when I was a kid. Not as many people participate now, but it's still worth checking out. (With a name like Lolicane Lane you almost have to decorate for the holidays, right?!) 
Port Neches: The neighborhood along Avenue E on the canal side has great light displays. There is one popular house that puts up an extravagant display with lights that go along with the radio music. 
Elsewhere
Silsbee: We hear there is an awesome lights display at a home on Gentry Drive! In years past the lights have been set to music. Other homes on the street are decorated as well. 
Buna: There is a small neighborhood that has super cute displays for kids. It's a small neighborhood loop, but you can go through it several times. Northbound on 96, take a left onto FM 1004 at the light. CR is the first one on the left and it goes about a mile down.
Kountze: We hear there is a great animated light show at 3851 Highway 69 S. Tune your radio to 95.9 FM and enjoy the show!
Are there more places we need to add to our list? Let us know! 
Check out our holiday gift guide to support local businesses this holiday season!