You know what they say about the weather in Southeast Texas: Just wait a few minutes and it will change. So on those great days when the cool breeze is blowing and the sun is shining bright you just want to be outdoors with friends! From bars to bakeries, we've collected a list of places with porches and patios so you can enjoy the best of what Beaumont and the surrounding areas have to offer. 
In Beaumont:
Amelia Farm & Market
8600 Dishman Road
Beaumont, Tx 77713
Nothing says relaxation like a fresh lunch on the farm and that's exactly what you'll find at Amelia Farm & Market. Along with delicious sandwiches, salads, and weekly specials, Amelia serves up stunning views of open fields and blue skies. 
Ana's Mexican Bakery
2570 Calder Ave
Beaumont, Tx 77702
Ana's Mexican Bakery is an authentic Mexican bakery with comfortable outdoor seating. Each morning crews prepare the freshest products for customers including bread, pastries, and cakes.
Cafe Del Rio
2830 Interstate 10 East
Beaumont Tx 77706
Cafe Del Rio is known for its fun atmosphere and great Tex-Mex. One of the best parts: complimentary ice cream on the patio. 
Fuzzy's Taco Shop
5655 Eastex Frwy
Beaumont, Tx 77706
The atmosphere at Fuzzy's is bright and fun featuring fresh handmade Baja-style Mexican food. The outdoor patio is covered with a large area for friends!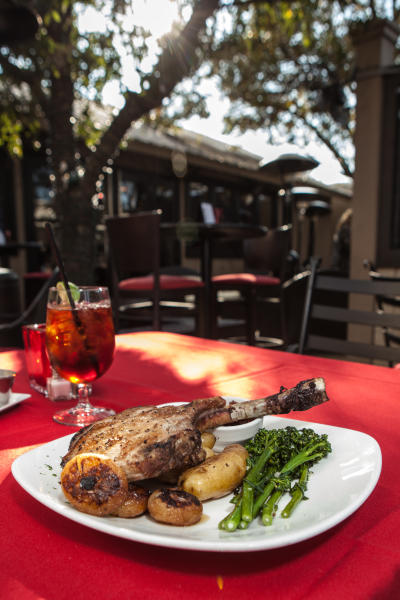 The Grill
6680 Calder Ave
Beaumont, Tx 77706
If you're looking for an elegant dining experience, The Grill is your place. Outside, the Cabana and Patio offer a great atmosphere to unwind and relax while still enjoying a full-service menu, which features fresh-from-the-Gulf seafood and an extensive wine list. Live music on Thursday and Saturday from 6:30 p.m. to 9:30 p.m. along with a regular Happy Hour (3:00 p.m. to 7:00 p.m., Tuesday through Saturday) make The Grill even more inviting.
Katharine and Company
1495 Calder Ave
Beaumont, Tx 77701
Don't want to blow the diet and still want to enjoy great food? Katharine and Company has you covered. This healthy "fast food" restaurant has several tables located around the covered walkway outside of the restaurant.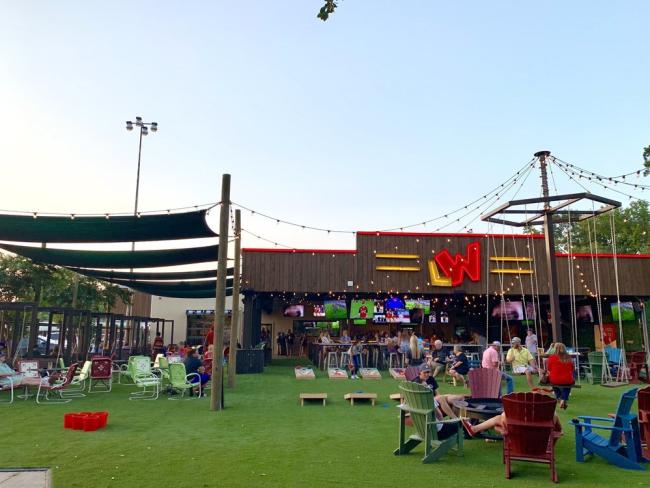 Little Woodrow's
6210 Phelan Blvd.
Beaumont, Tx 77706
If you are looking for a fun and eclectic place to hang with friends, then Little Woodrow's is for you! Enjoy a full bar of mixed drinks and beer, food trucks and TV's throughout the bar to watch your favorite sporting events.
Madison's on Dowlen
4020 Dowlen Rd
Beaumont, Tx 77706
Two dollar mimosa's anyone?! Sunday brunch has great specials (like mimosas) and there is a great outdoor seating area with bar stools and umbrellas. 
Rao's Bakery on Calder
2596 Calder Ave
Beaumont, Tx 77706
Rao's Bakery is a family-friendly favorite in Southeast Texas! The Calder location has an area outside where you can sit and enjoy your Italian ice cream or gelato on a hot afternoon.
Suga's Deep South Cuisine & Jazz Bar
461 Bowie Street at Park
Beaumont, Tx 77701
Suga's Deep South Cuisine is known for weekend brunches and live Jazz music.  A private dining room is available and there is a small patio area for outdoor dining if you choose.  
Tacos La Bamba
2005 Calder Ave
Beaumont, Tx 77701
Enjoy street-style Mexican tacos sitting under the bright umbrellas on the outdoor patio. You can even bring your furry friends along!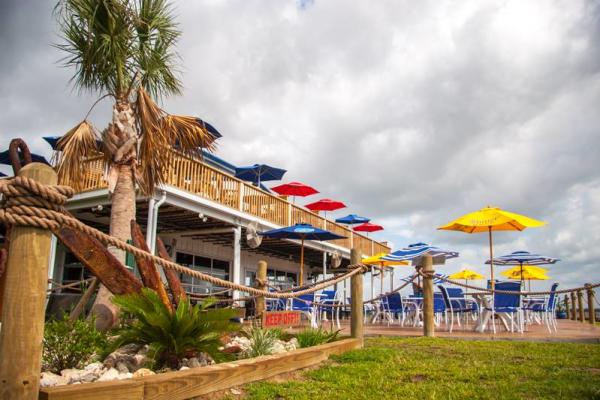 Elsewhere:
Neches River Wheelhouse
720 Lee Ave.
Port Neches, Tx 77651
Neches River Wheelhouse is located on the Neches River in Port Neches, Texas. The restaurant has an open-air concept that is just feet away from the Neches River waterway. Patrons can enjoy dinner and drinks outside and watch the marine and ship traffic from the area.
Novrosky's in Silsbee
N 16th Street
Silsbee, Texas 77656
We heard about the patio area at the Novrosky's in Silsbee, so we just had to add it to the list. You know this place is known for a great burger! 
Tokyo in Mid County
3300 Central Mall Dr
Port Arthur, Tx 77642
Tokyo on Central Mall Drive probably has some of the best sushi in the area! They also have a great outdoor patio and seating area for guests. There are 15+ tables in the outdoor area along with fans and heaters.
For a complete list of restaurants in the area, check out the Restaurant section here.