You don't have to drive to Austin fly to California to enjoy a top-notch multi media festival. Stay here! Beaumont is home to the popular and growing Boomtown Film and Music Festival. This homegrown, three day festival is getting attention on a national and even world level, and you don't even have to be a film or music lover to have fun. 
As a Lamar University graduate, I have a special love for all things Beaumont. I think Southeast Texas is *the* place to be when it comes to starting up a passion, especially in the creative arts area. The Boomtown Film and Music festival is proof. It was started up by a group of Lamar University students 9 years ago after Lamar decided to discontinue the Spindletop Film Festival. Executive Director Chase Kiker and his team are leading the charge to make a mark in our area. This year, BoomFest received twice as many entries as ever before! Hundreds of films were sent to Beaumont from all over the world!
"Beaumont has an opportunity to turn this into a very large and recognizable event in the film industry and I believe we are well on our way," said Kiker. 
The three day event starts February 25th and runs until February 27th. 50 films will be screened during the festival and dozens of bands are set to perform. For years the successful Spindletop Film Festival brought people from all over the country. BoomFest has kept the momentum going, with nearly 1,000 attendees expected. 
Beaumont's McFaddin-Ward House Museum will open the documentary film side of the festival with an evening of documentaries on Thursday, February 26. Judges have been busy screening and selecting the best of the best films for you to see. (Click here for a sneak peek.)
For music, 20 plus bands are already signed up to perform. The entertainment list includes local acts and various bands from around the state. Kiker and his team are really bringing the film festival to the next level this year in hopes of connecting with not just the creative community in Beaumont but maybe people who are just interested in having some fun. 
"This year we will even be offering a VIP pass that gains access to our first ever VIP room in the Jefferson Theatre," said Kiker. "The food trucks and vendor booths should certainly be a draw for those that are just a little curious about the festival and certainly the music will keep those entertained that wouldn't describe themselves as 'cinephiles.' Of course, it is always possible that someone who isn't very interested in film will discover their love for the medium at our festival!"
With ticket prices starting at just seven bucks, it's something Kiker wanted to make available to everyone. In addition to some of the lowest ticket prices, there are also options to purchase a ticket for just one venue all the way up to a pass for the whole festival.
If this really sounds like something you would enjoy, consider going behind the scenes. During the festival, volunteers are needed to run projectors, work registration tables, set up rooms, help guests and everything in between. There are several information meetings about volunteering coming up on February 10th and the 18th. Click here for more information about helping out!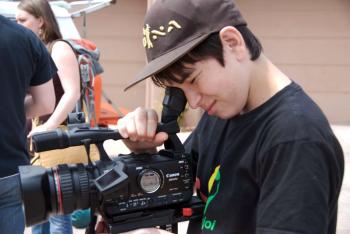 Besides film and music, Kiker always recommends visitors take advantage of everything Beaumont has to offer when they are here.
"When people come to Beaumont for the festival there are plenty of things for them to do. Tacos La Bamba is a place that I always suggest anyone new to Beaumont should try. Great food at very affordable prices. The Logon Cafe is a great place to grab a sandwich (or their famous chili) and a beer," said Kiker, "The Art Studio Inc. on Franklin Street is a non-profit art studio that rents spaces to artists and teaches various art classes. They also generally have an art exhibit on display in the front of the studio. It is a cool place to take a little time to check out." 
There are plenty of events leading up to the festival including a free 48 hour Film Race on January 29th. Participants are randomly assigned a genre and given two days to make a short film from scratch. There is a Music Video Race that kicks off at Kampus Korner Bar and Grill on February 5th. 
For information on tickets, acts, volunteering and more check out the Boomtown Fest website.
The MCM Eleganté is the official sponsor of the festival and is offering discounted rates to attendees. For your trip planning needs, the Beaumont CVB has a complete list of hotels, restaurants and things to do on the main pages of their website.