Deep fried ice cream? Sure! What about ice cream and espresso? Ok! And, did you know you can even watch ice cream being made with liquid nitrogen? From a traditional vanilla cone to out of this world frozen creations, there are plenty of places around Beaumont to get your fill of delicious ice cream and other cool treats!  
Baskin Robbins
4030 Dowlen Road #8
Beaumont, TX 77706
We just found out Baskin Robbins has a deep freeze with some of the retired flavors of ice cream tucked away and ready for purchase! Baskin Robbins has been around for a long time in Beaumont and it continues to be one of the best stops for great ice cream. Ice Cream Flavors include America's Birthday Cake, Oreo Birthday Cake, Chocolate Almond, Cotton Candy and Creole Cream Cheese (to name a few). You can enjoy the ice cream in a vanilla cone or waffle cone, in a Brownie Sunday or sandwiched in between a banana. Yes, that is called a banana split. Lots of options and flavors at Baskin Robbins!
Le Real Michoacana
4882 Dowlen Rd
Beaumont, TX 77708
Le Real Michocana, a Mexican palateria, is an authentic Mexican-style snack bar and ice cream shop on Dowlen Road. (You may remember they were at a different location at one point.) There are dozens of tasty ice cream flavors and other treats like ice cream bars and fresh fruit with chili lime toppings. Ice Cream flavors include strawberry shortcake, chocolate chunk and peanut butter with chocolate pieces in it.
Guadalajara Mexican Restaurant
4414 Dowlen Road
Beaumont, Tx 77706
So you might be thinking why is a Mexican Restaurant on this ice cream list? Well, it's one of the only places in our area that serves fried ice cream. Yes, you can get a deep fried bowl of deliciousness at Guadalajara. The ice cream is breaded and quickly deep-fried creating a warm, crispy shell around the still-cold ice cream. The cinnamon flavor of the shell and creaminess of the cool ice cream inside is something you've got to try!
Marble Slab
4106 N. Dowlen
Beaumont, Tx 77706
Ice cream at Marble Slab is made in small batches every day, using fresh ingredients. Flavors include Banana Rum, Butter Pecan, Cheese Cake, Cinnamon Vanilla, Peppermint and more. It's so fun to watch your ice cream being mixed together. First, you choose the flavor, and then it is put on a frozen marble slab where the mix-ins are added. The waffle cones are made fresh in the store too! They have cones dipped in chocolate and sprinkled with candy or nuts. Marble Slab makes ice cream cakes and they also help give back to the community by offering school and organization fundraising options.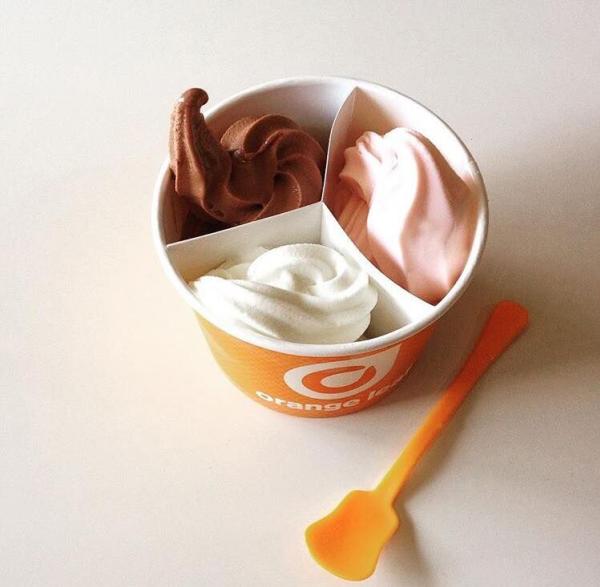 Orange Leaf
3015 Dowlen Road
Beaumont, Tx 77706
Orange Leaf believes you should shovel your cold treat, not spoon it. The unique spoon design you will use at Orange Leaf looks like a little shovel… fun, right?  Recipes are prepared daily with fat-free milk and mixed up in proprietary serving machines that make for a richer, creamier treat. Flavors include chocolate raspberry, peanut butter, and cherry. They also have sugar and dairy free options like pink lemonade Spa Day Sorbet. You serve yourself with your choice of frozen yogurt and various toppings. They even have a cup with dividers, so if you can't decide what you want you can sample different flavors.
Rao's Bakery
2596 Calder St
Beaumont, TX 77702

4440 Dowlen Road
Beaumont, TX 77706
Sure, you may know Rao's Bakery for the great coffee and the popular King Cake but have you ever tried the tasty Gelato? What is Gelato anyway? Gelato is basically an Italian version of American Ice Cream. It has less buttermilk fat than traditional ice cream and is usually much creamier. At Rao's, they make the Gelato from scratch and use ingredients imported from Torino, Italy. Authentic and delicious!!
Sertino's Cafe
5657 Eastex Frwy
Beaumont, TX 77706
Life doesn't get much better when you can add caffeine to ice cream. But really, Sertino's Cafe offers the "Affogato" which is espresso drowning in an ice cold scoop of your favorite ice cream. Ice cream flavors include cookies-n-cream, mocha almond, mint chocolate chip and more. They also have a selection of fresh frozen yogurts. 

Sub Zero
3939 Dowlen Road 
Beaumont, TX 77706
Combining science with ice cream…You have to see this! Ice cream made right before your eyes with liquid nitrogen. Your liquid cream is poured directly into a bowl with your choice of toppings. Then, the ice cream is frozen at that moment, right in front of you. One of the best parts about this individual ice cream making is you can cater it to your dietary needs. Options include Vegan, Lactose-Free, Gluten-Free, and Sugar-Free. They also have Ice Cream Pies made with any toppings you wish. Check out subzeroicecream.com for more information on the education program where kids are taught about how liquid nitrogen works.
The Yogurt Spot
6546 Phelan Blvd
Beaumont, TX 77706
12+ flavors with more than 30 different toppings to add on top are what you'll find at The Yogurt Spot. The dessert bar concept allows you to select and serve your own yogurt, then add whatever toppings you would like. Sweet flavors include Cake Batter Up, Red Velvet, Nutty Butter, and Creamy Mint Cookies. There are also Non-Dairy options like Mango Tango and Orange Blast Sorbet. For toppings, you can choose various nuts, fruits, and candy. The Yogurt Spot also caters events like parties and weddings!
Willy Burger
5535 Calder Avenue
Beaumont, TX 77706
We love Willy Burger for a good Burger of course, but if you haven't tried the ice cream, add it to your list! Willy Burger has soft serve ice cream in vanilla, chocolate or swirl. They make a mean shake or malt with flavor options like strawberry, blueberry, vanilla, and chocolate. Try and ole fashioned Coke (or Root Beer) Float. 
Of course, we can't talk about ice cream without mentioning the complimentary ice cream at Jason's Deli! The chocolate, vanilla or swirl cones is a sweet treat on the house (with purchase of a meal, of course).