Beaumont's Monthly Crave: Soups
      Not many will argue that the best way to enjoy the newfound fall weather is with a bowl of piping hot homemade soup. No matter your age, a slow-cooked stew with rich tasting broth will warm you up and bring your comfort  level to an all-time high.
       Whether it's chunky chicken noodle soup to cure your cold, grandma's hearty chicken and dumplings to soothe your soul, or a crispy grilled cheese with chunky tomato basil soup to solve your hunger, there's a choice for everyone in Southeast Texas.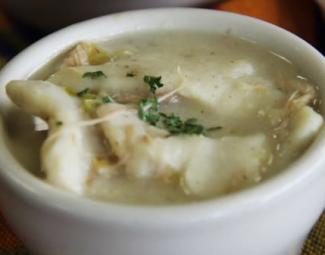 It may not be grandma's house, but Boogie & Tootsie's Deli in Lumberton comes awfully close. 
    Offering an age-old family recipe of homemade chicken and dumplings year-round among other items, the Dougay family restaurant is locally owned and operated. Nearby residents have been satisfied for years by the slow-cooked meals served all day long at reasonable prices. 
    Craving something more Cajun and less traditional? They've also got chicken and sausage gumbo. 
    Back in Beaumont, Katharine & Company takes the classic grilled panini and cup of soup beyond the traditional ideal. 
Located inside the Mildred Building and open for a few hours each day, busy lunch-goers have their choice of gourmet sandwiches accompanied with an array of delicious simmering soups. Choices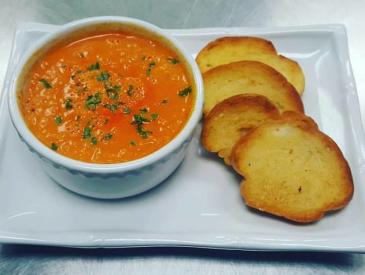 include: the hearty and fresh tomato basil, the earthy mushroom artichoke, and rich-tasting corn chowder. 
    If you ask us, the tomato basil reigns supreme meanwhile the mushroom artichoke and creamy corn chowder soups are tied for second best. 
    While the Mildred Building availability is in a slim timeslot, you can shop these specialties until 6 p.m. during the week, on-the-go, and sold by the quart inside the cold case at K2 Café & Carryout on Calder near Thomas Road. Complete with friendly faces and quick counter service. Don't forget a bag of homemade toasts to pair with your tomato basil. You can thank us later!
Any great soup list isn't complete without Great China's famous Egg Drop Soup.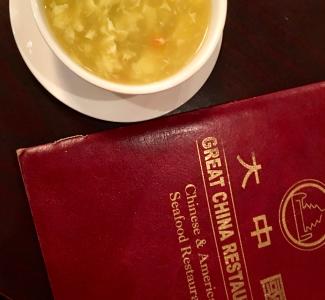 For the past three decades, this family-owned Chinese restaurant located on Calder, has become a popular eatery and takeout spot for the nearby hospital employees, visitors, and those Interstate 10 passersby during lunch time. 
     Affordable specials include a cup of soup, eggroll, fried rice, and a hefty portioned meal for under $9. Step outside your traditional lunch time options with a taste of Great China. 
     Across town near Parkdale Mall, El Habanero Bar & Grill creates out-of-this-world soups with a plethora of zesty flavors. 
     When you consider the usual Mexican menu, soup isn't a notable option. However, you would seriously be missing out if you didn't try what El Habanero has to offer.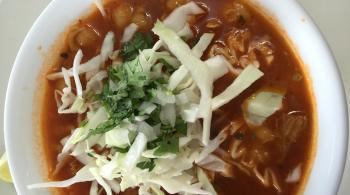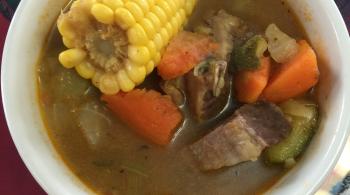 Owner Neno Chavez is a native of Mexico who brought back a taste of his homeland to Beaumont by offering Pozole and the more exotic Menudo, only on weekends among other dishes. Both of these traditional Mexican soups include hominy, however Pozole is a pork stew topped with shredded cabbage and chilies often served on special holidays while Menudo is a more intimidating smoky-flavored soup prepared with honeycomb tripe. (Only the adventurous foodies dare to try it.)
     Considering all the selections, Chavez's favorite soup is Caldo de res, also known as Mexican beef stew. This rich and vibrant bone broth includes hearty chunks of tender beef, carrots, onions, and corn that have been simmering on a stove for hours. 
     Craving seafood? We recommend the habanero clam chowder. Unlike traditional clam chowder which is creamy and white, this memorable Mexican soup is served with a thinner, spicy red tomato broth, charred chilies, and small clams. Of all the items served at El Habanero, it's our favorite.
     Whether it's a traditional American noodle broth or a dark, hearty Mexican stew, take our list one-by-one and keep warm this season with Southeast Texas' most notable and comforting soups. With low prices points and high flavor palettes, these are sure to hit the spot on a cold, dreary day.
Author: Lauren Bebeau
Lauren Bebeau is a freelance writer and food blogger based in Beaumont, Texas. For the past decade, Lauren has worked in the food industry. Lauren's interest in Southeast Texas cuisine began after graduating Lamar University when the opportunity of marketing a family owned frozen food product across Southeast Texas arose.  Since 2015, Lauren has  published features about local restaurants for The Beaumont Enterprise publications, Cat5 and VIP Magazines in addition to her personal blog, SETXfoodies. Lauren is dedicated to showcasing what our area has to offer residents and tourists. In her free time, Lauren enjoys dinner parties with friends, lounging around with her pet cat, and traveling.
More Local Favorites