On the Coast
Sun and Fun for Summer
Just 45 minutes from Beaumont lies the Gulf of Mexico. The Bolivar Peninsula, or as locals like to call it, Crystal Beach, is a favorite destination for Southeast Texans to feel the sea breeze on their skin and the wind in their hair. Watch the waves and plan an ocean getaway because there's no therapy like beach therapy.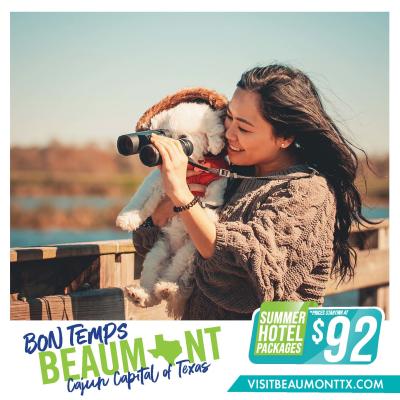 Hotels Starting at Just $92/Night
Valid unit August 31, 2021
With our special summer packages, not only will you get a crazy discounted hotel rate, but you'll also get a welcome bag at check-in with fun summer swag and a printed guide to help you plan your trip from featured local restaurants to standout area attractions. That's right, an amazing weekend getaway for less than $100/day. Book Now at VisitBeaumontTX.com/Summer.
Must-Dos:
More Things to Check Out:
Explore By Theme