Explore By Theme
Beaumont is Historical
Putting Texas's Oil Industry on the Map
At the turn of the twentieth century, Texas's economy depended upon farming, lumber, and cattle ranching to sustain a modest economy until a fateful day in Beaumont changed everything. The discovery of Spindletop in 1901 put Texas on the map with a gusher so powerful it produced nearly 100,000 barrels a day, more powerful than any previously seen in the world. That discovery drew thousands of industrious spirits with the hopes of starting a new life and striking it rich. They came from all over, bringing a hodgepodge of religions, ethnicities, and cuisines, turning our area into the delightful melting pot it is today, unified in their pioneering spirit.
Today, Beaumont is in the midst of another boom. Visit and you'll experience old-style Texas with a modern twist through careful preservation of our most valuable assets around the city and downtown.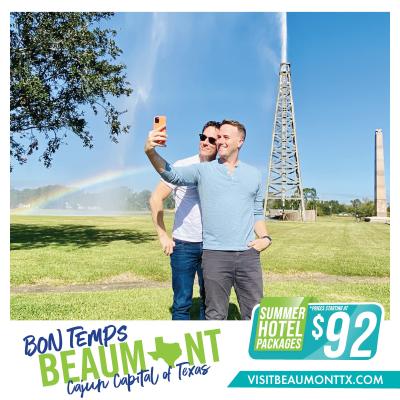 Hotels Starting at Just $92/Night
Valid unit August 31, 2021
With our special summer packages, not only will you get a crazy discounted hotel rate, but you'll also get a welcome bag at check-in with fun summer swag and a printed guide to help you plan your trip from featured local restaurants to standout area attractions. That's right, an amazing weekend getaway for less than $100/day. Book Now at VisitBeaumontTX.com/Summer.