Located in easternmost Texas (on the Louisiana border), Beaumont is known for its troves of antique shops, food scene and its historic past. Each year, the area sees thousands of visitors who come to check out the gorgeous downtown that's loaded with historic architecture. A stroll in any direction takes you to some of the best-preserved buildings in the nation, many of which are on the National Register of Historic Places.
In fact, the entire Beaumont Commercial District is considered a U.S. Historic District on the National Register—one of the few areas like it in the country. You can see some of the best of this local, historic architecture on a walking tour, and many of the buildings are home to museums and performing arts, which are worthwhile destinations in and of themselves. Here is a quick guide to some of the most important buildings in historic downtown Beaumont, Texas. 
Start: Art Museum of Southeast Texas
Start at the Art Museum of Southeast Texas where you'll find plenty of free parking. On the museum grounds, you'll notice the Men of Vision statue, which depicts the Rogers Brothers of Beaumont. The brothers, known for their visionary community and business ways, founded Texas State Optical (TSO) in Beaumont, Texas in 1936.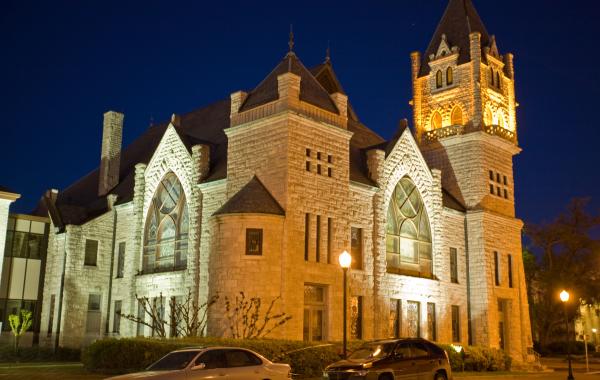 Tyrrell Historical Library
Turn right out of the parking lot and head south down Main Street. Just past the Texas Energy Museum, you'll take a right onto Forsythe Street. As you walk up the block, you will soon find yourself standing between a library and theater. On your right, you'll see the Tyrrell Historical Library. Originally a First Baptist Church (you will notice how much the building resembles a church), the building was later converted into a library after Capt. W.C. Tyrrell purchased the property in 1923 and donated it for library purposes. The Tyrrell Historical Library was built in 1903 in Victorian Gothic and Romanesque architecture using rough gray stones and stained-glass windows with pointed arches.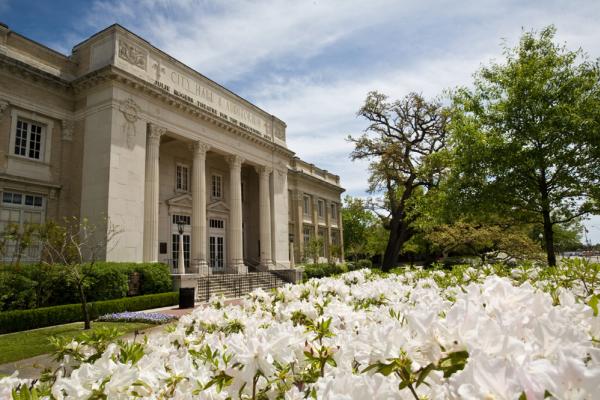 Julie Rogers Theatre
On your left at the corner of Pearl and Forsythe Street, you'll find one of the best-designed theaters in the region. The massive gray building showcases four pillars at its main entrance along with a lavish fountain. The Julie Rogers Theatre was built in 1928 and is currently home to the Symphony of Southeast Texas. The theater seats nearly 1,700 guests and is known for its classical revival architecture outfitted with pillars. Inside, visitors find a lavishly adorned stage with rococo-style painting of cherubs floating in the cloud, chandeliers, vaulted windows, twin grand staircases and crown moldings. The theatre acts as one of Beaumont's key performing arts venues staging plays like "Alice in Wonderland" and welcoming performers like The Beach Boys.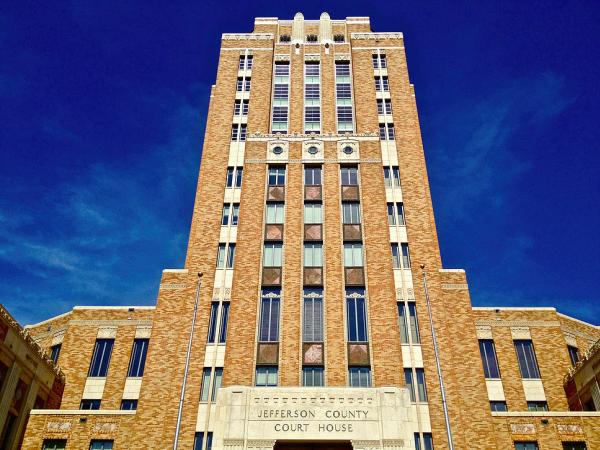 Jefferson County Courthouse
As you cross over Pearl Street and look to your left, you'll have a view of the Jefferson County Courthouse towering over its neighbors with its impressionable Art Deco decor. It's one of the tallest courthouses in state, built in 1931 by architects Fred Stone and Augustin Babin. Plaster friezes depicting traditional symbols of justice, as well as local images such as steer heads, pine cones and rice shocks, adorn the outside of this historic property.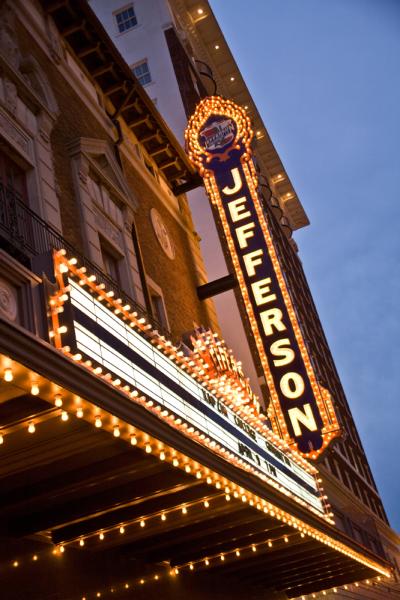 Jefferson Theatre
Head north on Pearl and make a sharp left onto Fannin to see the Jefferson Theatre built in 1927. Today, the theater seats roughly 1,400 people and is reminiscent of Old Spanish architecture with Renaissance Revival influence. The architect, Emile Weil, built the theater at the cost of $1 million and carefully designed every detail of the theatre from balconies, to chandeliers, to arched windows. However, the theatre's biggest perk is its massive original Robert Morton Organ (one of only a few left in the country) that consists of 778 pipes. Today, the theater is home to regular Classic Movie Nights and live concerts.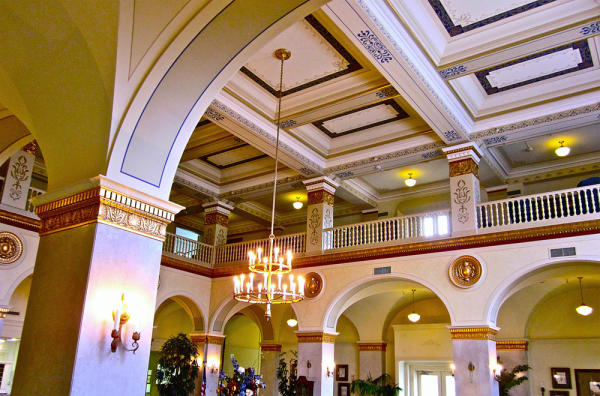 Hotel Beaumont
Next door, you'll see Hotel Beaumont. Built in 1922 at the cost of $1 million, Hotel Beaumont is 11 stories tall with over 250 rooms (including two ballrooms, the Rose Room, and the Sky Room on the Roof). The building is in the Mediterranean Revival architectural style with busy details of wrought iron chandeliers, bronze crown molding, and hand-painted patterns. The building no longer operates as a hotel, but visitors can walk by to admire the exterior.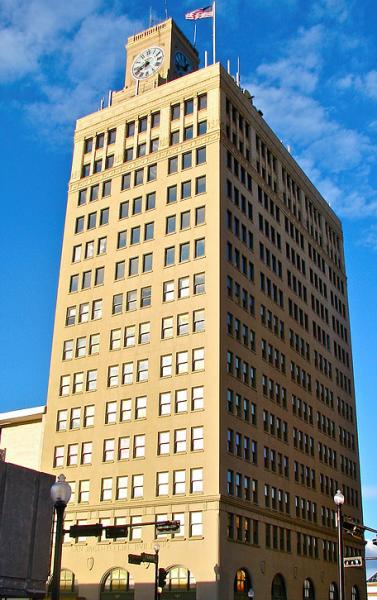 San Jacinto Building
Head across the street to the San Jacinto Building which sits on the corner of Orleans & Fannin. The building is 15 stories tall and is recognizable by its large clock tower on top (the largest in the region). The three-story Classical Revival building was constructed in 1921 for the San Jacinto Life Insurance Company. It was later altered in the 1950s and is currently privately owned and houses the offices of Beaumont Main Street along with many others.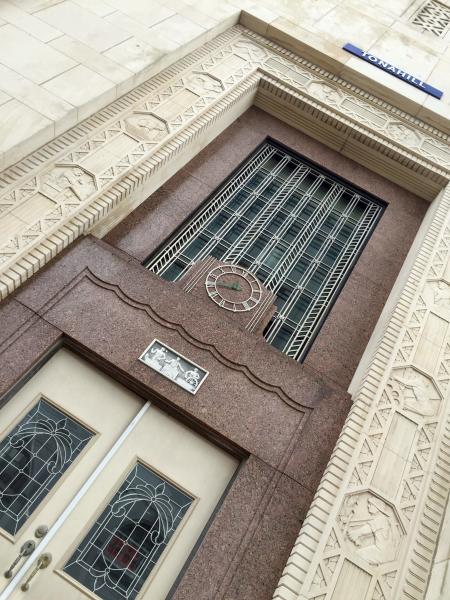 First National Bank
Walk one block north on Orleans where you'll see First National Bank with its Art Deco style. Built in 1937, the building has a four-story limestone vault with three-story wings and granite base. Note the central bay facing Orleans Street, its brushed aluminum clock and relief figures of industrial workers and professional people set in carved limestone. Beaumont artist Herring Coe carved these reliefs.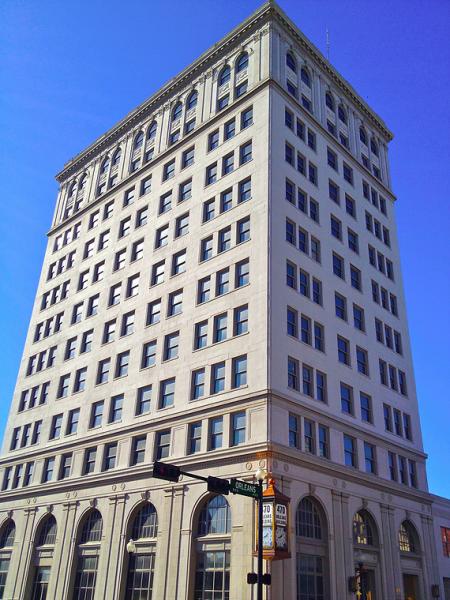 Orleans Building (American National Bank)
Across Orleans, you'll see a tall gray building. The American National Bank built the Orleans Building in 1925. This twelve-story building is rich in classical detailing with a Beaux-Arts architectural style (neoclassical style taught in Paris). Notice the first floor with its two-story pilasters flanking large arched openings. It is also admired for its golden glass doors.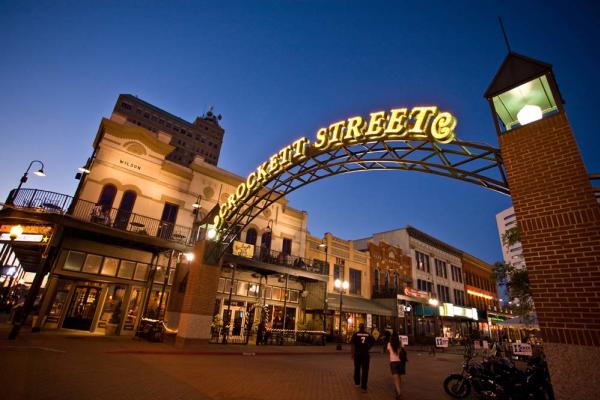 Crockett Street Entertainment District
Continue heading north on Orleans and come to Crockett Street. Look to your right and you'll have a perfect vantage point of Crockett Street Entertainment District (200 block of Crockett). Built around 1900, these buildings exemplify the commercial property generated by the timber and rice industry as well as the Spindletop oil discovery. One of the most infamous buildings is the Dixie Hotel, which became a brothel in the 1950s.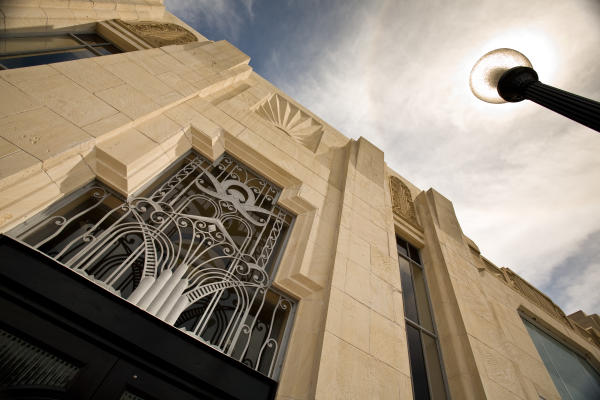 The Kyle Building
Another block north on Orleans Street will bring you to The Kyle Building, which was constructed in 1933 as a retail storefront. The Kyle Building is a prime example of Zig-Zag Art Deco architectural design with intricate carvings of abstract flowers and sunbursts. The building still hosts a series of retail shops along with offices.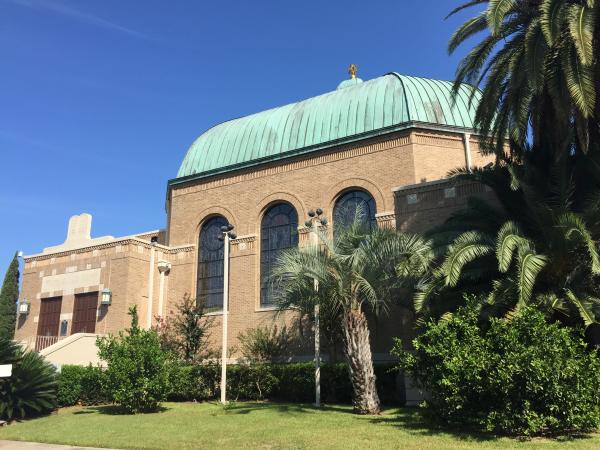 Temple Emanuel
Afterwards, keep going north until you hit Willow Street. (Cross over Willow at Orleans Street.) On your right, you'll see the First Baptist Church of Beaumont, constructed in 1924. The building is one of many historic places of worship located in downtown Beaumont, including Temple Emanuel, which you'll see in the distance (two blocks west on Broadway). The present temple was built in 1923 and boasts six 16-foot high windows along the north and south sides of the sanctuary which are the masterwork of the internationally renowned Israeli artist Ze'ev raban.
Learn more about Temple Emanuel, St. Anthony Cathedral Basilica (also located in downtown) and many other historic churches and temples on Beaumont's Faith Trail here.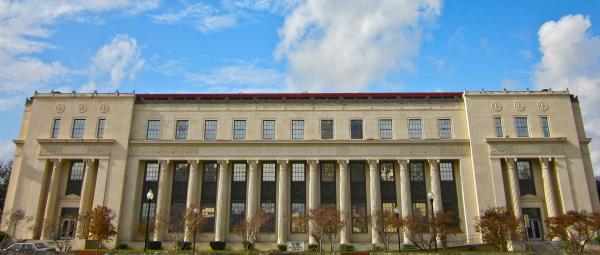 Jack Brooks Federal Building
On your left you'll find one of the best Art Deco buildings in the nation. Constructed during the Great Depression, the Jack Brooks Federal Building is considered a marvel with its Corinthian column and Neoclassical architecture with Art Deco influence. The building is named after former Congressman Jack Brooks, who served the area for more than 40 years. The building still serves as a post office as well as a federal building for government purposes.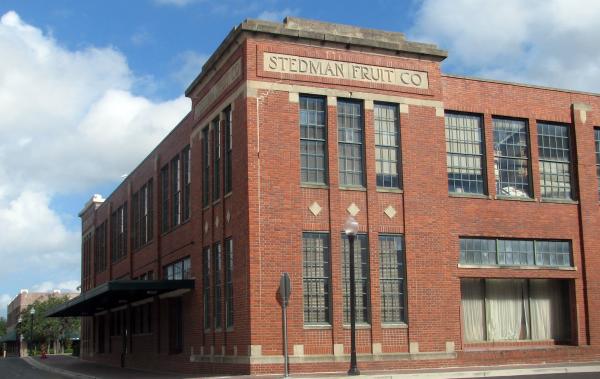 Stedman Building (Stedman Fruit Company)
Head south on Willow Street, which turns into Park Street, until you reach the Stedman Building (roughly 4 blocks). Constructed in 1923, the building was originally home to the Stedman Fruit Company and was named Texas' Best Restoration in 1991 by the Texas Downtown Association.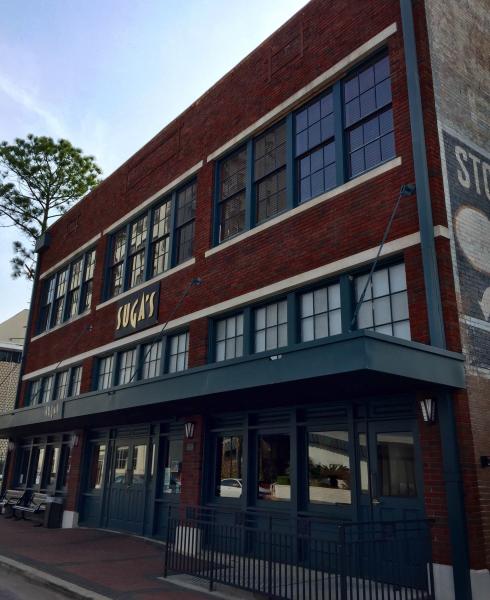 Suga's Deep South Cuisine & Jazz Bar (Coale Building)
Turn left onto Bowie Street and see Suga's Deep South Cuisine & Jazz Bar on your right. Suga's is located inside the historic Coale Building, which was built in 1927 and named for former Beaumont Mayor, Ray Coale. In 2005, Dr. Hervy Hiner restored the building and opened Suga's.
A couple blocks east on Bowie Street will bring you back to your car at the Art Museum of Southeast Texas.
This is a snapshot of some of the top buildings to visit in downtown Beaumont if you're interested in historic architecture. Beaumont is home to a number of other museums and historic sites worth visiting, as well as a number of restaurants and other attractions to explore while visiting downtown Beaumont. 
Can't make it to Beaumont? Explore downtown via Google Maps here.
Special thanks to Reagan Rothenberger with Beaumont Main Street for allowing us to use many of these photos. Learn more about Beaumont Main Street here.