Best Burgers in Beaumont
In Southeast Texas, we have plenty of delicious burger joints worthy of your attention.
Whether it's double-stacked, all-beef patties with tomato jam, or two, twin bite-sized burger sliders, you won't be disappointed with what the area has to offer. But how do you choose?
The ultimate burger depends on a variety of factors. Firstly, the perfect balance of beef, namely the fat-to-meat ratio. We don't want too much grease and just the right texture and bite. Next, dressing the inside and outside of the bun with seasonings and gourmet condiments is a must. Finally, the perfect bun needs to be sturdy enough for the burger to reach its final destination—your mouth—still maintaining it's structure.
Every Texas town needs a doo-wop 50s-style diner, and we have just that with Willy Burger. 
Once named "Best Burger" on "The Texas Bucket List" television show, this half eatery, half converted airstream takes novelty burgers to a whole new level. 
Made-to-order fresh, each Certified Angus 1/3 hamburger patty served at Willy Burger is bursting with flavor in every bite. 
Don't know what to order? Try the Hee-Haw Burger. Two juicy all-beef patties topped with hand-battered fried green tomatoes, melted pimento cheese, thick-cut Applewood smoked bacon strips, and red pepper jelly.
A side order of fries is highly recommended. Pick between sweet potato or parmesan garlic, offering elevated flavors to your normal fries. Add a thick and creamy shake to wash it all down.
If you're looking beyond red meat, Willy Burger also offers a tasty Portobello mushroom burger, fried soft shell crab burger and an ahi tuna burger.
Named as one of the best burgers in Southeast Texas, Daddio's is showcasing classic burgers as well as some unique twists! Anything from green chili to goat cheese is game for a burger at Daddio's. Family-owned and operated, this restaurant offers delicious burgers that will keep you coming back for more.
Don't miss out on the Parmesan truffle brussel sprouts or fries, sweet potato fries or a customer favorite - cheddar cheese fries. If you wan't something on the lighter side, Daddio's offers delicious salads and chicken options. 
For generations, Beaumont residents have been eating burgers at Novroksy's. It's practically a Golden Triangle institution when it comes to casual dining for the whole family.
With several locations across Southeast Texas, there is no doubt to the popularity Novrosky's has been creating since 1982.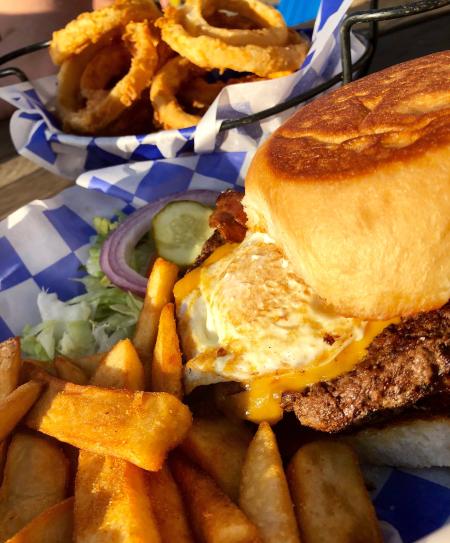 Family owned and operated in Beaumont, Novrosky's has always been known for friendly service, no-fuss burgers, gigantic spuds, and most importantly, consistency. The classic Nolan Ryan all-beef patties served alongside a plate of made-to-order curly fries hit the spot whether its lunch or dinner.
Looking for non-meat options? Try the veggie, black bean, or turkey burger!
Luke's Icehouse
Luke's Icehouse in Mid-County offers tasty burgers worthy of accompanying any icy beers or cocktails.
We really do swear by these bar burgers, including the delicious All-Day burger. This mega-sized all-beef patty covered with American cheddar, white onions, lettuce, tomato and a fried egg on top and completed with a toasted sourdough bun is the perfect meal. Don't forget the steak fries, onion rings or bottlecaps for the perfect side.
If you find yourself in the neighborhood, every Thursday night from 5- 9 p.m., Luke's boasts "2-for-1" burger night where patrons can feast on two savory burgers for the price of one.
After getting its start in Jasper, Hamburger Depot earned its place years ago as an eatery for serving up delicious burgers.
Once a Beaumont location opened up on West Cardinal Drive near Lamar University, our residents had a taste of these burgers and word spread like wildfire, beginning a Hamburger Depot revolution.
Not your average burgers, Hamburger Depot's creations are each seasoned with a special blend by TexJoy and hand-packed to perfection. Trust us when we tell you that these half-pound patties offer a well-seasoned bite. 
Who needs a Big Mac when you've got all these delicious options available?
Whether you're looking for size or all-around flavor, burgers are aplenty across Southeast Texas. Choose any of these burger joints to dine from and share with us your experience. Eat like the locals do and use #EATBMT in your social media posts!
For more information on restaurants in our area, visit our website and follow @eatbmt on Instagram.
---
More Local Favorites