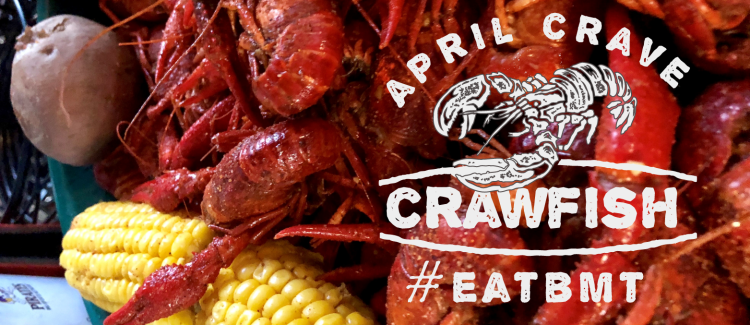 Beaumont's Monthly Crave: Crawfish
In Southeast Texas, the start of Spring means one thing: crawfish season.
Southerners seriously love their shellfish. There is truly no other seafood staple that socially brings our friends and neighbors together quite like crawfish. While the Northern states brag about seaside clam bakes, we pride ourselves on finding the best bayou-side crawfish boils.
By springtime, the crawfish have peaked, having had plenty of time to bury themselves during winter. When the weather warms up, they slowly emerge from hibernation and reveal a much plumper figure.
Crawfish are much easier to eat than they are to grow. Local crawfish farmers have to dedicate a lot of time and effort into harvesting large, flavorful mudbugs. 
Anyone who understands the crawfish flavor knows that they don't all taste the same. These factors depend on what they are fed and if they've been purged.
On a sunny day in March, we took a ride with Red Tailz owner Mike Bingham to capture traps on his crawfish farm along Taylor Bayou. Born and raised in Louisiana, he understands the method it takes.
Acting as a journalist, I casually observed Mike manning the airboat while his partner, Tony Barnard, did the work. This type of labor included pulling the crawfish traps out of the water to empty the mudbug supply, then re-submerging the traps after filling them with raw fish and dry food.
"These traps will sit underwater for several days until Tony and I come back," said Bingham. This routine repeats 3-4 weeks throughout the rest of the season.
Red Tailz Crawfish 
19705 TX-124, Beaumont, TX 77705
(281)  684-0033
Red Tailz Crawfish offers customers something rare: BYOB crawfish eatery, located out on Highway 124, sits on an actual crawfish farm. Diners can eat in or take home orders. 
At Red Tailz, we suggest you dine in just to enjoy the natural environment surrounding Taylor Bayou while feasting on flavorful mudbugs. 
Here, each platter is full of made-to-order, seasoned boiled crawfish include potatoes, corn, a cup of Red Tailz signature seasoning and a complimentary pink sauce. Boiled shrimp are also available. 
Open weekends through-out the season, Red Tailz also supplies live crawfish to several bars in Houston, such as Lil Woodrow's. Catering is also available.
Juju's Cajun Crawfish Shack
16474 FM 365
Beaumont, TX 77705
(409) 794-2020
You can't have a crawfish list without mentioning Juju's Crawfish Shack.
Each year when the season comes around, everyone in Southeast Texas has one thing on their mind: when will Juju's open?
Located near FM 365, Juju's is simple red barn where customers don't even bother asking for a menu. This legendary eatery specializes in spicy Cajun-style crawfish served with a homemade sauce, melted butter, boiled corn, and potatoes. 
Don't worry, the 15-minute drive outside Beaumont is worth it, most customers bring a cooler of beverages and even takeout bags, because the crawfish is THAT good. During the crawfish season, Juju's is open Tuesday through Saturday, 11am until 8pm; Open Sunday, 11am until 6pm. BYOB is always welcome.
Crazy Cajun
2310 N. 11th Street
Beaumont, TX 77703
(409) 554-0366
Formerly known as Starvin Marvin's, Crazy Cajun is a restaurant chain founded by Louisiana natives. However, Beaumont is their only Texas location.
Having opened in Spring 2017, Crazy Cajun's previous year was cut short with Hurricane Harvey.  
Now that months have passed, locals have been frequenting the beloved indoor/outdoor location along 11th street for lunch and dinner. 
"The start of 2018 brings a hopeful attitude to our Beaumont restaurant," said Shona Chesterman, manager of several Crazy Cajun locations across Louisiana and Texas.
When in season, crawfish is served throughout the week. Also offering a full menu of Cajun-style favorites such as crab cakes and gumbo, Crazy Cajun tops the experience off with flavorful cocktails. Frozen and mixed drinks included. There is nothing quite like enjoying an icy, frozen margarita with a platter of spicy crawfish on the patio, especially on a hot, Spring day.
Sweet Basil Noodle House
4026 Dowlen Road
Beaumont, Texas 77706
(409) 347-7594
There's more than one way to eat crawfish and that includes Viet-Cajun boiled crawfish.
Because of our large Vietnamese community here in Southeast Texas, Viet-Cajun crawfish are setting a new standard for locals. 
Located off Dowlen Road, Sweet Basil Noodle House specializes in a whole menu full of Vietnamese fusion foods, so there is no doubt as to why their crawfish is so darn tasty.
Like all sauces made from scratch at this locally owned eatery, the crawfish blend is a specialty blend of spicy seasonings and sauces unlike any in Southeast Texas.
Owner Calvin Pham says, "Hints of garlic, butter, and a handful secret ingredients elevate these tasty mudbugs to the next level." 
At Sweet Basil, crawfish are available on weekends.
Creole Frijole
(409) 998-4189
No one wants to miss out on the cash that comes with crawfish season and that includes bars. 
In Southeast Texas, a handful of drinking spots contact Creole Frijole, a local couple named Manuel and Michelle Espinoza, who supply everything from the seasoned crawfish to the serving platters. 
"We started cooking at the old Pacesetter in 2013 and we've been operating ever since," said Michelle Espinoza, born and raised in Louisiana. 
Crawfishin'
1373 Highway 96 S
Lumberton, Texas 77657
(409) 781-6526
Crawfishin', Lumberton's newest eatery is creating some buzz.
Located off the highway, this oversized metal shed with cafeteria-style tables just opened this 2018 season. At Crawfishin', seasoned made-to-order mudbugs are available for dine in or take out.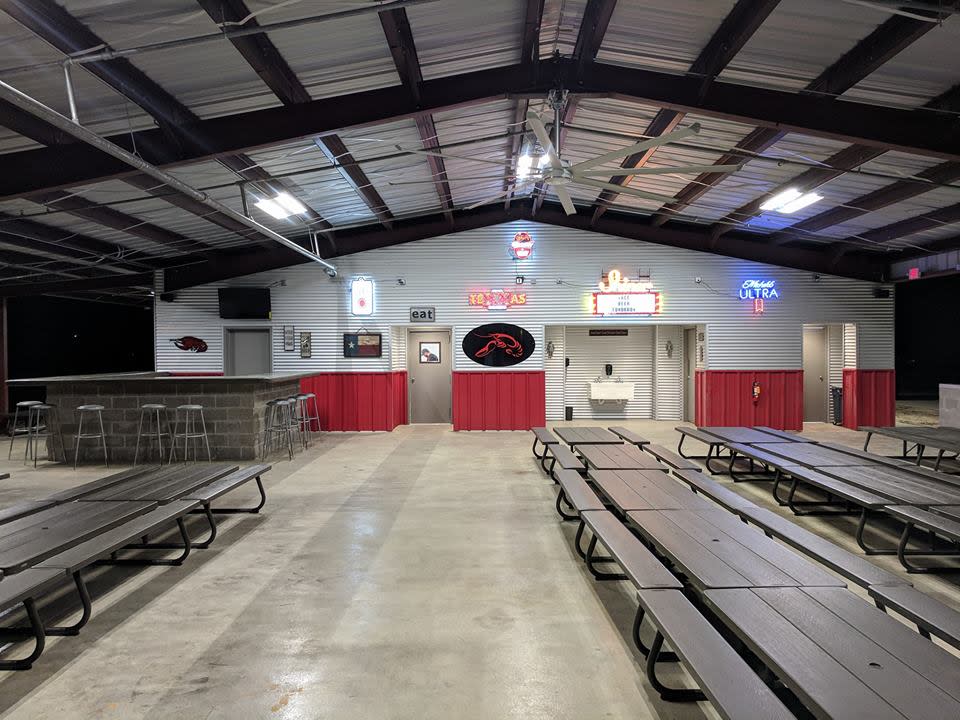 During the season, you'll find these mild crawfish at places like MacKenzie's Pub on Tuesday, Bar Local on Wednesday, Sawdust Saloon on Thursday, and Beaux Jangles on Friday. 
For the most part, these flavorful mudbugs are served from Monday through Friday, 6pm – 9pm. Catering is also available. 
Whether its mild or spicy, there is crawfish available for you throughout Southeast Texas. What's special about these mudbugs is the cooking techniques that vary depending on who's serving them. It's vital to try different varieties that why you can decide which you like the best! 
We hope you enjoy crawfish season in Southeast Texas!

Reel Cajun Seafood Restaurant and Bar
7500 Twin City Hwy
Port Arthur, Texas 77642
(409) 853-1818
Experience this cook-to-order restaurant for some of the best crawfish in southeast Texas. Try the boudin balls, oysters, seafood pasta dishes and more! With a great atmosphere and friendly service, Reel Cajun Seafood Restaurant and Bar offers the Cajun seafood experience that southeast Texans love. 
---
Author: Lauren Bebeau
Lauren Bebeau is a freelance writer and food blogger based in Beaumont, Texas. For the past decade, Lauren has worked in the food industry. Lauren's interest in Southeast Texas cuisine began after graduating Lamar University when the opportunity of marketing a family owned frozen food product across Southeast Texas arose.  Since 2015, Lauren has  published features about local restaurants for The Beaumont Enterprise publications, Cat5 and VIP Magazines in addition to her personal blog, SETXfoodies. Lauren is dedicated to showcasing what our area has to offer residents and tourists. In her free time, Lauren enjoys dinner parties with friends, lounging around with her pet cat, and traveling.