How to Ride:
Download the Bird app to locate a scooter.
Scan the QR Code to unlock.
The app will prompt you to add a payment method -- you can either add credit to your account or pay per ride. 
You'll be asked to agree to the terms and conditions and scroll through a quick "how-to" tutorial.
Now you're ready to ride! Release the kickstand. 
Give yourself a little push-off to get going, lightly accelerate with your right thumb, and use your left hand to brake by squeezing the handlebar to slow down. 
When you're finished riding, you do not need to return the scooter where you got it, but you must leave it in a designated parking area within the operating zone that is out of the way and not blocking accessways or streets. 
Put your kickstand back up.
To end the ride, you'll be prompted to take a photo confirming you left the scooter in an acceptable location. The scooter will chirp when the ride has successfully ended and payment has stopped.
Pro Tips:
Helmets are not provided, so either bring your own or ride at your own risk.
While these are great for running quick errands, it's not recommended to carry excessive bags, large purses, have things in your hands or hanging off your body as you do need to balance.
Do not use your cell phone while riding – there are no holders, and you'll need your hands to brake, accelerate and steer. Be mindful if you need GPS directions.
Exercise caution and slow down when going over railroad tracks, cobblestone, and non-flat surfaces.
Use crosswalks to turn and signal with your hand which direction you're going.
They are designed to be ridden on roads, not sidewalks, but don't assume you have the right of way -- be self-aware with traffic as cars are not familiar with these yet.
We recommend wearing close-toed shoes and having some type of eye protection from wind, rain, and the elements.
Be conscientious of each scooter's battery life -- before you rent one on the app you can see how fully charged it is.

Bird Scooter FAQ
How Do I Find a Scooter? Where Are They Located? 
You can always find one and reserve it on the Bird app, but since you can use them and leave them anywhere within the operating area, there are no designated rental locations or charging hubs. The local operators are continually monitoring usage and moving them to popular areas to ensure there are enough to go around and conveniently located. 
Where Can You Ride? 
The full operating area is visible once you download the Bird app which appears in blue. You can ride nearly anywhere within Beaumont city limits, but there are some boundaries. You cannot go on highways, any street with a speed limit over 35 mph, to Lamar University (for the time being), or beyond into Mid-county.
What Happens if You Go in a No-Ride Zone? 
You'll get a push notification that you're in a no-ride zone. The scooter won't kick you off or end the ride, but it won't provide power until you're back in a safe zone. 
Do I Have to Return the Scooter Where I Got it? 
No, but you must leave it in a designated parking area that's out of the way of pedestrians and traffic. Don't leave it in the middle of a sidewalk, the street, or access ways. Preferred parking locations are marked with a "P" in the app. 
Is It Safe? What are the Rules? 
It's essentially as safe as you make it. You're subject to all the same local rules as other vehicles (alcohol included). The full rider agreement can be viewed here.
How Fast do They Go? 
The max speed is 15 mph.
How Much Does It Cost to Ride? 
Scooters are $1 to unlock and .39 cents per minute additional (plus tax). An average two-mile ride costs about $10-15.
How Old Do You Have to Be to Ride? 
You must be 18+. 
Can a Child or a Friend Ride on the Same Scooter as Me? 
No, only one rider per scooter is allowed for safety reasons.
Can I Ride with my Family or Friends? 
Yes, and it is encouraged! You can choose "Group Ride" in the app to unlock and pay for up to four scooters with one account, but all riders must verify they're all legally of age and authorized to ride.
Are Helmets Provided? 
Helmets are not provided, so either bring your own or ride at your own risk.
Who Maintains the Scooters, Makes Sure They're Charged, etc?
There are local fleet managers who check on them regularly. 
Can People Walk Off with Them?
No, an alarm will go off if you move it without being turned on and a local fleet manager will be notified. They are all GPS monitored (even when dead).
What Should I Do If I Have a Problem?
You can contact hello@bird.co or call +1 (866) 205-2442, their 24/7 support line. You can also report any issues via "Community Mode" in the bottom left-hand corner of the app. It'll give you three options: report a "Badly Parked Bird,'' "Damaged Bird," or "Contact Bird" to reach a team member for support.
What Happens if I Forget to End a Ride or if my Phone Dies Mid-ride?
You will be given a grace period of 10-15 minutes and then the scooter will automatically shut off if it hasn't moved. The maximum charge for a single trip under such circumstances is $100. 
How Long Does the Battery Last?
You can go 16-17 miles on a fully charge scooter. Each scooter's charge level is visible in the app before you rent. 
Why Should I Ride One? 
For one, it's a fun way to see the sights, but it's also an affordable and sustainable way to get around town. They call it a last-mile, environmentally friendly means of transportation designed to reduce cars on the road for short trips. 
Are There Discounts Available? 
Yes! Bird's Community Pricing Program offers a 50% discount to low-income riders, Pell grant recipients, select local nonprofit and community organizations, veterans, and senior citizens. To sign up, download the Bird app, create an account, and email your proof of eligibility to access@bird.co.
There are also FREE rides available for healthcare workers and emergency personnel. To sign up, email a copy of your medical identification card along with your name and phone number to together@bird.co. Eligible riders will receive two free 30-minute rides per day for as long as it takes to help the community recover from the global health crisis.
Who Is In Charge of This Program? 
The scooters are not a CVB initiative we're merely sharing the information as a fun and exciting new way to see the sights. Bird is an independent electric transportation company that operates globally. They have partnered with the City of Beaumont to bring e-scooters to the city. There are locally contracted fleet managers who maintain the scooters. If you need help, contact hello@bird.co or call +1 (866) 205-2442, their 24/7 support line.
Suggested Scooter Routes
We've highlighted notable architecture, photo spots, where to shop, grab a bite, and cool off. While Beaumont in its entirety is relatively large, the downtown is fairly compact and very walkable or bikeable, with most of the major attractions within just 1.5 miles of each other.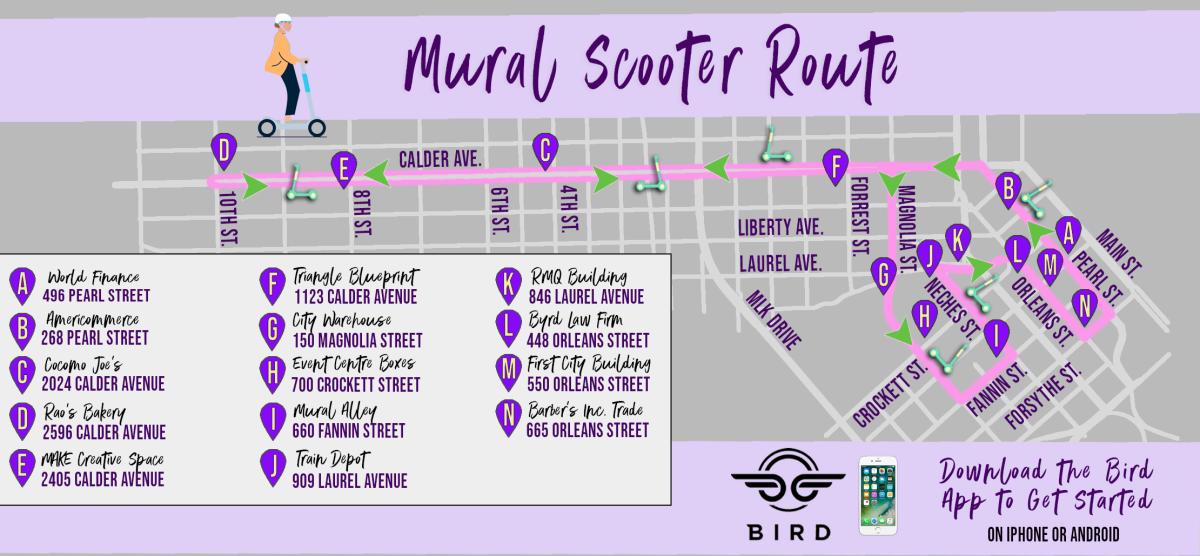 There are quirky finds like the larger-than-life Dalmatian-printed fire hydrant to murals, churches, a turn-of-the-century entertainment district, tasty restaurants, and everything in between. Make it a scavenger hunt to find your favorite stop and photo op! Complete our checklist of 10 surprising finds and bring it into the CVB for a prize. Don't forget to take a selfie at each spot. Get to hunting here!
Outdoor Adventures Aplenty: