Women-Owned Restaurants in Beaumont and Beyond
Supporting Women Has Never Been Tastier
Because a woman's place can be in the kitchen and the boardroom, there's nothing like cheers-ing to the contribution women have made to the world and our area. In honor of Restaurant Week and Women's History Month, we've compiled a list of all the tasty women-owned businesses in the Golden Triangle that are working hard to keep SETX delicious. The next time you're eating out or planning a girl's night, make a point to patronize one of these locales and just remember who runs the world.
Bando's
If you've been around Southeast Texas for a while, you know about Bando's. With a wide variety of menu and catering options from Mexican to Italian and Creole, the restaurant/ gift shop offers to-go lunches on weekdays and doubles as an event venue in the evenings.

Chaba Thai Bistro
Born and raised in Bangkok, owner Ping Pong (Sarah) wanted to introduce Thai cuisine to the area after falling in love with Southeast Texas. With two locations in Beaumont and Nederland, Chaba serves a variety of native Thai cuisine, including their signature Pad Kee Mao "drunken noodles" that accommodate a range of palettes and spice levels.

Cotton Creek Winery
A boutique wine bar in Beaumont's West End, patrons can enjoy homemade appetizers, pizzas, and yummy adult beverages. Wines are made on-site and are available by the taste, glass or bottle. Whether going here for a date, girls' night or to treat yourself after a long week, Cotton Creek fits the bill for sweet sips or strong pours.
Debbie's Delights
At this Port Neches bakery, sweet is the name of the game. Debbie LaRue makes sure everyone can taste the love in every bite of her cakes, cupcakes, cookies, and seasonal treats.

Elsa's Greek Grill
You don't have to plan a trip across the pond for a taste of the Mediterranean. Owned by a family from the Balkans, the mother-daughter duo behind Elsa's Greek Grill will have your taste buds popping with their hummus, Greek nachos platter, gyro pizza and ridiculously tasty spicy feta dip.
For the Love of Foods
Owner Jessi Ly believes that food can taste good and also be good for you. Each week, she rotates pre-made and prepackaged meals that you can try guilt-free. With locations in both Beaumont and Nederland, it's easy for patrons to follow Ly's mantra of, "Skip the diet. Just eat healthy."
Golden Croissant
A Mid County mainstay, the Golden Croissant has been known for their scratch-made croissants for decades. Run by another mother and daughter duo, Ginny and Anita Nguyen, serve up sandwiches, salads, breads, cakes and pastries for a tasty breakfast or lunch break.

Katharine & Co
Now housed in the iconic Mildred Building, Katharine & Company was started by Katharine Carmichael as a gourmet take-out and catering business in 1997. Meal options include healthy alternatives to "fast food," with only the freshest ingredients available for lunch and special dinners and brunches once a month. For those on the run, their to-go business, K2 Cafe & Carry-Out on Calder, also offers gourmet prepared meals to take home. 

La Real Michoacana
Homemade Mexican ice cream, sweet treats and spicy snacks await at La Real Michoacana's two Beaumont locations. Each menu item is photo-worthy and packs a punch in the flavor department, but you don't want to miss the gluttonous freakshakes and over-the-top sundaes.
Mabel's
Satisfy both your sweet tooth and salty treat craving at Mabel's, which offers snow cones, cocoa bombs, and more. Owner Vania Castelan has a variety flavors and toppings for visitors to design their own unique creation.

Monica's
Chef Monica Cobb has had quite the resume working as a private chef, commercial food stylist, chef at Burning Man, chef of a 1901 river steamboat on the Nile, and launching her own food truck, Banh Mon Renegade Street Food. Now, she serves up some of the best farm-to-table cuisine in the area and offers to-go options at her first brick-and-mortar restaurant in Beaumont. 

Sachi's Cakes and Desserts Lab
With desserts this beautiful, it's almost a sin to bite in, but at Sachi's, you simply won't be able to resist the temptation. Unique treats such as caramel cheesecake brownies, ube flan, and Fruity Pebbles cookie sandwiches will entice you in and keep you coming back as she gets more and more creative with her cake lab. 
Sha Bébé Cajun Café
At this Cajun scratch kitchen, Maraja Jones serves up hearty soul food in large portions. If you're in the mood for Southern comfort food and a diverse, savory menu, this is the place for you on Magnolia Street. P.S. Don't miss out on the honey butter toast.

Soiree & Vine
Think outside of the box – the lunch box that is. Soiree & Vine offers personal-sized charcuterie tray aka. "adult lunchables" as well as seasonal and customized boards, boxes, cups, cones, and trays. Cocoa, candy, sweets, brunch, and more can be found at this Boston Ave eatery, owned by Carrie Hackbarth.
Spoon It! Frozen Yogurt Factory
Vibrant colors aren't just on the walls but also in the yogurt flavors and toppings offered at Spoon it! Frozen Yogurt Factory in Nederland. Enjoy a sweet treat without any of the guilt.

Stir It Up Bistro
Located in downtown Beaumont, this Creole/Cajun eatery delivers flavor in every bite. Owned by Tasha Bobb, try their red velvet chicken and waffles, stuffed turkey legs, and snap a selfie in front of the colorful mural out front.

Sugar Momma Confections
After years of operating a home bakery, Groves native Angie Cook decided to go all-in on her side hustle, opening Sugar Momma Confections the summer of 2017. With over 100 flavors of specialty cupcakes, cookies, cake balls, cakes, and more, your sweet tooth is bound to be satiated. With no set menu, each time you walk in the door of Sugar Momma's, you're sure to find a new favorite treat.
The Golden Cup
Located inside the boutique, Charm & Co. on Nederland's Historic Boston Avenue, The Golden Cup offers coffee, tea, smoothies, hot chocolate, Italian soda, and more for a quick java jolt while getting your cardio shopping. With almost two dozen flavors of iced, frozen, or hot beverages, owner Janna Bartz will help you get your caffeine fix.
Two Magnolias
Tucked inside the Art Museum of Southeast Texas, Two Magnolias, owned by Becky Burleson, offers gourmet eats with a view. This weekday lunch cafe and courtyard gives visitors a chance to munch while getting their culture on.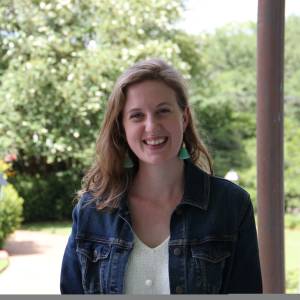 About the Author: Kara Timberlake
Harboring a love for people and stories, Kara enjoys promoting her community of Beaumont. In her free time, she loves chowing down at local eateries, reading, hanging out with her family, and spending time with her pup, Theo.
Pack Your Stretchy Pants
Discover some of our favorite restaurants and best kept secrets from Texas barbecue to Cajun cuisine.
Find your Craving