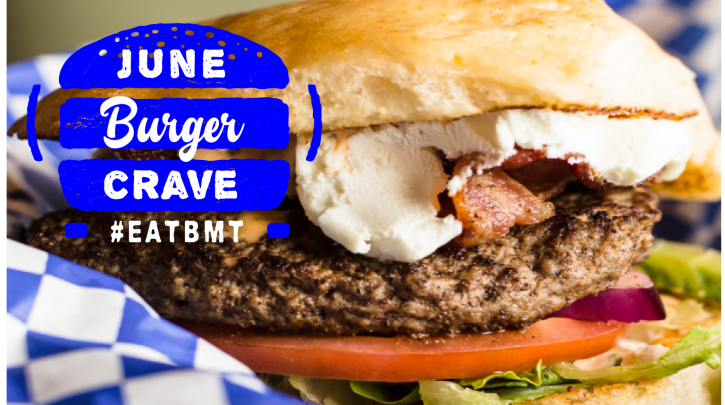 Beaumont's Monthly Crave: Burgers
In Southeast Texas, we have plenty of delicious burger joints worthy of your attention.
Whether it's double-stacked, all-beef patties with tomato jam, or two, twin bite-sized burger sliders, you won't be disappointed with what the area has to offer. But how do you choose?
The ultimate burger depends on a variety of factors. Firstly, the perfect balance of beef, namely the fat-to-meat ratio. We don't want too much grease and just the right texture and bite. Next, dressing the inside and outside of the bun with seasonings and gourmet condiments is a must. Finally, the perfect bun needs to be sturdy enough for the burger to reach its final destination—your mouth—still maintaining it's structure.
Boss Burger
1147 Boston Ave., Nederland 
On Boston Avenue in downtown Nederland lives the boss of all burgers.
Joe Oates, owner of Boss Burger, is known throughout the Golden Triangle for having a big personality as well as offering mouthwatering burgers.
Along with his wife and longtime partner, Mary Fuller Oates, Joe has come a long way from cooking on shipping vessels in the Gulf of Mexico. Food truck turned causal, American burger joint, Boss Burger offers fast, friendly service and an affordable lunch menu.
Their quality, half-pound patties include a blend of 100% Angus prime rib and chuck roast, hand-packed and served to customers as big, bold burgers.
Although you cannot go wrong with anything on the menu, we recommend the Boss Burger sliders. A duo of tender bite-sized burgers, complete with a side of Boss sauce. You can't go wrong!

5535 Calder, Beaumont
Every Texas town needs a doo-wop 50s-style diner, and we have just that with Willy Burger. 
Once named "Best Burger" on "The Texas Bucket List" television show, this half eatery, half converted airstream takes novelty burgers to a whole new level. 
Made-to-order fresh, each Certified Angus 1/3 hamburger patty served at Willy Burger is bursting with flavor in every bite. 
Don't know what to order? Try the Hee-Haw Burger. Two juicy all-beef patties topped with hand-battered fried green tomatoes, melted pimento cheese, thick-cut Applewood smoked bacon strips, and red pepper jelly.
A side order of fries is highly recommended. Pick between sweet potato or parmesan garlic, offering elevated flavors to your normal fries. Add a thick and creamy shake to wash it all down.
If you're looking beyond red meat, Willy Burger also offers a tasty Portobello mushroom burger, fried soft shell crab burger and an ahi tuna burger.
Novrosky's
3925 Dowlen, Beaumont
441 South Main, Lumberton
3016 Hwy 365, Nederland
For generations, Beaumont residents have been eating burgers at Novroksy's. It's practically a Golden Triangle institution when it comes to casual dining for the whole family.
With several locations across Southeast Texas, there is no doubt to the popularity Novrosky's has been creating since 1982.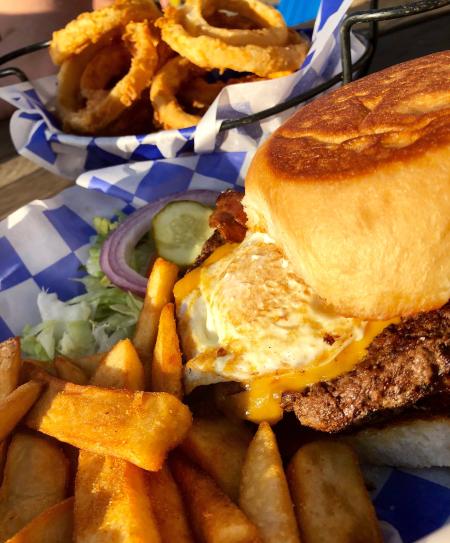 Family owned and operated in Beaumont, Novrosky's has always been known for friendly service, no-fuss burgers, gigantic spuds, and most importantly, consistency. The classic Nolan Ryan all-beef patties served alongside a plate of made-to-order curly fries hit the spot whether its lunch or dinner.
Looking for non-meat options? Try the veggie, black bean, or turkey burger!
Luke's Icehouse
2325 Calder, Beaumont
1039 Nederland Ave, Nederland
Whether you're in Beaumont or Mid County, Luke's Icehouse offers tasty burgers worthy of accompanying any icy beers or cocktails.
We really do swear by these bar burgers, including the delicious All-Day burger. This mega-sized all-beef patty covered with American cheddar, white onions, lettuce, tomato and a fried egg on top and completed with a toasted sourdough bun is the perfect meal. Don't forget the steak fries, onion rings or bottlecaps for the perfect side.
If you find yourself in the neighborhood, every Thursday night from 5- 9 p.m., Luke's boasts "2-for-1" burger night where patrons can feast on two savory burgers for the price of one.

Hamburger Depot
1652 W Cardinal Drive, Beaumont
790 Neches Street, Beaumont 
141 N LHS Drive, Suite 211, Lumberton
1920 Nederland Avenue, Nederland

After getting its start in Jasper, Hamburger Depot earned its place years ago as an eatery for serving up delicious burgers.
Once a Beaumont location opened up on West Cardinal Drive near Lamar University, our residents had a taste of these burgers and word spread like wildfire, beginning a Hamburger Depot revolution.
Not your average burgers, Hamburger Depot's creations are each seasoned with a special blend by TexJoy and hand-packed to perfection. Trust us when we tell you that these half-pound patties offer a well-seasoned bite. 
There are now over 7 Hamburger Depot locations spread throughout Southeast Texas, including: (3) Beaumont, Lumberton, Jasper, Nederland, and Bridge City.
Who needs a Big Mac when you've got all these delicious options available?
Whether you're looking for size or all-around flavor, burgers are aplenty across Southeast Texas. Choose any of these burger joints to dine from and share with us your experience. Eat like the locals do and use #EATBMT in your social media posts!
For more information on restaurants in our area, visit our website and follow @eatbmt on Instagram.
---
Author: Lauren Bebeau
Lauren Bebeau is a freelance writer and food blogger based in Beaumont, Texas. For the past decade, Lauren has worked in the food industry. Lauren's interest in Southeast Texas cuisine began after graduating Lamar University when the opportunity of marketing a family owned frozen food product across Southeast Texas arose.  Since 2015, Lauren has  published features about local restaurants for The Beaumont Enterprise publications, Cat5 and VIP Magazines in addition to her personal blog, SETXfoodies. Lauren is dedicated to showcasing what our area has to offer residents and tourists. In her free time, Lauren enjoys dinner parties with friends, lounging around with her pet cat, and traveling.