Meet the Artists
Beaumont Mural Festival 2023
J Muzacz
Public artist, author, curator, community arts advocate, and educator, J Muzacz integrates social and environmental awareness into many aspects of his work and life. Born and raised in Houston, Texas, and having attended the University of Texas in Austin studying Sociology, he went on to travel, teach and make art abroad for the better half of a decade, living primarily in Korea, Japan, Australia, and New Zealand. 
J has been painting walls for the last 20 years and more recently has integrated the mosaic medium into his repertoire, crafting monumental landmark murals out of glass, tile, and stone. You can see an example of this incredible and timeless craftsmanship at the Pour09 courtyard and their one-of-a-kind "Southeast TX" mosaic mural.  
Carlos Zulu
Zulu Painter is an international artist living in Saint Petersburg, FL. The vibrant color in his paintings helps to convey his goal of creating art that uplifts the viewer with positive energy. He currently focuses mainly on large-scale murals. Zulu has a background as a scenic artist for Disney, Home Shopping Network, Sea World Parks and Entertainment, national ad campaigns, and as a representative artist for Visit Florida/ Florida Tourism.
Carmen Rangel
Carmen is a visual artist and community organizer, with 7+ years of experience in the arts community from Austin, Texas. Her goal is to visually communicate through art and inspire and empower others to do the same with a focus on unity.
Chris Rogers
Chris was born on Fort Bragg in Fayetteville, NC. From a young age, Chris exhibited an acute sense of self-expression by drawing on any and everything his hands could reach. Ever since he could hold a crayon he's been drawing and recording what his mind can imagine.
Dragon76
Born in Shiga in 1976, Dragon76's work touches the soul of the viewer with a touch that is passionate and full of vitality based on street art. The style is constantly evolving, producing works with the theme of the coexistence of conflicting things such as past and future, stillness and movement, and justice and evil. In 2016, he moved his base to NY and left a mural in the street art scene around the world to spread its name.

Drew Merritt
Drew Merritt grew up on a farm and cattle ranch in New Mexico where whenever he wasn't working, he was painting. With no artistic training, Merritt found himself experimenting with graffiti, street art, and portraiture until he found his own niche. It wasn't until he moved to Los Angeles that he realized he could "make it" painting both murals and oil paintings in his similar romanticized, renaissance-inspired style. 
Emily Ding
Emily Ding is a muralist who draws inspiration from flora, fauna, and human temperament. Her large-scale work is characterized by expressive animals and figures, which come to life through bold color gradients and a fluid, painterly style. Resonating deeply with the phenomena of the natural world, she aims to communicate emotions and experiences through storytelling with wild creatures and people.
Laced & Found
Jay "Laced" Rivera and Riki Rivera are graffiti muralists known as Laced and Found. Jay Rivera was born and raised in the South Bronx, New York. During the '90s in the Bronx, graffiti was in heavy rotation and an essential part of hip-hop culture in New York City. Along with tagging, Laced worked on his skills and began painting murals by the age of 16. Riki Rivera was born and raised in Southern California. As the other half of Laced and Found, Riki has been creating large scales murals since January 2018. 
Liza Fishbone
Liza is an artist, designer, and producer from Austin, Texas. With commissions in Austin, St. Louis, Kirksville, and more, she utilizes her skills in murals, mural restorations, and pavement art. 
Malcolm Byers
Malcolm Byers is a painter and muralist from Amarillo, TX. Mostly working in realism, his subjects include portraiture, wildlife, and the Texas landscape. 
Mila Sketch
Mila Sketch is an award-winning artist based in Austin, TX. Mila is also a scientist. She loves history, technology, and nature. Mila leads us through milliards of tiny perfectly connected details to a global and whole mechanism. She works with a set of symbols appealing to the viewer of diverse cultural backgrounds. Her art is fascinating and can hold the observer's attention for hours. There is always a hidden story, a profound message captured in a labyrinth of fine lines and intricate shapes.

Rex Hamilton
Rex Hamilton is an artist born and raised in Austin, Texas. He paints on canvases and walls but will paint anywhere and on anything. He has been creating art for as long as he can remember but began painting seriously at the age of 18. His art style is a combination of figurative, surreal, abstract, and pop art.
SM Sanz
Stephanie Sanz, aka SM Sanz, is a visual artist from Panama City, Panama who now lives in Dallas. The main theme of her illustrations is pop surrealism, with the female sex, biology, and nature as protagonists in her works. There is a strong feminist undertone to her work, with sexual positivity and liberation expressed through portraits of strong provocative women.
Tim Kerr
Tim studied at UT in Austin under the well-known photographer, Garry Winogrand.  He paints on everything from cardboard to wood and maps and is known far and wide for his paintings and mural work. His subjects tend to be the obscure masters in their fields, from musicians, artists, and civil rights workers, to sports and literary figures. He paints beautiful minimal portraits with a quote or a rare tidbit about the person.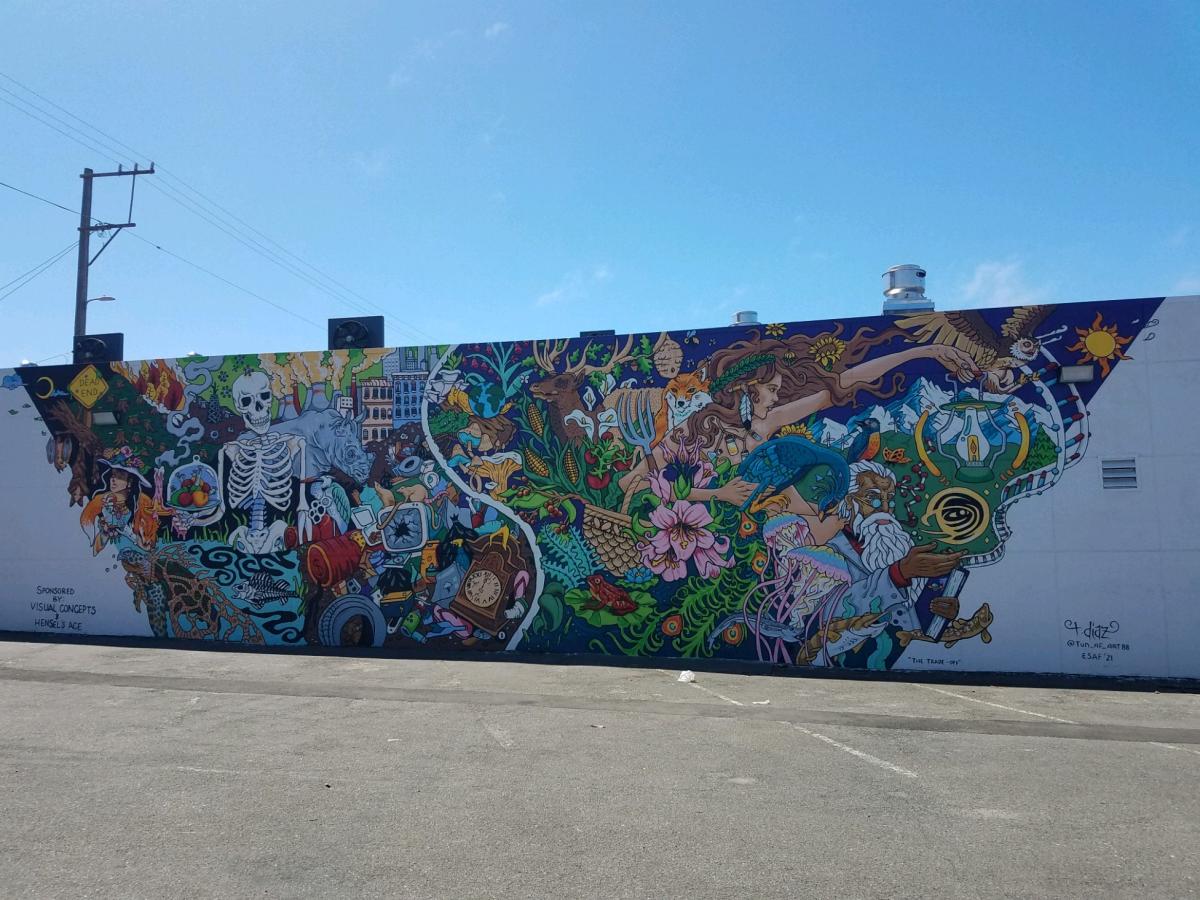 Tony Diaz
Tony Diaz aka Ripe Mind, is a Northern California-based artist who graduated from HSU in 2013 with a degree in printmaking and graphic design. Tony has been commissioned, featured, and won contests by many businesses and musicians for merchandise, apparel, logo design, and posters. Diaz's creative vision has been inspired by psychedelic poster art, the human form, flora, horror films, and creatures from the natural world. Most recently he painted murals in Portland and New Zealand.
Anat Ronen
Anat is a Houston-based, self-taught artist. She became a professional artist at 38 years old following a decision made as a family to emigrate from Israel to the USA and try to change their lives. Now, 14 years after becoming a full-time artist as a way to stay in this country, she has created hundreds of pieces all over the US and beyond and most importantly, discovered her true calling.