THANK YOU FOR YOUR INTEREST IN BEING A LOCALIST
We cant wait to see all that you EAT, PLAY, and DO in Beaumont.
Submit your Beau-Buck task sheet to visitbeaumonttx@gmail.com or stop by our office at 505 Willow St. to redeem your completed activities for swag!
Become a Localist.
Have New Experiences. See Familiar Places with Fresh Eyes.
Share Your Love of the City.
What is the Localist?
The Localist is a group of passionate residents who embody the Beaumont spirit. They are individuals who already see Beaumont as a vibrant place with untapped potential. It is a concerted effort to make a unified Beaumont by sharing our experiences in the community.
What am I expected to do?
As a Localist, members will be asked to participate in community events, relay information about local opportunities, and work towards creating a unified Beaumont. 
Mission Statement
To inform and inspire the Beaumont and Southeast Texas community to create a unified Beaumont through collaborative effort via promotion and community involvement.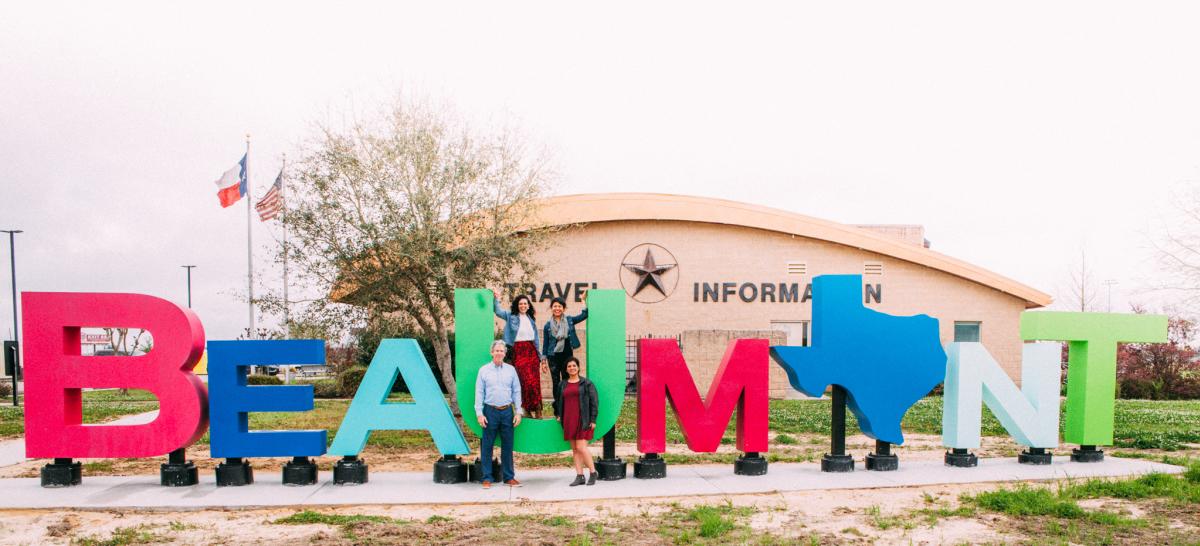 Key Objectives
Raise awareness of Beaumont, Texas as a destination and great place to live.
Inspire community involvement and new relationships with organizations to create a unified Beaumont.
Elevating morale and connect the community with key pillars of Beaumont initiatives.
Key Messages
The Localist is...
...where the pride of Beaumont begins. A group of diverse individuals sharing their experiences of Beaumont with the community and visitors alike.
...dedicated to creating a unified Beaumont through community involvement and awareness via networking opportunities.
...developing and strengthening the community partnerships to support economic development, celebrate local culture, and enhance the well-being of residents.
What is the Beaumont CVB and Why the Localist?
The Beaumont Convention and Visitors Bureau (CVB) is a department within the City of Beaumont whose main task is to promote Beaumont, Texas as a visitor and meeting destination. We work with partners throughout the city including museums, hotels, restaurants, venues, vendors, etc. to create experiences for those visiting and meeting in Beaumont.
The Localist initiative is a way to bridge the gap between the visitor and the community member and show how we (at the Beaumont CVB) love to brag about Beaumont and all the amazing things there are to do. By joining the Localist, residents can see the opportunities and be a part of sharing all there is to offer while joining in on the fun and supporting local.
How to Social-ize
We'd love you to use your social media channels to positively promote Beaumont. We always want your posts to be authentic and genuine. We're not looking to review businesses but rather raise awareness of all the amazing restaurants, shops, attractions, events, and opportunities in Southeast Texas. We want to share our experiences so others can emulate them with any details you think would be helpful - where did you go, what did you do, what could you have done nearby, what do you wish you would've known? If a place or employee deserves praise, by all means, shout it from the rooftops, we're just not here to put anyone on blast or contribute to the negativity. There's enough of that in the world (especially online) and we're here to be the hype squad. Our only official Localist hashtag is #GoBeau but feel free to use any others in addition that you think would be relevant for discovery — #BmtTX, #EatBMT, #VisitBeaumontTX, etc.
What do you get for Participating?
What you do and say matters. Our efforts at the Beaumont CVB are not enough without the voices of the Localist speaking about the area. When you share your experiences within the community, whether it be going to events, posting on social media, content creation, submitting ideas, or simply showing up for Beaumont, you can reach those in the community that we can't always get. Through the Beau-Buck balance sheet, Localists will track their efforts in the community to earn "dollars" to use for Beaumont swag from the Beaumont CVB. The more you promote the area and use your voice, the more you win
So How Do You Participate? It's Easy!
Step 1: Fill out the form below to indicate your interest.
Step 2: You will be directed to a page where you can download the Localist pamphlet and Beau-Buck task sheet to see various activities and attractions in the area. 
Step 3: Get out on the town. Enjoy your activities with whoever you choose - bring a friend, your family, Fido, whoever, but don't forget to snap some photos!
Step 4: Share the Experience. Do one social post highlighting each place you've visited. Tag @VisitBeaumontTX on Facebook or Instagram and use the hashtag #GoBeau so we can follow your adventures.  
Step 5: Submit your photos and Beau-Buck task sheet to visitbeaumonttx@gmail.com or stop by our office at 505 Willow St.
Get rewarded! As a thank you, you can redeem your Beau-Bucks for any prizes you choose. The more you participate, the more you can "level up" with bigger and better items.