Beaumont Community Players
Beaumont Community Players (BCP) has been in existence for over seventy-five years, entertaining audiences with professional quality Broadway plays and musicals that range from Rodgers and Hammerstein to Neil Simon.  Established in 1925 as the "Little Theatre," the local volunteer thespians have expanded from a small troupe performing at the City of Beaumont's Fair Park to a myriad of southeast Texas talents continuing this same tradition and engaging in collaborative performances with the Symphony of Southeast Texas, Lamar University Theatre Department and other arts-related organizations.
Boasting an annual season show subscription in addition to an extensive children's summer program, BCP is the only non-profit community based performance organization for local citizenry.  With a season show attendance of approximately 3,000, and over 180 children participating in KIDmunity summer productions and 2,200 in summer show attendance, the organization serves a multi-cultural diverse population in southeast Texas.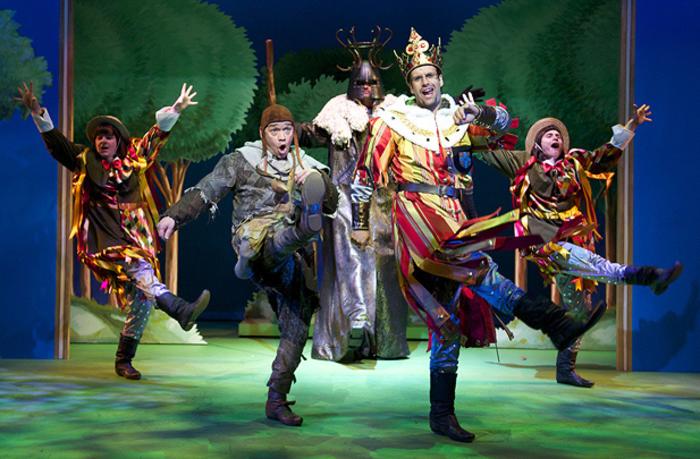 2021 - 2022 Schedule
I LOVE YOU, YOU'RE PERFECT, NOW CHANGE! - September 10, 11, 17, 18, 23, 24, 25
ILYYPNC is a hilarious musical joyride through the dizzying maze of modern relationships. A musical comedy with everything you ever secretly thought about dating, romance, marriage, lovers, husbands, wives and in-laws, but were afraid to admit. A catchy toe tapping score makes this an evening not to be missed. Directed by Bryan Brassard.
OTHER DESERT CITIES - October 22, 23, 29, 30 and November 4, 5, 6
A finalist for the 2012 Pulitzer Prize for Drama and the Outer Critics Circle's Outstanding New Off-Broadway Play Other Desert Cities is a smart entertaining drama. Brooke Wyeth returns home to celebrate Christmas with her family and announces that she is about to publish a memoir dredging up tragic events in the family history. It's a wound they don't want reopened as she draws lines daring them all to cross. Directed by John Manfredi.
A TUNA CHRISTMAS - December 3, 4, 10, 11, 16, 17, 18
It's Christmas in the third-smallest town in Texas and Radio station OKKK news personalities Thurston and Arles report on various Yuletide activities in Tuna. Two actors play over 20 roles and detail such events as Joe Bob Lipsey's production of A Christmas
Carol and a mysterious phantom on the loose and spreading havoc. The hilarity never lets up and the result is a magical Christmas experience with a sweet sense of nostalgia. Directed by Sean McBride
PRIDE AND PREJUDICE - January 21, 22, 28, 29 and February 3, 4, 5
A rapturous period romantic comedy, propelled by Austen's sparkling characters and blazing wit. With couples to cheer for and against Pride and Prejudice is a tale of the heart. Follow Lizzie our fearless, funny and utterly irresistible heroine as she discovers
what she's looking for may not really be what she wants. Directed by Julia Rodriguez
THE 25TH ANNUAL PUTNAM COUNTY SPELLING BEE - February 25, 26 and March 4, 5, 10, 11, 12
This non-stop musical, complete with audience participation, is delightful comedic genius. Winner of the Tony and the Drama Desk Awards for Best Book, The 25th Annual Putnam County Spelling Bee is both wildly funny and touching. Six spellers enter; only one speller will win! Directed by Donny Avery
ENCHANTED APRIL - April 1, 2, 8, 9, 14, 15, 16
It's the post war 1920's and two London housewives pool their savings to rent a villa in Italy for a ladies-only holiday. Joining the retreat to share expenses are an acerbic widow and a socialite. The quartet embarks on a month long journey of self-discovery in this heartwarming comedy. An Outer Critics Circle Award for Outstanding New American play, Enchanted April offers a perfect springtime balm of sunshine and renewal. Directed by Robert Fong
CHITTY CHITTY BANG BANG - May 6, 7, 13, 14, 19, 20, 21
This delightful musical is based on the beloved 1968 fi lm. Follow the adventures of inventor Caractacus Potts, his beloved Truly Scrumptious, his father, his two children, and a flying car, as they outwit a child-hating Baron and Baroness and their
Child-Catcher henchman. Director TBA