Mommy's Guide to Mardi Gras
Let's Do the Mardi Gras Mom-bo! Mardi Gras in Southeast Texas has a lot going on and one look at the schedule may have you glossy eyed and overwhelmed with where to begin. Before you go running around trying to catch every show and activity, we've highlighted your best bets for attractions the whole family can enjoy along with some no-fail tips for keeping your sanity. Remember to pace yourself, it's a marathon weekend, not a sprint.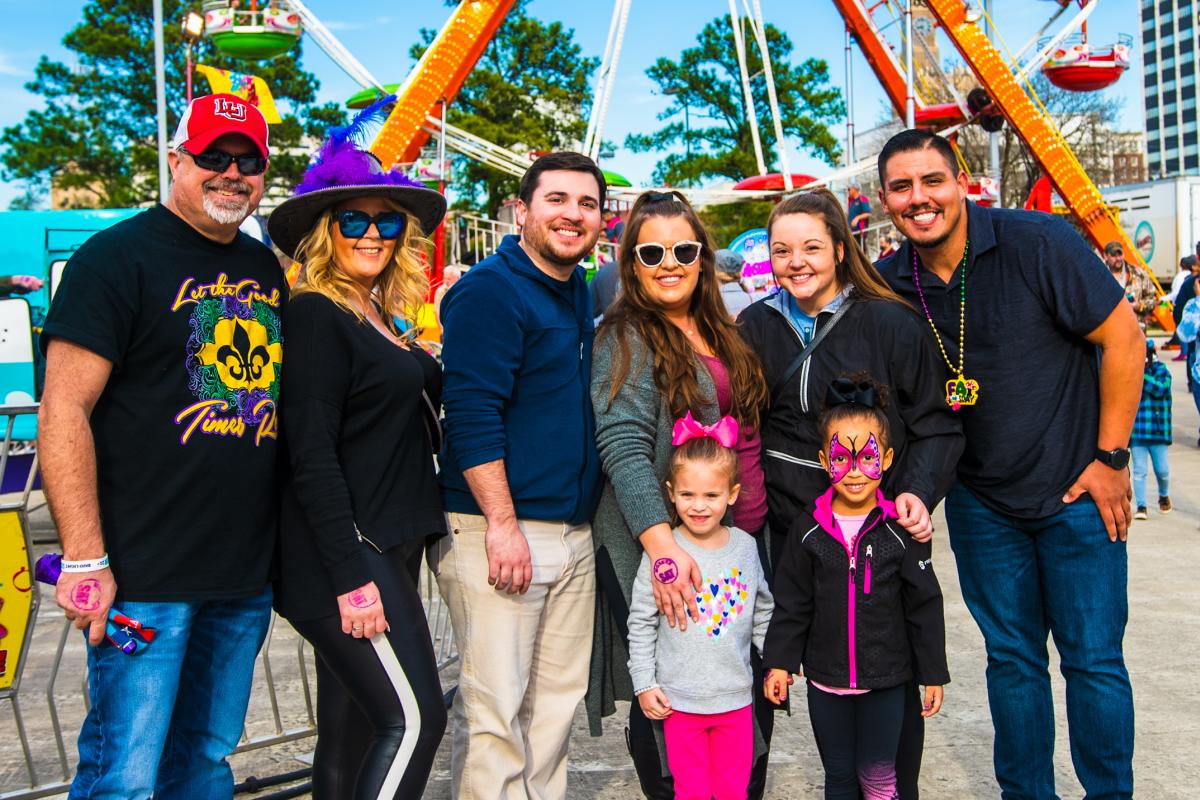 The Family-Friendly Mardi Gras Schedule:
Every Day:
See the Clydesdales (Free!)
Meet the Magic Poodles (Free!)
Dallas and Nick the Fire Guys (Free!)
StuntMasters Action Sports (Free!)
Slide and Obstacle Course
Mechanical Bull
All Things Wild White Tiger Exhibit
Oliver the Watusi (Longhorn)
Bungee Jump
Thursday:  
5 PM – Gates open, carnival begins, and the festivities kick off with a chicken toss at the Courir de Mardi Gras Parade – this is likely when the crowds will likely be the lowest for rides, games and fair food. 
Friday:  
6 PM – Gates open  
7 PM – Bicycle Showcase Parade – Must be 8 or older (no exceptions), Ages 8-17 must be accompanied by an 18+ adult on a bicycle
7 PM – Valero Krewe de Krewes Parade 
Saturday:  
12-6 PM – Free Kid's Zone Open – Meet costumed characters, play games like bean bag toss, football throw, duck pond, frisbee, and moonwalk
8 AM – Neches River Kids 1K – There will be timed age group awards, pre-registration required
12 PM – Gates open 
1 PM – Exotic Wings Productions – Exotic Bird Show 
2 PM – Royalty March and Mummer Stroll – See Colorful Costumes and Cajun Traditions
2 PM – Mexican Heritage Dancers – Dance Performances and Colorful Costumes
3 PM – Pop Gun! – High Energy Pop Cover Band
3 PM – Mummers Concert - See Colorful Costumes and Elaborate Performances
5 PM – Exotic Wings Productions – Exotic Bird Show 
Sunday: 
12-6 PM – Free Kid's Zone Open - meet costumed characters, play games like bean bag toss, football throw, duck pond, frisbee, and moonwalk
12 PM – Jazz Brunch – All tickets include brunch by Rao's, live music and two drink tickets.
1 PM – Munchkin Parade – Come in a decorated wagon, stroller, or battery powered vehicle, all ages welcome
2 PM – Umbrella Parade – Register at the Mardi Gras Store to receive a free umbrella to decorate
3 PM – Krewe de Mardi Paws Parade – Pets must be in costume, wagons and strollers encouraged.
5 PM – ExxonMobil Truck Parade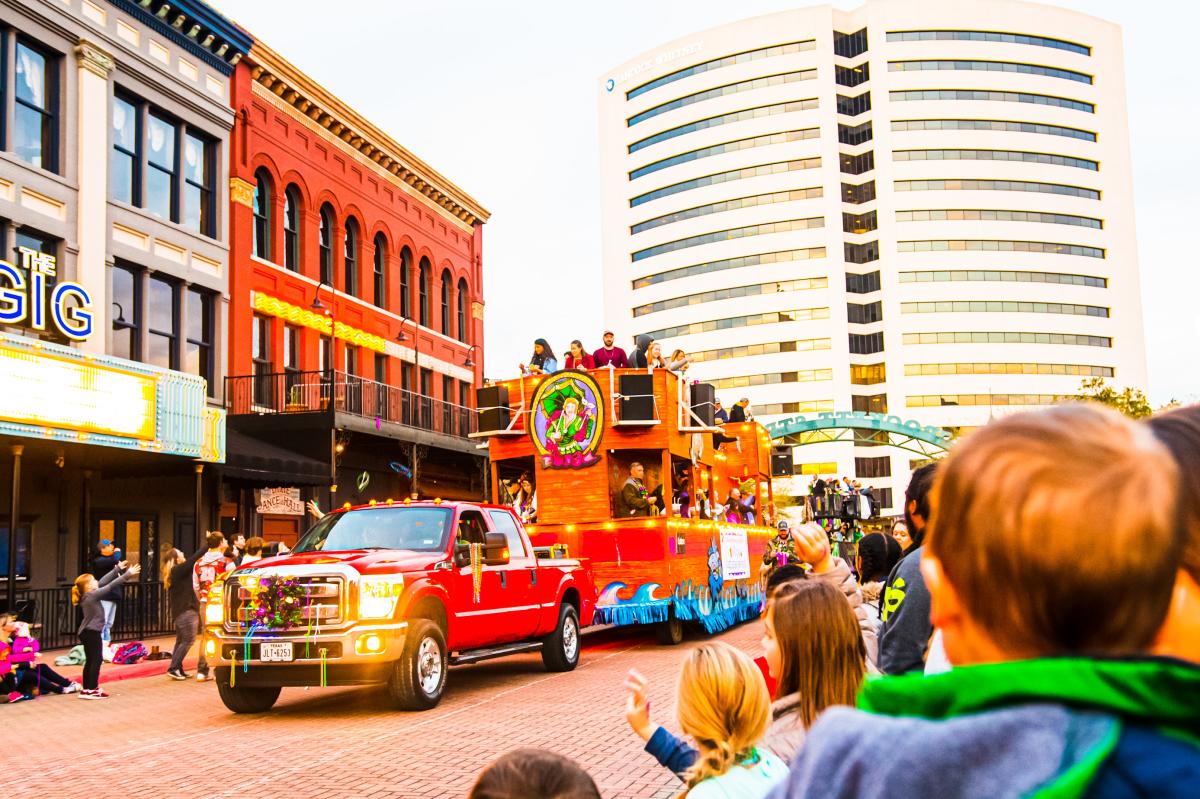 Tips for Making the Most of Your Experience:
Set Up Camp for the Best Views 
There are parades and attractions every day, but Sunday is the best day to catch the parades if you have little ones. The gates open at noon, and the parades start right away! First up is the Munchkin Parade at 1PM, followed by the Umbrella Parade at 2 PM, Krewe de Mardi Paws Pet Parade at 3 PM, and the ExxonMobil Truck Parade at 5 PM. You can see the parade route here, and the full parade schedule here. Make sure to arrive early to scope out a spot close to the action! Chairs, coolers, and wagons are allowed on the parade route (and encouraged), so make sure you pack up all the essentials for a long day out and worry-free celebration.  
Scope Out Attractions Ahead of Time 
From noon to 6 PM on Saturday and Sunday, there will be a dedicated Kids Zone next to the Rotary Playground on Crockett Street. This is inside the gate, but kids 12 and under get in for free! At the Kids Zone, there will be tons of cool games to play, like Frisbee Toss, Hole in One, and the Moon Walk, as well as some of their favorite characters, like Chase and Marshall from PAW Patrol and Spongebob Squarepants! Outside of the gates, the carnival will be happening all four days, so don't forget to buy your Fun Pass ahead of time. There are all sorts of rides, from kiddie rides to thrillers so everyone in your family will have something fun to ride! As if that isn't enough, make sure to look for the performers doing free shows throughout the day, like Exotic Wings Production, Magic Poodles, and StuntMasters Action Sports. Seriously, there are so many attractions and events packed into four days, you'll get a little bit of everything you could ever imagine! Make sure you plan ahead of time to get to the things you want to do, so your time will be stress-free.  
Plan Early to Save Money
Be sure to check parade schedules and routes to make sure you snag a parking spot close to your camp. Drinks and snacks are permitted outside the gates, so prepare ahead of time! Make snack packs for the kids and bring some extra bags to load up everything the kiddos catch during the parades. Even though some attractions like the Kids Zone are inside the gates, kids 12 and under automatically get in free. For the rest of the family, make sure to take advantage of the 4-day pass for $40 (a $10 savings). The carnival also offers a Fun Pass for just $25 ($20 if you buy online ahead of time), so you can skip the lines!  
Having a plan truly is the best way to get the most out of this celebration. With these life-saving tips, you and your family will have a true Mardi Gras experience this year. So pack those juice boxes, charge those cameras, and let the good times roll!  
*Dates and Times are Subject to Change.