Women have been serving the United States Armed Forces from the beginning as nurses, water bearers, cooks, Laundresses and saboteurs. 
In honor of Women's History Month, the Clifton Steamboat Museum will display a temporary exhibit entitled, "Women in the Military." The exhibit, on loan to the Clifton Steamboat Museum from Doug Porter with Military Memory, will be on display March 1-31, 2016. Mr. Porter is a one man show, who only displays original, complete uniforms.
"I have truly enjoyed learning more about women in the military in preparation for this exhibit. These women's accomplishments are definitely notable, but truly astonishing when put in the context of their time. I am thankful for the battles they fought for me as an American and as a woman. 'If I have seen further it is by standing on the shoulders of giants.'  I am honored for what they have done for me, my family, and my country."
- Sarah Wells, Executive Director of the Clifton Steamboat Museum 
Event Details
Women in the Military Exhibit
March 1-31, 2016
Clifton Steamboat Museum
8727 Fannett Road
Beaumont, TX 77705
In 1781, Deborah Sampson joined the Army, disguised as a man. For over two years, Deborah was able to keep her true sex a secret despite her close calls with both discovery and death. In February of 1973, Deborah became sick and was hospitalized. It was during this time when she was discovered and later honorably discharged. Learn more about Deborah here.
Over 120 years later in 1901, the Army Nurse Corps was created. Seven years later, the Navy Corps was established. However, it wasn't until 1948, under the Women's Armed Services Integration Act, when women were granted permanent status in the military and entitled to veterans benefits.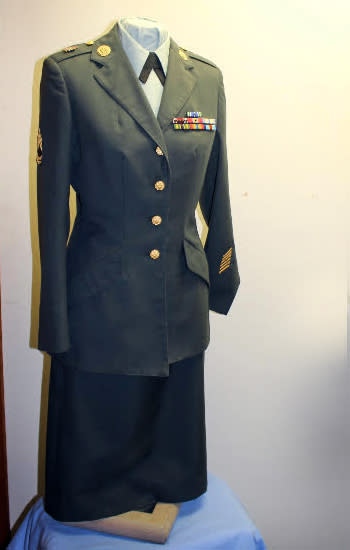 Even in today's modern society, women have had to overcome political hurdles. In January of 2013, the United States Department of Defense lifted the 1994 ban on women in combat allowing women to apply for direct combat roles and assignments (pending qualifications). Nearly three years later, Defense Secretary Ash had to issue an order for the military to open all combat jobs to women with a deadline of January 1, 2016 to submit plans to make the change.
"This milestone reflects the courageous and patriotic service of women through more than two centuries of American history and the indispensable role of women in today's military. Many have made the ultimate sacrifice, including more than 150 women who have given their lives in Iraq and Afghanistan—patriots whose sacrifices show that valor knows no gender."
- President Barack Obama in his January 2013 statement
Military Uniforms on Display for Women's History Month:
Army WWII
WAC Navy WWII
Red Cross WWII
Army Korea
Marine Corps Korea (2)
Army Vietnam (2)
Army Post Vietnam
Navy Nurses Post Vietnam (2)
Navy Dessert Storm
Airforce Desert Storm
Navy Current
Marine Corps Current
Admission to the Clifton Steamboat Museum is $5 and by appointment only. During Women's History Month, the museum will offer free admission to female veterans along with Girl Scouts in uniform. Follow the Clifton Steamboat Museum on Facebook for daily updates on women in the military.