From a work convention to class reunions, or baseball tournaments, you may be coming to Beaumont for business or to have fun with the family. Either way, staying in Beaumont has never been more accommodating or luxurious. Our hotels in the area have been remodeled and are ready for you to book a room!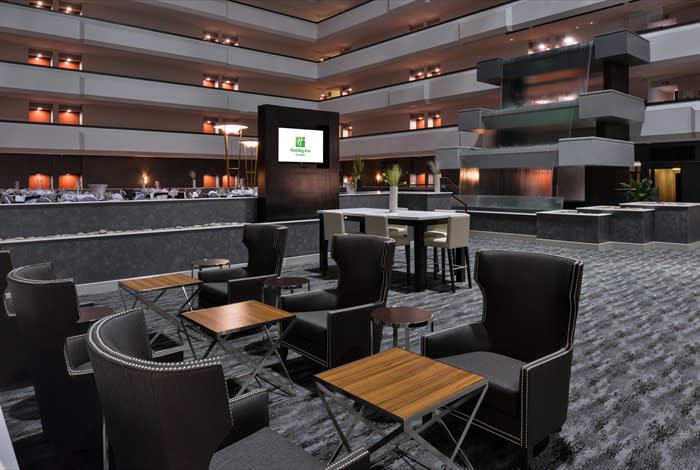 The Holiday Inn Plaza Hotel is located at Interstate 10 and Walden Road and probably best known for the open atrium concept design with a beautiful three-tiered waterfall. Its newly re-designed lounge area features a state-of-the-art bar with flat screen televisions. In addition, this full-service convention hotel has just finished a complete renovation to the property in all public spaces, meeting areas and guestrooms incorporating the newest Holiday Inn brand design and color schemes. The feel is modern and sleek with new furniture, fixtures, soft goods and décor, catching your attention the minute you walk through the front doors. The conference center features more than 22,000 square feet of event space. The meeting and banquet space can hold groups from 10 - 1,200 in the ballroom alone.
The newly renovated facility also offers an indoor pool and Jacuzzi, fitness center, business center and outdoor patio. Free parking and internet, as well as shuttle service to Jack Brooks Regional Airport (BPT) are also provided. Pets and service animals are allowed.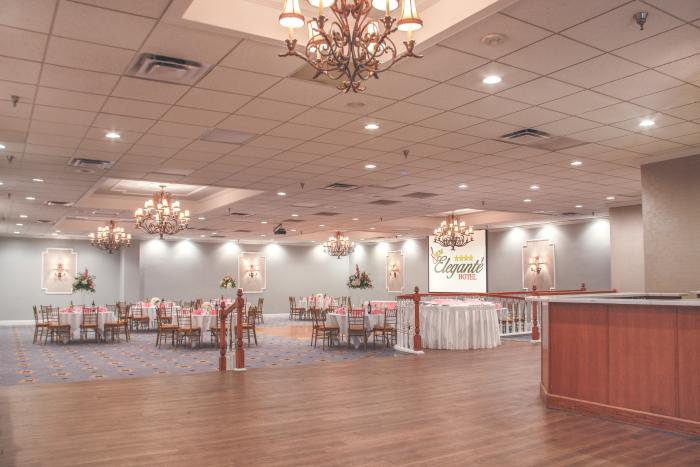 The MCM Eleganté Hotel and Conference Center located off Interstate 10 near Washington Blvd is another well-known venue that is open for any size meeting or special occasion. The outdoor pool features covered cabana areas with lush seating and eating areas. For conferences or meetings, there is more than 20,000 square feet of banquet space in 18 different rooms. The Grand Ballroom features crystal chandeliers and 9,000 square feet of space. For a more extravagant option, the Fountainview Ballroom has luxurious decorations throughout and the Veranda is complete with its own fountain!
The hotel features a concierge level with lounge and business center as well as an on-site Starbucks. Additionally, amenities on-site include, the luxurious Getaway Day Spa, Hemingway's Café, Itza Pizza and Tradewinds Tavern. The Eleganté treats guests to great food and drinks within the comfort of the hotel, or poolside. An on-site gift shop, fitness center, tropical outdoor pool, and outdoor grilling area complete the hotel's many amenities. Free parking and Wi-Fi, as well as shuttle service to Jack Brooks Regional Airport (BPT) and other attractions, are also provided by hotel staff. Pets are allowed with a refundable deposit.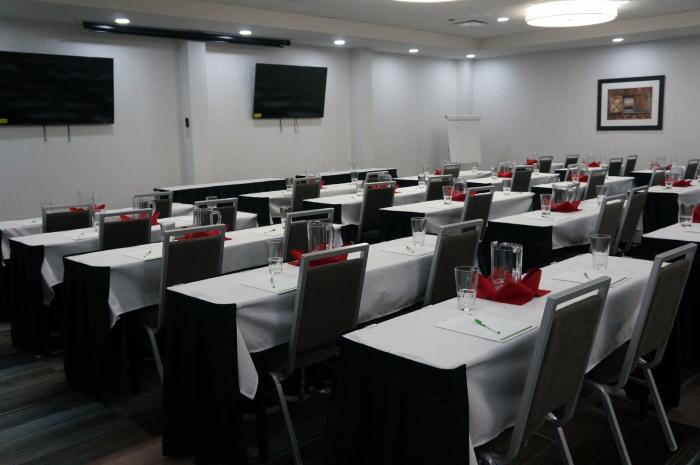 The Holiday Inn Beaumont East Medical Center is newly opened at Interstate 10 and 11th Street in Beaumont. This property is your closest full-service hotel to the downtown business district. The hotel offers 161 guest rooms and suites and provides three accessible meeting rooms equipped with projectors, televisions, bulletin boards and a complete telephone and video conferencing system.The on-site Red River Bar and Grill features a state-of-the-art bar with flat screen televisions serving breakfast and dinner daily, along with drink specials. The hotel offers complimentary shuttle service within a 3-mile radius. 
Beaumont is the perfect place for your meeting headquarters spot. By offering a central location, accessibility, less traffic, affordability and many quirky bucket-list moments to enjoy, Beaumont is great for meetings large and small.
Utilize the CVB team to help plan your next meeting. We will come up with innovative ways to share the gift of hospitality with clients including team building experiences,  a downtown dine-around through the museum district and more!